A natural path to enlightenment
Labyrinths popping up all over Durango, offering respite, relaxation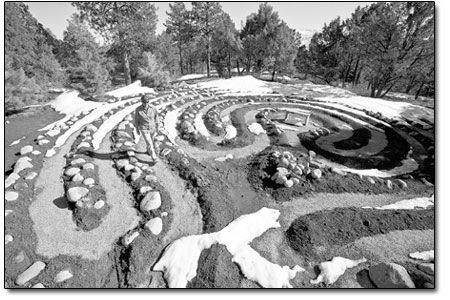 Karen James walks along a path of her labyrinth, a work in progress, behind her house in Rafter J on Monday afternoon. James, along with several others, founded the Durango Labyrinth Project to further the planning and integration of labyrinths, meant to offer a refuge from the stress of everyday life, in more local parks and gardens./Photo David Halterman
by Amy Donahue
Durangoans now have a new way to find themselves. Labyrinths – winding, circuitous, natural paths of stone, earth and flora – are becoming increasingly common. They're popping up everywhere from front yards and workplaces to Mercy Regional Medical Center. There may even be one in the new Durango Botanical Gardens, which are in the works for the property near the Durango Fish Hatchery.
Although confused with mazes, labyrinths have a fundamental difference. While a maze leaves the walker options and room for analytical thought and choice, a labyrinth is a guided, one-way path. With only one direction for the walker to go, weaving in and out through multiple circuits to the middle and back, reasoning instead gives way to more introspection and emotional thought.
The widespread use of labyrinths has fluctuated over the last 5,000 years, with patterns repeated among various cultures, from the ancient Greeks to modern Hopi. But Durangoan Karen James, who started building a labyrinth on her Rafter J property last year, said interest in labyrinths is increasing across the nation because of the respite they can provide from the everyday.
"Labyrinths provide a place where you can just let your intuitive mind take over. It's a mergence between rational and intuitive mind," James said. "There's something about being guided through a walk so that the intuitive mind can surface."
Based on her interest in the interactive landscaping method, James formed the Durango Labyrinth Project with six others. They have since become involved in the planning process for the Durango Botanical Gardens, working to incorporate a labyrinth into the design.
The 2-to-3-acre garden, which would flank either side of the river trail near the Durango Fish Hatchery, would feature themed gardens that would serve as teaching tools on xeriscaping as well as other landscaping and gardening methods.
"Durango is a perfect place for a labyrinth because people are interested in the awakening of consciousness here," James said. "That's happening everywhere; people want to live more intuitive lives and be more connected with the earth, be more intentional."
Tracey McInerny, another member of the Durango Labyrinth Project, said she agrees that the botanical gardens would be a good place for a labyrinth. She said the incorporation of a labyrinth into the botanical gardens would allow Durangoans a way to gain respite from their busy days. "If you're in there looking at the gardens, it's more of a slow process than walking the River Trail really quickly," McInerny said. "Having the labyrinth would allow people to bring it down a notch, to enter a meditative process."
Labyrinths can be used for walking meditation and prayer, and are common in churches and cathedrals as a tool for simulating pilgrimage. They can also be used for nonreligious purposes like problem solving or simple relaxation and centering.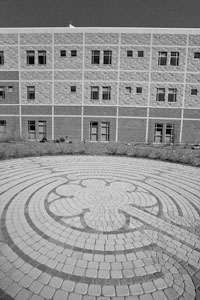 The labyrinth at Mercy Medical Center, seen earlier this week, is used by everyone from staff to visitors to patients./Photo by David Halterman
"There's a longing to have a spiritual grounding and experience in our lives," James said. "There are many ways to achieve that, but labyrinths can be an open gate for so many people of different walks of life to experience something that's very individual and yet very universal."
The labyrinth at Mercy Regional Medical Center also functions in this way.
"Labyrinths can be used by anyone of any spiritual path or tradition," said Diana McKenna, director of mission and spiritual care. "We also use the one here at specific liturgical times since we are a Christian-based hospital."
McKenna said that the people who come to her with stories about their use of the Mercy labyrinth are from a variety of beliefs and motivations. Regular patients use the labyrinth as a place to regroup and gain strength, while family members may use it as a means for quieting worries or for passing time. She said the labyrinth is also open to the public.
In addition, the Mercy labyrinth provides a common ground for employees who wouldn't normally interact, McKenna said. It is a positive aspect of the workplace, where people can take a break from the fast pace of the hospital, as well as work out personal questions.
"It's a little bare right now, but we plan to plant hedges or trees to shelter it from the parking lot," said Joy Hess, development officer for the Mercy Medical Foundation. Right now, the Mercy labyrinth is made out of two colors of bricks and with 11 circuits. "We'd also like to plant an herb garden that would provide for herbal uses in the hospital, as well as put in stone or wooden benches," Hess continued.
The labyrinth in the Durango Botanical Garden would be composed of earthen mounds and planted as a theme garden in and of itself, in keeping with the larger plan of the botanical garden. The mounds would be planted and the walking paths paved with gravel. It would be designed so people walking down the river trail could easily take a detour to visit the labyrinth.
"Durango has a mood that would allow a labyrinth to be used and appreciated for what it is," James said. "(A labyrinth) is simple, sophisticated and very profound."
McKenna said that part of the purpose of the Durango Labyrinth would be to provide public education on the topic. In addition, the Labyrinth Project will be taking part in Wild Day at Ignacio schools, teaching kids about labyrinths and providing a movable one for them to walk.
"Labyrinths are so easy to access, and the results are the same as a walk in the woods, if not more powerful," she said. "The brain clicks into the pattern somehow, because it's all about stepping one foot in front of the other. With culture being so fast paced, it's really difficult to access a higher energy source than what we're normally walking around with."
Because they are a guided walk, labyrinths can provide the time and place for people to slow down, let their minds go and resist the distractions of daily life. "You have to go into it with a certain amount of reverence and respect," McInerny said. "If one is willing to give that, the rewards are limitless." •