Off-road to Washington
Conservationists call on Congress to crack down on ORVs

SideStory: Heavy off-road pressure?: Sheriff's deputy mysteriously withdraws from hearing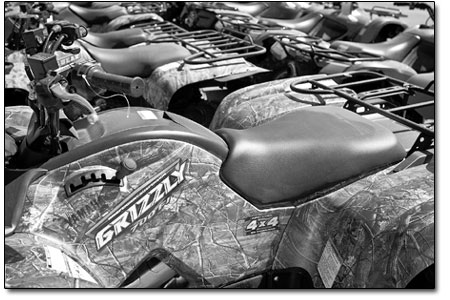 Dozens of new four-wheelers await new owners at an area dealer last week. Growth in motorized recreation and associated impacts have given the U.S. Congress cause to hold its first-ever hearing on off-road-vehicles on public lands. Numerous officials, law enforcers and citizens offered concerned comments during the hearing. The motorized community countered that the current management strategies are effective./Photo by David Halterman
by Will Sands
Four-wheelers rumbled through Capitol Hill last week, as the U.S. Congress held a hearing on the growing toll of off-road-vehicle abuse on public lands. In the wake of the hearing, local and national conservationists expressed a shared sentiment – "At last." Meanwhile, off-road advocates and enthusiasts protested looming access restrictions.
The House Natural Resources Committee took up the ORV debate March 13. Chaired by Rep. Raul Grijalva, D-Ariz., the Subcommittee on National Parks, Forests and Public Lands held an oversight hearing on the impacts of unmanaged off-highway vehicles on federal lands. Dozens of people, including property owners, tribal representatives, federal officials and concerned law enforcers, offered testimony.
Ronni Egan, executive director of the Durango-based Great Old Broads for Wilderness, hailed the hearing as a turning point. "At last," she said. "I think Congressional oversight is what it's going to take to solve the problem. The agencies seem to be dancing to the tune of the industry and the administration, which is to open nearly all public land to off-road vehicles."
During the March 13 hearing, the Public Employees for Environmental Responsibility (PEER) related a dramatic example of ORV abuse last year at the Little Sahara Recreation Area in central Utah. PEER alleged a near riot, where drunken gangs of ORV riders terrorized campers. The single incident resulted in 300 arrests, 37 injuries and major natural-resource damage.
"Irresponsible off-roading has become such a menace that it is now the single greatest threat to American landscapes," said Jack Gregory, a retired Forest Service law enforcement agent and member of PEER.
In his testimony, Gregory related rapidly escalating damage to forest streams, wetlands, ravines and meadows. He also connected ORV abuse to forest fires, drug and illegal alien trafficking, and increasing numbers of injuries to riders and pedestrians.
Numerous others at the hearing related a situation where ORV abuse is rising as Forest Service and BLM enforcement declines. They called for more agents in4 the field and stricter penalties for lawless recreation.
"While we are glad Congress is finally beginning to look at the havoc wreaked by irresponsible ORV use on our public lands, the hard work is just beginning," Daniel Patterson, Southwest PEER director, said. "We need much tougher penalties for ORV abuse, such as vehicle forfeiture, provided there are enough boots on the ground to enforce basic protections."
Egan noted that the Durango area and San Juan National Forest are no strangers to off-road vehicle abuse, relating damage to watersheds, rampant erosion problems and increasing numbers of user-created routes all over the forest. As a solution, the local Forest Service is considering designating a motorized recreation sanctuary on Missionary Ridge. While the designation would centralize use and minimize conflicts, Egan and the Great Old Broads remain skeptical. Keeping four-wheelers on designated routes will prove too challenging, she added.
"I agree that they have to have some place to go," Egan said. "If the Forest Service believes they can manage that area correctly and get some enforcement and meaningful penalties – like loss of vehicle and jail time – maybe that will work. But I don't see any evidence that the funding is available."
A lone voice spoke up in favor of off-road vehicles during last Thursday's hearing. Russ Ehnes is the executive director of the National Off-Highway Vehicle Conservation Council, an ORV advocacy group. He argued that current ORV management strategies are often effective, and closing public lands to millions of users would be a step backward. Ehnes remarked that trails with "active management," like Utah's Paiute Trail, should be considered success stories.
"Simply stated, trail systems can be successful by applying education, engineering, enforcement and evaluation," Ehnes said. "The results are high-quality, environmentally sustainable trail systems that meet the needs and desires of the public."
The Blue Ribbon Coalition, a group advocating for ORV access rights, offered written comments for the hearing. The group argued that the Forest Service has made major motorized closures in recent years and went on to say that the "responsible recreation community" has been maligned. Brian Hawthorne, the coalition's public lands policy director, blamed what he called "well-funded anti-access lobbyists."
"Every year more and more public lands are off limits to people who choose or are required to use vehicles, yet these people are never satisfied," he said.
Egan disputed the claims of "active management" and "responsible recreation community." She noted that the ORV community's signature user-created routes speak for themselves, and that lack of dollars has all but dried up management of motorized recreation.
"If off-road vehicles can't be effectively managed and enforced, then there's only one answer," she concluded. "Whole areas should be completely closed to motorized recreation." •