Dakota dives, gypsies and son of Santana



by Chris Aaland
The ghost of Lyle Alzado held my hand last weekend as I wandered the streets of Yankton, S.D., in search of food at 2 a.m. Yankton is one of those brilliant little slices of Americana that isn't totally owned by corporations yet. No Domino's to deliver pizza to my hotel room. No Denny's to choke back a Grand Slam next door to the motel.
Sans rental car, No. 77's spirit guided Aaron (a member of the Durango sporting press) and me over hill and dale for a mile or two, hoping at least to find a 24-hour convenience store that had microwavable burritos. Instead, Lyle nudged us toward a neon-illuminated greasy spoon that advertised fried walleye on its sign.
An hour later, after grazing through biscuits and sausage gravy, hashbrowns, fried eggs, chicken fried steaks and pancakes, Aaron and I agreed on three truths: 1) Alzado, who played football at Yankton College, was the biggest reason the Denver Broncos advanced to their first Super Bowl in 1977; 2) hookers are like vampires at 3 a.m., even in the shadow of the largest Masonic Lodge in South Dakota; and 3) nearby Vermillion is the undisputed bar capitol of the world.
Ah, the Dakota nightlife – Leo's Lounge, Main Street Grille and Pub, the New Varsity, Carey's, and Pro's Sports Bar. Each featured century-old hardwood floors, antique bars, Victorian ceilings, $1 draws and free pool, darts and shuffleboard. Ales flowed freely, including an assortment of Leinenkugel beer (known as the "Legend of the Northwoods") and seasonal microbrews from Kansas City's Boulevard Brewing.
Time prevented us from getting too carried away – we didn't make it in to Bunyan's Bait Shop for steaks or Toby's for famous fried chicken – but we saw enough to conclude that even in out-of-the way burgs like Vermillion, Top Shelf dives abound.
One drawback: the entire state of South Dakota has just six craft breweries. Durango has four. Add in breweries in Cortez, Dolores and Silverton, and we win. And Lyle Alzado, in fact, did lead the Orange Crush to Super Bowl XII.
KDUR's Spring into Summer Fun fund-raiser continues through Sunday. The station is raising money to increase its power signal from 150 to 6,000 watts. Those who live within broadcast range enjoy a diversity of programming 24/7 throughout the year; the extra wattage will expand this even further. Pledge by calling 247-7262 to be entered into drawings for passes and lodging to the Telluride Jazz Celebration, tickets to "Cats" in Farmington, and a 2-hour Sunday spa party at Amaya for up to 10 friends.
KDUR's fund-raiser isn't the lone charity event on tap this weekend.
The Business Improvement District and the City of Durango host a street party in the 700 block of Main from 3-5 p.m. Friday to recognize those involved with the fire and recovery efforts. Ralph Dinosaur will perform, refreshments will be available, and 700 bricks from the destroyed buildings will be for sale. Much of the wine from Seasons' cellars was preserved and will be auctioned. Special T-shirts designed by Eric and Kay Kiesel, owners of Half-Price Tees, will also be sold.
The FLC Environmental Center presents the Good Neighbors, Strange New Shoes and Waiting on Trial at 6:30 p.m. tonight in the College Union Ballroom. For more than 15 years, the Environmental Center has been greening up Durango.
Another FLC group, Engineers Without Borders, hosts three bands from 5-11 p.m. at the Durango Elks Lodge on Saturday, including headliner Ralph Dinosaur, who takes the stage at 9 p.m. Proceeds will help EWB build water systems for indigenous people in Laos and Ecuador. Twelve students will travel to Laos and 22 to Ecuador to build four water systems.
Bad Weather California brings its reggae, grime and grunge to the Summit tonight, March 20, in a three-band bill that also includes the Freeman Social and Future of the Ghost. Bad Weather songwriter Chris Adolph claims to be a regular dude playing music for regular people, but his lyrics are haunting in a way similar to those of Townes Van Zandt.
If Thursday finds Bad Weather in the Summit, rest assured that the son will rise on Friday, as the Salvador Santana Band and deSol appear at the Summit. A keyboardist and composer, Salvador's music mixes hip-hop, funk, rock, Latin and other world genres into a contemporary style not unlike that of his father ... a guy who goes by Carlos and shares the same last name. You may have heard of him. deSol is an Asbury Park, N.J., band that blends rock hooks with Latin rhythms.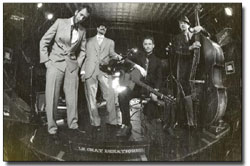 Chat Lunatique

Gypsy music comes to town at 9 p.m. Saturday with Le Chat Lunatique and Carute Roma at the Summit. Le Chat Lunatique is an Albuquerque ensemble that plays Gypsy swing, Western swing and "filthy, mangy jazz," reminiscent of Django Reinhart's Hot Club of France. Durango-based Carute Roma does Gypsy and Roma music from Russia and Eastern Europe.
The Hollywood Bar in Dolores hosts the Lindells at 9 p.m. Saturday. The Lindells are a local roots rock four-piece, fronted by the husband-wife team of Chris and Kim Lindell, steeped in the Grateful Dead, Gram Parsons and a potpourri of American music forms.
My road trip to South Dakota reintroduced me to cheap beer. I fell in love with such swill in the mid-1980s, when I'd drive down to the San Juan River to fly-fish and pick up a case of Schlitz, which wasn't available in Durango at the time. New Mexico also let 19-year-olds buy booze back then. This week's Top Shelf list provides the 10 best (or worst) cheap beers that bring back happy memories.
• Grain Belt Premium – a Midwest legend.
• Schmidt – the 12-oz. can featuring pheasants, whitetails and other game on its label.
• Schaefer – once advertised as "the one beer to have when you're having more than one."
• Meisterbrau – it helped college kids get some in the '80s.
• Falstaff – all hail the former world champion of cheap beers, which officially ceased brewing in 2005.
• Lucky Lager – Once famous for its 11-oz. "chubbies," Lucky is now brewed in Irwindale, Calif., by the same folks who give us Rainier and Olympia.
• Old Style – the official beer of my Scandinavian family reunions in the Dakotas and Minnesota in the 1970s.
• Iron City – Steel Town tough.
• Stroh's – My first 18-pack.
• Generic Beer – the white can with the black "BEER" written across it harkens back to Reaganomics. •
You like beer? It makes you a jolly good fellow? E-mail me at chrisa@gobrainstorm.net