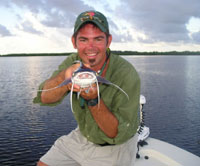 Diver:Drew (Corky) Corcorran
Interesting facts:Corky is a Zamboni driver extraordinaire by winter and fly-fishing guide by summer
Got a dirty little secret?
Looking for guidance to remedy a sticky situation?
Seek help from the master of the kitchen! The Dish Diver has solutions to life's little messes. Send your problems to "Ask the Diver." - By mail to Durango Telegraph - Attn Diver -534 Main Ave., Durango, CO 81301; by email at telegraph@durangotelegraph.com, or by fax at 259-0448.
Dear Diver,
What in the hell happened to pinball? Pinball is an American tradition, having been invented in the States in 1869 by Montague Redgrave in Cincinatti. It was a take on some other more primitive games, and the result is an American classic, with games ranging from "KISS" to the "Six Million Dollar Man." Hey Durango, we want pinball. When sudoko replaces the "Family Circus," and pinball is absent from watering holes, I've come to the conclusion that America has truly lost … everything.
– Mac in Hermosa
Mac,
"Durango, can you hear me?" You must remember "Tommy" and the band "The Who?" Sorry Mac, pinball is so 1860s. It's gone to the wayside, like Atari, Missile Command and Centipede. Pinball has given way to games like "Golden Tee" and bar trivia!! It will always be a classic, like a '57 Chevy, but you don't see many of those on the roads these days. Pinball is outdated and hard to play with a drink in your hand. By the way, the 1970s called and they want their question back! Let it go or start shopping ebay!
– Diver
Dear Diver:
My high school buddies have stayed pretty close. We seem to get together at least once a year in the winter to freeze our butts off in a SoCal desert. My buds fly or drive from Washington, Oregon and Northern California. There's this one guy who lives in Colorado who has made only two trips in 10 years. He did go this year, but how do we make sure he goes next year? Would bacon and chocolate work?
–Seeking Joshua
Dear Julie… I mean Joshua,
So what's the deal with this guy from Colorado? Is he in your top five on your phone? I bet he's No. 1 on your MySpace friends. There must be a reason he doesn't show up for these trips. Did something happen on previous trips? "Spin the bottle" gone wrong? Listen dude, maybe pick a new location or let him have input on the trip. Leave the chocolate and bacon at home ... too weird!
– Diver
Dear Diver,
What's up with Lori's/Pickles/Kettle (you know the North Main restaurant that turns over every few months)? One day it's a long-standing Durango pancake house, the next a man in a pickle suit out in front, and the next it has a garish blue paint job and an empty parking lot. What business needs to go into that space to keep it alive for more than a few months?
– Commuting on North Main
Dear Commuting,
You must have written this last week. Listen, this place is now a Chinese restaurant. Who would have guessed? As for the pickle suit … that should have been your first sign of failure. Who's the next mascot, a fortune cookie? How about Hooters? I've heard they have REALLY great wings!! No wait, didn't La Plata County buy the name? The place is doomed. I don't know what would work. Tear it down and build a bowling alley.
– Diver