Kicking to the podium
Durango Nordic ends a stellar season in Alaska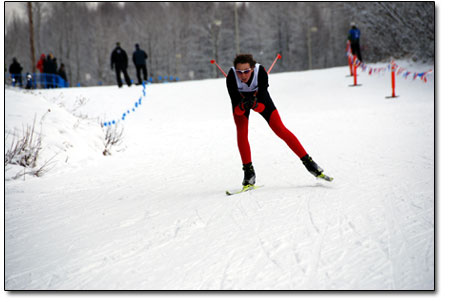 Durango Nordic racer Matt Ogier tucks it around a corner during a skate race at last week's U.S. Junior Olympics Championships, held in Anchorage, Alaska. Eleven local racers competed in the week of races, which culminated the season for Durango Nordic. The club was awarded the Colorado Cup for excellence this year, the sixth time in the last 12 years it has received the honor./Photo by Jeanne Pastore
by Missy Votel
It may be the land of the midnight sun, but for 11 Durango Nordic racers, Alaska served as the perfect sunset for another notable season. Aside from a strong showing at February's Junior Olympic qualifier held here in Durango, the club won the coveted Colorado Cup for the top Nordic team in the state for the sixth time in the last 12 years.
"What's so remarkable is that, here we are, probably the farthest south Nordic club in America, and we do so well," said Durango Nordic coach, Brent Brown. "That's kind of neat, that we can do so well down here in the Southwest."
Brown, along with his 16-year-old son Rogan, and 10 other Durango racers as well as three other coaches, returned this week from the USSA Cross Country Junior Olympic Championships, held in Anchorage on March 9-15. The 11 racers (Brown; Paige, Tad and Evan Elliott; Elena Breed; Hannah
Madden; Matt Emmanuel-Ogier; Haakon Sauleson; Joe Casey; and Ben Capelin) were part of the larger Rocky Mountain Division team, made up of 46 skiers from throughout the state. The only other Nordic club in the state with as many racers was from Boulder, also with 11 racers. More than 400 racers from throughout the country competed in four categories: classic sprint, freestyle (skate), classic mass start; and relay.
Despite having a bit of a rebuilding season, with a few of last year's key racers lost to college and other pursuits, Durango Nordic still returned some impressive finishes, said Mike Elliott, head coach and head of the Elliott clan. Elliott's son, Tad, 19, took home All-American honors in the skate and classic events, as did Alicia Pastore, 14. Paige Elliott, 16, took home an All-American in classic. "To be an All-American, you've got to be in the top seven percent behind the winner," explained Elliott.
Tad returned a sixth place finish in the 15k classic and a second place in the 10k classic in the OJ division (18-19 years old). However, his shining moment came in the relay, where his leg helped boost his three-person team from sixth to second place. "He had the fastest leg of anyone in the race," said Elliott.
Perhaps what was most notable about Tad Elliot's performance last week was that up until a few weeks before the Junior Olympics, he hadn't planned on attending. "He wasn't going to the J.O.s until Owl Creek," said Elliott, referring to the Owl Creek Chase, a 25k held in Aspen in February. "There were four Olympians in the race and a national champion, and Tad came in second," he said. Tad was less than a minute behind the winner, Noah Hoffman, a fellow junior racer from Aspen. "By the time everyone realized those two were in the lead, it was too late to catch up," said Elliott.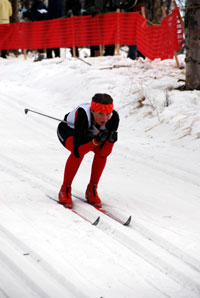 Paige Elliott, 16, tucks it in the track during the classic race./Photo by Jeanne Pastore
In the female divisions, Pastore, competing in the J2 level for 14-15-year-olds, came in at ninth and 10th in the skate and mass classic, respectively. She also was the only racer from Durango to
make it past the first heat in the sprint classic race, returning a 13th place finish overall in her division.
"This was her first J.O.s, so she didn't know what to except," said Alicia's mother, Jeanne, an assistant coach. "And since she finished in the top 10, she got to go on the podium, which was exciting."
Rounding out Durango's top finishes was Paige Elliott, who turned in a 13th place finish in the mass start classic in the J1 (16-17-year-olds).
And while not all Durango racers scored podium spots, the race was a rewarding experience for all, nonetheless. "We were very excited for all the kids, they all did great in their won personal way," said Jeanne Pastore.
The Alaska scenery alone made for a memorable trip, said Elliott. "It was really special going to Alaska," he said. "The race course was right on the Cook Inlet. On a clear day, you could see Denali, 250 miles away, and there were moose everywhere."
What was less than spectacular, however, was the snow. Central Alaska had a dry and warm winter, making for challenging course conditions. In addition to having to haul in snow to shovel on the bare spots, standing water necessitated the use of sump pumps and a reworking of the sprint course. However, Mother Nature came to the rescue on the second day with a few inches of snow and freezing temperatures. While a welcome change, it did create a few headaches in the waxing department. "For one of the J1 girls races, we didn't settle on wax until 15 minutes before the race. We used two or three layers of flouro," said Elliott, referring to the high-priced fluorocarbon wax. The game-time decision paid off. "We hit it just right."
The Junior Olympics are considered an opportunity for junior racers to grab the attention of the U.S. Ski Team in hopes of receiving invitations to training camps and team trips. They also provide a testing arena for young athletes to gauge where they stand on a national and, sometimes, international level.
"We were surprised we did so well," said Elliott. "Plus, there are a lot of kids coming up through the ranks in the 12-13-year-old bracket, so the future is bright."
In the meantime, however, most Durango Nordic skiers have turned their thoughts to summer activities: mountain biking, soccer, roller skiing and trail running, to name a few. However, thoughts of snow are never far off. "It may be the end of the race season, but Nordic never ends," said Jeanne Pastore. "They'll probably take a few weeks off and then start dryland." •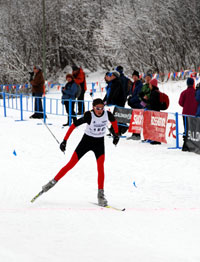 Alicia Rose Pastore, 14, skates to her ninth place win in the female J2 (14-15-year-olds) class at last week's Junior Olympics. This was her first JOs./Photo by Jeanne Pastore