Warm music to melt the cold
Sokol, Kavanagh and Shinners highlight weekend concerts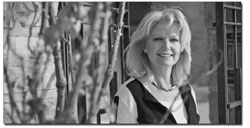 Soprano Gemma Kavanaugh, along with accompanist C. Scott Hagler, will perform Friday ngiht for the St. Mark's Recital Series./Photo by David Halterman
by Judith Reynolds
New remedies for a cold winter can beat warm music. By sheer chance, this weekend's calendar overflows with music that can melt ice: a Verdi aria, a Bach partita, the liquid gold of Mozart's Requiem, and some big works by Beethoven, guaranteed to heat up the coldest heart. This is not a weekend to stay home and grumble.
A trio of concerts begins Thursday and concludes Sunday afternoon. Although conceived separately, the three constitute a festival of sorts, a little bonfire to the Ides of March. Anyone who needs a serious musical fix right about now ought to get out of the house and fill up. Here's the lineup:
• Thurs., March 13, Kasia Sokol, visiting professor of violin at Fort Lewis College, starts out with what can only be called a heat-generating missile. "Bach's Sonata in D minor is huge," Sokol said in an interview earlier this week. "It's wonderful to play, challenging."
In a rehearsal last weekend, the sonata began with three big chords, three huge logs tossed on a fire that would soon consume some 33 variations. Challenging, indeed. "It's one of the most beautiful, original pieces of music ever written," she said when she finished.
If you listen carefully, Sokol's second solo violin piece takes quotations from Bach, "snippets of Bach in the first movement," she said. The work is by the Belgium composer and violinist Eugène Ysaye, a 20th-century heir of Bach's legacy.
After intermission, Sokol will play a number of Polish dances including The Grand Polonaise by Henryk Wieniawski. He may not be known today to American audiences, but in his lifetime (1835-80) he toured the country. Sokol will be accompanied in the second half dance sections by pianist Christi Livingston.
Relatively new to town, Sokol has been here not quite a year. She is a violin, viola, music theory and history teacher at Fort Lewis, a member of the Red Shoe Piano Trio, and conductor of the Durango Youth Symphony. She's just completed the last hurdle for her doctorate at Indiana University, so this recital is a bit of a celebration.
• On Fri., March 14, soprano Gemma Kavanagh will give the third of four recitals in the St. Mark's Series. If you are among the few who haven't heard Kavanagh
sing, you won't believe you live in a small town anymore. Kavanagh is a stellar musician and our direct link to grand opera. In the midst of a professional career, she has settled in Durango and is regularly featured as a soloist with the San Juan Symphony and Music in the Mountains. This is her second appearance in the St. Mark's series.
Kavanagh will begin with works by Bach, Reger, Mozart and Giulio Caccini's "Ave Maria." Then Kavanagh will sing German Lieder, songs by Schubert and Richard Strauss. The center of the program will be filled with traditional Irish songs, a signature for the Irish girl within.
"I was going to sing some Broadway tunes, but then I realized how close we were to St. Patrick's Day," she said. She's included "Will You Go Lassie Go," "Johnny I Hardly Knew Ye" and "The Wind Among the Reeds," which has particular meaning, she said.
"Years ago this music was given to me by my mother. I put it in a pile with other music that I thought wouldn't interest me. But when I sat down to sing, I was pleasantly surprised. So now it is on the program."
An opera set will close the program. Arias include "Lascia ch'io pianga," from Handel's "Rinaldo." And for those who need to start their cars and warm up their engines, Kavanagh will make it easy by singing Verdi's "D'amor Sull'ali Rosee," from "Il Trovitore." If that isn't enough, she will sing one of the most beautiful works ever written for voice: Rachmaninoff's "Vocalise Op. 34."
• Luckily, Kavanagh will also be a soloist in a lush choral concert Sunday afternoon, March 16, at the Community Concert Hall. It's the last big concert of the season for the Durango Choral Society. An informal cabaret will close the season May 17, but this is a final chance to hear major choral classics. And here's my disclaimer. I sing in this group, so consider that when you read the following.
The concert features masterworks by Beethoven and Brahms, plus three movements from Mozart's Requiem. Kavanagh will solo in the ethereal "Laudate Dominum." She also sings in the Durango Women's Choir and will solo for Randall Stroope's "Magnificat."
That piece features unusual accompaniment: a four-hand piano arrangement to be performed by Livingston and guest soloist Evan Shinners. A native of Denver, Shinners, 21, is completing his studies at the Juilliard School of Music in New York. He entered the world of competition as a young man, winning the silver medal in the 2003 Four Corners Piano Competition, said Linda Mack, conductor of the Choral Society and champion of young musicians. "Evan is a wonderful musician," she said. "He has gone on to win so many more competitions. We are so lucky to have him back at this point in his career."
As the centerpiece of the Sunday concert, Shinners will perform Beethoven's Sonata Op. 28 in D major. Since we first heard him here in competition, Shinners has been a soloist with orchestras in New York and throughout the West. He's also begun a conducting career and can be seen in the PBS documentary "Speaking With Music."
Opening the program Sunday will be the Children's Chorale, led by Rochelle Mann. Durango's youngest singers will perform a selection of classic and new works, including "Do You Know What it Means to Miss New Orleans?"
"Our program includes only some of the songs we'll be performing on our Denver tour," Mann said in an interview earlier this week. "We'll be giving two demonstrations and singing at the American Kodaly Educators Conference."
This is a real honor for the Chorale, she added, happy to share the conference-ready music with the community. •