The carbon count
Fort Lewis sets off on path to carbon neutrality

SideStory: Earth Week at a glance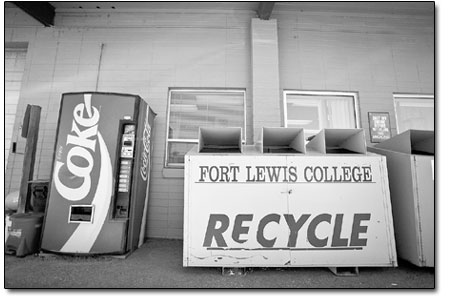 A recycle bin sits inside the Physical Plant Services grounds at FLC on Tuesday. In the midst of celebraitng Earth Day, the college is also embarking on a quest to reach carbon neutrality. A recent greenhouse gas inventory found that the school is repsonsible for more than 15,000 metric tons of carbon dioxide going into the atmosphere each year, enough to make a pillar of smoke 37 miles high./Photo by David Halterman
by Will Sands
Fort Lewis College has gotten its greenhouse gas grades, and there is definite room for improvement. The local college has tallied all of its emissions related to heating, lighting and transportation and come up with its carbon footprint. Now, Fort Lewis is undertaking the daunting task of lightening that load.
The results of the "Greenhouse Gas Assessment" were announced roughly a month ago. After more than a year of work by students, consultants and the Fort Lewis Environmental Center, the college has discovered that it emits 15,329 equivalent metric tons of carbon dioxide into the atmosphere on an average year. Marcus Renner, Environmental Center coordinator, put that figure in terms every
Durangoan can relate to, saying, "If you take the entire footprint of the college, that amount of carbon dioxide would extend up into the sky in a column 37-miles high."
The path to getting that greenhouse gas number began just more than a year ago. On April 6, 2007, FLC President Brad Bartel signed the American College & University Presidents Climate Commitment. With that signature, he joined 148 other college presidents in the commitment to erase Fort Lewis' emissions and arrive at carbon neutrality and eliminate the 37-mile carbon column.
"President Bartel has pledged us to a plan to achieve carbon neutrality," Renner said. "If we can figure out how to make our campus carbon neutral, we will have net zero emissions and it will also be a great demonstration project for individuals and institutions with the same goal."
Over the short term, the signature created a FLC climate change committee and launched the greenhouse gas inventory. Coincidentally, Jackie Kuusinen, a sociology major, was also working to get a grip on Fort Lewis' footprint for a class project last spring. She and Renner started painstakingly crunching numbers.
"If you think about it, determining greenhouse gas emissions can be quite overwhelming," Renner said. "The obvious sources are lights, heating buildings and cars, buses and delivery trucks. But then you have to ask which cars are contributing. What exactly counts as Fort Lewis College emissions? What about food that's trucked here? Do you account for all of student and parent travel? What about speakers who come to the college?"
When the students returned last fall, many of them went to work collecting data. They went on dumpster dives to fill in the blanks on a waste audit, crunched utility bills and meter readings, and conducted commuter surveys to determine how their fellow students were getting to class. Woodard and Curran, an East Coast consulting firm specializing in college sustainability plans, was then brought on board to "plug some of the holes." The consultants then took all of the data from the 2006-07 school year, ran it through a calculator and came up with 15,329 equivalent metric tons.
While that number may seem daunting, Renner explained that it is actually relatively average for a college campus. Each Fort Lewis student is responsible for approximately 3.55 metric tons of carbon dioxide per year, according to the assessment, and that figure compares favorably with UC Berkeley's 4.33 metric tons per student. The assessment also gave Fort Lewis College a roadmap for reducing and eventually eliminating the footprint. Fifty one percent of Fort Lewis' emissions are related to electricity, while natural gas and transportation account for 25 and 20 percent respectively. Solid waste disposal and the resulting methane emissions round out the greenhouse gases at 4 percent.
"The biggest culprit is electricity," Renner said. "The best way to tackle electricity is using less. The second step is energy efficiency and making sure all of our equipment is as efficient as possible. Third, you work on on-site generation, like solar panels and wind turbines. The fourth way to carbon neutrality is purchasing carbon off-sets for the remainder."
The college is considering a $2 per student, per semester fee, which would enable Fort Lewis to purchase green power from La Plata Electric Association and reduce its emissions by 10 percent. Renner noted that the college is also planning to make its new student union 30 percent more efficient than standard construction and is choosing only high-efficiency appliances. Third, the old college site near Hesperus is currently being studied as a location for wind power generation. Most importantly, Fort Lewis is spreading the message with the kick-off of Earth Week on March 15.
"Part of what we're doing with Earth Week is having study circles to set goals and determine how we're going to get to carbon neutrality," Renner said. "We're trying to engage the entire campus around this effort. The idea is to get students thinking about how their actions contribute to the footprint. This is what campuses across the country are doing."
The approach must also go beyond the campus, Renner said. The City of Durango and La Plata County are also close to completion of their greenhouse gas inventories. While Fort Lewis' 15,329 equivalent metric tons and 37-mile high column of carbon dioxide may seem significant, early indications show that Durango and La Plata County are emitting close to 5 million metric tons of carbon dioxide per year.
"This is the first step in the establishment of an action plan that will mitigate for carbon dioxide and other greenhouse gases," said Eric Aune, interim director of La Plata County's Community Development. "But we're still tying up some loose ends on this and are shooting for the end of the month for the final release."
Meanwhile, students at Fort Lewis are working toward a brighter and cleaner future for the entire Four Corners region. Although a great deal of ground must be covered, there is hope at the "Campus in the Sky" that the days of coal-fired power, mineral extraction and oil and gas drilling will soon be replaced a new energy economy.
"It's appropriate for our students to be saying that they want a clean energy economy for the Four Corners region," Renner concluded. "It's also appropriate for them to ask that it start happening now." •