The art of resisting Desert Rock
Center of Southwest Studies opens "Connections: Earth + Artist" exhibiton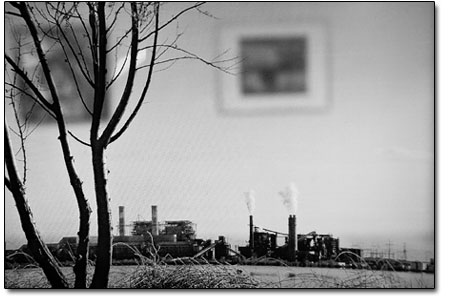 A sheer peice of fabric is draped over a billowing power plant, creating a hazy screen, in this work by Veneya Yazzie. She, along with writer Esther Belin, organized the current exhibition, "Connections: Earth + Artist = A Tribute Art Show in Resistance to Desert Rock," on display through the summer at the Fort Lewis College Center for Southwest Studies Art Gallery./Photo by David Halterman
by Jules Masterjohn
Pick up any magazine and one will find that the topic of the environment is hot. The recent issue of ARTnews lists nine exhibitions around the U.S. that address today's conservation concerns.
Earlier this month, on the other side of our blue planet in New Zealand, the Natural World Museum opened its annual exhibition as part of the United Nations "Art for the Environment" initiative. "Moving Toward a Balanced Earth: Kick the Carbon Habit," is "designed to utilize the universal language of art as a catalyst to unite people in action and thought."
The exhibition's curator wrote, "Artists are often described as prophetic visionaries and poetic shapers of the world – one step ahead of humanity." This sentiment underscores the important role that artists have in offering new ways to understand ourselves and the world we share.
Thankfully, there's no need to increase our carbon footprints and travel to San Francisco, New York or New Zealand to see art that will inspire us to action on behalf of the environment. The exhibition, "Connections: Earth + Artist = A Tribute Art Show in Resistance to Desert Rock" will open this Sun., June 22, at Fort Lewis College's Center of Southwest Studies.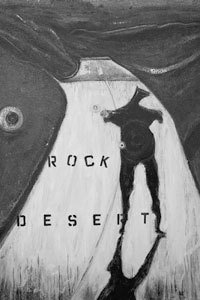 Navajo artist Gloria Emerson's "Desert Rock."/Photo by David Halterman
The exhibit is a tribute to the Navajo elders who are standing vigilantly against the proposed building of Desert Rock Power Plant. Desert Rock would be the third coal-burning facility located on or near the Navajo Reservation in northern New Mexico. Exhibition organizers, artist Venaya Yazzie and writer Esther Belin, were inspired by the elders' resolve and certitude to protect the Earth. Dooda' Desert Rock is a resistance group and camp where the Navajos are holding a vigil, using "their prayers as weapons against disharmony."
It was just after Yazzie visited the Dooda' Desert Rock encampment that she knew she wanted to bring artists together. "We are doing this exhibit for all the elders, because the elders are resisting Desert Rock for future generations." Raised by her grandparents, Yazzie grew up speaking Navajo and listening to Diné stories. "I have a heart for them and I have been saddened by seeing them not being listened to by our tribal government," she said as she toured the exhibit.
Viewing "Connections: Earth + Artist" is a powerful experience. Artists in the exhibition share diverse voices in solidarity with the environment and its inhabitants. Walking into 4 the gallery, one encounters many unique and thought-provoking works in the form of painting, mixed-media collage, photography, quilts, film, poetry and sculpture. There is wide representation in the exhibit: male and female artists, fine arts and traditional arts, and writing and the visual arts. The works by native and nonnative artists from as far as Minnesota were chosen for the exhibit. However, the majority of the work is from artists living in the Four Corners, the airshed for the proposed power plant. Of the nearly 60 entries submitted, the five-person jury selected 35 pieces, all of which reflect the theme of Desert Rock resistance or the broader concept of humankind's compromising presence in the natural world.
The gallery is spacious and inviting. A thoughtful installation choice, for much of the work reverberates beyond the materials that comprise them: compelling ideas and strong emotions push past the boundaries of the physical artwork to inhabit the space with us.
Many of the works are persuasive, and some are haunting. Octogenarian Navajo artist Gloria Emerson's painting "Desert Rock" stays with the viewer for a long time. It is a portrayal of the Diné cultural belief that there are "otherworldly beings who lurk around us with dire intentions," and it serves as a reminder to be prepared for "those forces that intend ill fortune and to counteract them with positive action." Chills run down the spine after contemplating the strange figure pictured in her ominous landscape.
The phrases in Christy Ferrato's poem, "A Wrong Turn in the Desert," elicit similarly uneasy feelings, as she gives us a tour of towns across the Navajo reservation. One stanza reads:
Shiprock/ Skeletal dogs wait outside the Chat-n-Chew/ A guy in a camouflage t-shirt and an American flag headband try to/ Sell me a dream catcher.
Pagosa Springs artist Kathleen Steventon goes beyond the borders of the reservation to the land of ideology with a two-faced symbol of America, "Short Term Gain." Steventon divides her canvas with half of the face of Lady Liberty on one side uncomfortably pairing her facial features with that of a skull on the other side, the boney face smothered in columns of thick smoke. Her appealing palette and lusciously applied thick oil paint are seductive while her message is distressing.
Cultural icons are also used as expressive forms by artists Jeff Madeen and Ricardo Moreno. Madeen's intriguing found-object wall sculpture "Downward Spiral" is exactly that: a spiraling form that falls downward off the gallery wall, crafted from the metal edge of a downhill ski with tree bark from a beetle-killed Juniper affixed to its surface. He states, "This sculpture signifies the impact we as a race have had on the planet."
Moreno uses the Chinese symbol for harmony between opposites, the Yin-Yang, as the visual and conceptual foundation for his computer-generated archival print, "Transcend Dualism." Language is an integral part of this work, with pairs of words indicating polemic ideas placed around the symbol's edges. "Affluence-Poverty, Society-Environment, Us-Them, Mountain-Desert, and Here-There" are offered for our consideration. Moreno intends to "remind us of the multiple perspectives to the issues" and that it is important to hear and integrate all points of view before taking action.
Works by visual artists Sonja Horoshko, Thaddine Swift Eagle, James Joe, Denna Carney, Sharon Abshagon, Mary Ellen Long, Tirzah Camacho, Ed Singer and filmmaker Duran Washburn as well as writings by Ann Smith, Darsi Olsen and Esther Belin offer insight into our relationship to the environment.
Yazzie's hope is that "Connections" will educate and get people thinking outside their comfort zones, that we will each deeply consider our roles as inhabitants of the planet, and make our choices accordingly.
"Connections: Earth + Artist = A Tribute Art Show in Resistance to Desert Rock" opens with a reception from 1-4 p.m. on Sun., June 22, at the Center of Southwest Studies at Fort Lewis College, 1000 Rim Drive. Additional events include a Summer Solstice Sighting and Sunday breakfast from 6-8 a.m., a 2:30 p.m. poetry reading, and a 3:15 p.m. showing of "This Beautiful World" by Duran Washburn and Poison Wind, a documentary film produced by Jenny Pond and Norman Brown. •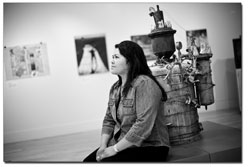 Vaneya Yazzie takes a break to inspect the hanging art at the Center for Southwest Studies at FLC on Monday.