Flugrass, Miserabillies the Telluride Top 10



by Chris Aaland
T-minus 37 hours from our annual pilgrimage to Telluride Bluegrass, and I find myself unable to hold food down, nursing a 101-degree temperature, and fighting both burning in my throat and ringing in my ears. With strep, influenza and other funk going around town, it sucks.
My wife, 16-month-old son and I had three straight weekends of festivals planned for June. Pagosa Folk'n Bluegrass went off nearly without a hitch, except for a 30-pack of PBR that mysteriously disappeared from my campsite on a sober night. Nothing says peace and love like stealing from your neighbor. Still, I was introduced to some great new acts like ex-Biscuit Burner Shannon Whitworth and the Cajun and Western swing of the Red Stick Ramblers.
Last weekend saw us at the second annual Silverton Jamboree. The onset of the mystery virus in Shelly and Otto meant they bailed for home after a handful of acts and I was left to soldier on as a bachelor. Props go out to Denver honky tonk quintet Halden Wofford & the Hi*Beams and the dirty New Orleans soul of J.J. Grey & Mofro.
Now, as we look forward to our 12th straight Telluride Bluegrass together and second with our baby, we've all caught the crud. Prospects of battling crowds for the right to experience explosive diarrhea in a 90-degree porta-potty with a 100-degree temperature – most likely in one that's either missing T.P. altogether or filled with urine-soaked butt-wipe – well, it's enough to gross-out even a world-class slob like me. At least I know that the only buzz I'll likely get this weekend will be from Emergen-C and Alka-Seltzer Plus.
Don't get me wrong, being sick has its perks. I was able to watch Tiger Woods and Rocco Mediate wage a U.S. Open playoff for the ages Monday. I shook my head as both head coaches got tossed during the first half of the Germany/Austria Euro 2008 soccer match. And I finally figured out why my wife is so hooked on "Grey's Anatomy." But being sick often equates to little or no music or reverie. Here's hoping this bug passes you by.
Local live music kicks off with the Miserabillies playing old-time country at Thursday's Ska-B-Q. It's also the annual 3D Racing Bike-BQ with food by Serious Texas BBQ. Patrons are encouraged to ride their bikes to Ska for the 5 p.m. affair.
Animas River Days flows through town Friday through Sunday. This event appeals to river rats, trout bums, skaters, BMX riders, music fans, arts & crafts aficionados and more. As part of the festival, the Summit hosts free funk (no cover!) with On the One on Friday night and a paid show by local rock/funk/bluegrass outfit Aftergrass on Saturday. Other highlights include the River Parade at 6 p.m. Friday, plus salmon slalom and slalom races and live music by Formula 151 and Annie Brooks at Santa Rita Park on Saturday afternoon.
Rural folkie Chris Pureka performs at 8 p.m. Tuesday at the Millwood Junction in Mancos. With three releases under her belt, including 2006's "Dryland," Pureka has drawn comparisons to Gillian Welch, Mary Gauthier, Bruce Springsteen and Ryan Adams. The L.A. Daily News noted, "Pureka makes romantic depression seem, somehow, invigorating."
El Patio hosts the bluesy rock of Tumblin' Dice on Thursday, the high-altitude blend of blues, rock and folk of Larry Carver & Jack Ellis on Friday, and guitar and cello by Dave Mensch & Katherine Jetter of Formula 151 on Saturday. Music starts at 5-ish nightly.
Steamworks sees dance, house and funk by Carlos Zentella & Curtis Dirt on Friday and rock, funk, blues and reggae by Frogs Gone Fishin' on Saturday. Music starts at 10 p.m. each night.
The Kirk James Blues Band plays at 8 p.m. Friday at the Billy Goat Saloon in Gem Village and from 11 a.m.-2 p.m. on Saturday at Moons Custom Cycles in Ignacio.
Serious Texas BBQ South hosts Donny Johnson on Friday and Gigi Love on Saturday. The free shows are held from 6-9 p.m. on the Serious Stage overlooking the Animas River.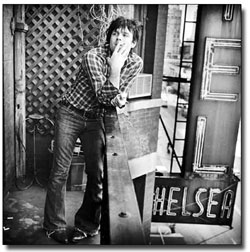 Ryan Adams, almost cracking a smile
Then there's that little ol', four-day festival in Telluride's Town Park. Here are 10 things you won't want to miss, strep throat be damned:
• Ryan Adams & the Cardinals, 9 p.m. Thursday. The Cardinals play Adams' rootsiest music since Whiskeytown.
• Hot Rize (with Red Knuckles & the Trailblazers), 5:15 p.m. Sunday. Slade may be gone, but Bryan Sutton ably fills his shoes on guitar.
• Solomon Burke, 10:15 a.m. Sunday. This gospel set by the soul legend is worth the price of a Sunday ticket all by itself.
• Steep Canyon Rangers, 10: 30 p.m. Saturday, Nightgrass performance at Las Montañas. A traditional bluegrass band at a bluegrass festival? Whoda thunkit.
• "Throw Down Your Heart" movie screenings, midnight Thursday through Saturday at the Nugget Theatre. This film documents Béla Fleck's recent trip to Africa to trace the banjo back to its roots. Béla will personally introduce each screening.
• Sharon Gilchrist, Bryn Davies & friends, workshop, Elks Park, 2 p.m. Sunday. My hunch is that Durango's Robin Davis and Benny "Burle" Galloway are the unannounced friends, especially given their upcoming performances with Davies and Gilchrist in Mancos and at the Northwest String Summit.
• Telluride House Band, 9 p.m. Sunday. Sam, Béla, Jerry, Edgar and Bryan don't need last names … the crowd already knows them intimately.
• Emmitt-Nershi Band, 1:15 p.m. Friday. Drew Emmitt and Billy Nershi cut their chops in Leftover Salmon and the String Cheese Incident. Their new outfit also features former Broke Mountain (and occasional Colorado Playboys) banjo player Andy Thorn.
• Del McCoury Band, 5:15 p.m. Thursday. Here's hoping our Amoxicillin will have kicked in so that we don't miss the best traditional bluegrass band of the past 20 years.
• Front of the Line gang. Some of the best friends I've made during the past decade are folks I've met in the Front of the Line. These diehards throw the mothers of all parties each evening, sleep under the stars (or in the rain), then race for real estate in the land rush. Check out the opening scenes of Edgar & Béla's "Music for Two or the Telluride Bluegrass 30th Anniversary" DVDs to see the Front of the Line at its best. •
Got fever 'til you sizzle? E-mail me at chrisa@gobrainstorm.net.