The rush to drill
BLM pushes for oil and gas exploration in sensitive areas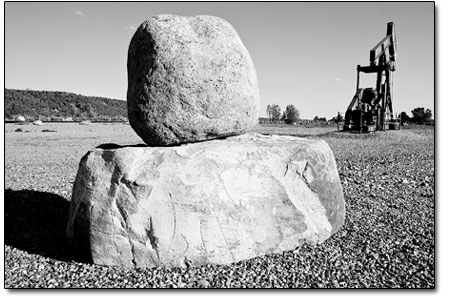 A pumpjack drills for natural gas along La Posta Road. Such sites could become more common if the Bureau of Land Management follows through on a new oil and gas inventory, which details currently off-limits reserves such as those under cities, national monuments and wildlife areas./Photo David Halterman
by Will Sands
High fuel costs could soon hit local residents well beyond their pocketbooks. Calling it a "Road Map for Energy Relief," the Bureau of Land Management recently released an inventory of untapped oil and gas resources that are currently off-limits to drilling. According to estimates, millions of barrels of oil and trillions of cubic feet of natural gas are still untapped in Southwest Colorado and Northern New Mexico, and the inventory has suggested taking drastic measures to access them and help ease the nation's energy woes.
When the inventory was released two weeks ago, C. Stephen Allred, assistant Secretary of the Interior, hailed it as a solution to high heating and fuel costs. "America has abundant energy resources," he said "However, for a variety of reasons, many of these resources are not available for development. At a time when energy prices have reached record levels and Americans are feeling the impact, we must find ways to develop those key energy resources that are available to us right here at home, on our public lands."
The phrase "not available for development" has been interpreted in a different light by conservationists. The "impediments" to development include critical wildlife habitat, steep and unstable slopes and "no surface occupancy" stipulations. The inventory also includes national monuments, designated roadless areas, wilderness and wilderness study areas, and national conservation areas as places that could be drilled.
"The whole tenor of the inventory is that we should justify more rollbacks of protection and open the door to drilling in places that should be preserved," said Nada Culver, of the Wilderness Society. "The report implies that these are impediments that must be removed for the good of the nation."
For Southwest Colorado and Northern New Mexico, one of the richest oil and gas deposits in the country, the BLM has identified abundant oil and gas reserves that have been "inaccessible" to this point. The study suggests that up to 1.35 million new acres in the San Juan Basin could be opened to energy development, and that nearly 115 million barrels of oil and 2 trillion cubic feet of natural gas could be accessed.
"I'd like to assume that we won't be seeing drilling in downtown Durango or inside Mesa Verde National Park," Culver said. "But the study does suggest that we begin drilling in areas like critical wildlife habitat and national recreation areas and on steep slopes and sensitive areas."
The philosophy that more drilling will somehow ease America's energy burden is troubling to conservationists. Josh Joswick, oil and gas coordinator for San Juan Citizens Alliance, noted that the region's public lands are increasingly being tapped for energy at the expense of other uses.
"The agency is perpetrating a sham that we can drill our way out of our problems," he said. "The BLM has to remember that it's in the business of managing for multiple use and not just encouraging energy development."
The Durango-based Oil and Gas Accountability Project sees the recent BLM "road map" as part of a national trend. New areas are being opened to drilling at an alarming rate, according to Gwen Lachelt, OGAP's executive director.
"All of the easy, getable areas are being played out, and it's getting dirtier and dirtier," she said. "It's increasingly in people's back yards and increasingly in sensitive areas in the false hope that we can drill our way to independence."
Joswick went on to question the wisdom of opening sensitive areas to energy development, when many energy companies are just sitting on their San Juan Basin leases. "It's amazing because the energy companies already have the leases that they need now, and they're not developing them," he said. "This push seems to be artificially driven and an attempt to tie this stuff up before Bush leaves office."
The Durango offices of the BLM dispute that there is any kind of mandate from the White House to encourage local energy development. Matt Janowiak, assistant manager for physical resources at the San Juan Public Lands Center, countered that the inventory is more reflective of economic realities.
"When a company reports reserves, it's based on reserves that are economically recoverable, and that's based on the price of oil," he said. "More reserves become recoverable when the price goes higher.
Whenever you have resources out there that have quintupled in value in a short amount of time, the pressure comes to bear on land managers."
When the energy companies come knocking, land managers get caught in a pinch of balancing extraction and preservation, according Janowiak. "The resource is where it is, and unfortunately it is sometimes under these fragile areas," he said. "It basically becomes a balancing act."
Residents of the San Juan Basin can only hope that the BLM does keep things in balance, according to the Wilderness Society. The release of the inventory offered no opportunity for public comment, and efforts to tap "inaccessible" oil and gas could begin immediately, Culver noted.
"We've already seen such a rollback in environmental project and such a rush to drill that this survey is somewhat shocking," she said. "I do hope that the public will speak up and say that it wants the government to abide by environmental laws and that they are not merely impediments." •