Diddley, folk, grass, jazz and rivers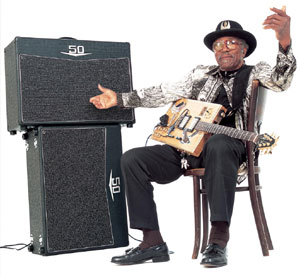 Bo Diddley
by Chris Aaland
Maybe it's a flashback. Maybe it's a nightmare. Every time I set up camp at a musical gathering of the tribes, I can hear the hippie kids in their all-night drum circle in Telluride's Valley Floor campground, circa 1997. I was likely nursing a hangover or squirming to find a position that didn't jettison a rock into my spine. Regardless, my restless sleep each night would be suddenly ended by someone screaming "Festivaaaaaaal!" at 4 a.m.
No doubt the same ritualistic call-to-arms of twenty-something dreadheads will be hollered across the San Juans this weekend as three different festivals bring us everything from jazz to bluegrass to worldbeat.
Whether you're grooving to old-time string band music in Pagosa Springs, Big Easy jazz in Telluride or Afro-Caribbean-barnyard funk in Dolores, stop and pay homage this weekend to the Originator.
Bo Diddley died on Monday at age 79. You can argue that Chuck Berry, Fats Domino or Elvis Presley was the father of rock and roll. I'll argue that Bo was. His chink-a-chink-a-chink, a-chink-chink riff heard in such tunes as "Bo Diddley" and "Who Do You Love?" inspired the likes of Buddy Holly, the Rolling Stones, the Who and the Doors. Diddley Daddy was rock's first bad boy, the original Man in Black complete with cowboy hat, shades and a rectangular-bodied electric guitar.
Ironically, he passed away on the same day that my new Rolling Stone arrived in the mail with its 100 greatest guitar songs of all time. Nary a single Diddley recording made the list (though Quicksilver Messenger Service's live version of Bo's hit, "Mona," did). Kurt Cobain was right: corporate magazines suck.
May Ellas McDaniel rock in peace.
I'll toast Bo from my Reservoir Hill campsite at the first-ever Folk'n Bluegrass Festival Friday through Sunday in Pagosa Springs. Here's the Reader's Digest version of the festival: mostly bluegrass from the likes of the Waybacks, Bryan Sutton & Russ Barenberg, the Biscuit Burners, Martha Scanlan, Cadillac Sky, Shannon Whitworth and more. Can't-miss moment: nearly all of the acts will perform an "acoustic stage" set in addition to the main stage. You'll never hear two guitarists as good as Sutton and Barenberg in an unamplified setting. The local twist: the Badly Bent and Rock & Rye are both on the bill.
If jazz, R&B and Crescent City classics are more your beat, then head for the Telluride Jazz Celebration on Friday through Sunday. The lineup includes the Neville Brothers, Dr. John, Maceo Parker, the Dave Liebman Group, the Les McCann & Javon Jackson Band and Joe Lovano. Can't-miss moment: Bettye LaVette — the best R&B singer you've likely never heard of — plays at 5:40 p.m. Friday. Her backing band on her last album was the Drive-By Truckers. Local twist: Durango's Jeff Solon performs a free Elks Park set from 3-4 p.m. Friday.
Get funky for damned-near free at the Dolores River Festival on Saturday in Dolores. Musical entertainment will be provided on two stages, highlighted by worldbeat faves Euforquestra, funk act BiggaDigga and Flagstaff-based bluegrass crew the PorchLights. Family fun includes raft trips, a river dog contest and kids' arts and crafts. Local twist: Formula 151's 12:15 p.m. main stage appearance.
Can't hitch a ride to a festival? Fret not as you still have options, my friend. Start things off at 5 p.m. tonight (Thursday) at this week's Ska-B-Q, featuring music by Huck O Meter (formerly Angst for Nothing) plus complementary brisket and burgers.
Jack Ellis & Larry Carver perform blues and rock at 5 p.m. Friday and Saturday at El Patio.
Pete Giuliani plays acoustic covers and originals from 6-9 p.m. Saturday and from 3-6 p.m. Sunday on Christina's patio.
I've heard tall tales of the Blanco, N.M., nightlife, one of which involves a switchblade and my stepfather. Check it out for yourself when Cadillac Sky warms up for its Folk'n Bluegrass set by playing Ducks for Bucks at 233 Highway 151 in Blanco on Saturday. Call 505-632-0879 for more information.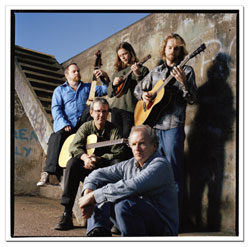 The Waybakcs, who will be performing at the Folk'n Bluegrass FEstival in Pagosa this weekend
Bubba and his Freeman Social bandmates seize control of the Summit on Saturday. The 10 p.m. rock 'n' roll bill also includes In a Day.
The Kirk James Blues Band plays the "Men Who Grill" event from 11:30 a.m. 'til 2:30 p.m. on Saturday on Main Ave. across from Buckley Park. Catch him at 2 p.m. Sunday at the newly-renamed Legends Lounge and Grill (formerly the Ball Park Bar) in Bodo Park.
This week's Top Shelf list is provided by Kathrine Warren, who serves as publicist for FolkWest, the nonprofit group that brings us this weekend's Folk'n Bluegrass Festival and Labor Day's Four Corners Folk Festival. Here are 10 of Warren's favorite festival memories from the past 21 years — in chronological order because she can't rank them.
• My brother bragging to Ziggy Marley's and James Brown's roadies in a Snowmass hotel lobby that he had successfully peed standing up for the first time (sorry dude!). This was also my first concert ever — Ziggy Marley and James Brown at the One World Music Festival. I missed the first day of first grade by going to the show.
• Meeting Alison Krauss backstage at Telluride Bluegrass. I told her that my favorite musical group was the Spice Girls (forgive me, I was 10 years old) and she responded by saying, "Well you can just call me Grassy Spice."
• Making $100 selling handmade hemp necklaces at the Four Corners Folk Festival.
• Snorkeling with Tim O'Brien in Cozumel, Mexico, on a bluegrass cruise. There's picture proof on his myspace page to prove it.
• Dancing with Chris Thile and his fiancé to Cake at Telluride Bluegrass while he sang the wrong lyrics.
• Meeting Norah Jones at the Rocky Mountain Folks Festival in Lyons.
• Getting drunk for the first time at Telluride Blues and Brews with my cousin and his college buddy.
• Tasting my first gin and tonic a few years later at Telluride Bluegrass on a front-row tarp occupied by a certain Top Shelf author.
• Meeting my musical soul-mate, Michael Franti, at the Taos Solar Music Festival and having him record my voicemail greeting on my cell phone. I have since changed it, but I still have the recording on my iPod. •
Got a brand new chimney up on top, made out of human skulls? E-mail me at chrisa@gobrainstorm.net.