The Emerald Isle, Hot Club of Cowtown and hangovers



by Chris Aaland
Even a town with four microbreweries, a river running through it, countless biking and hiking trails, nightly music and what seems like a bar on every street corner needs a shot of something fresh and new.
I wandered into the Irish Embassy a week or two ago for a business meeting that ended with a plate of bangers and mash and few pints of Guinness and Smithwick's. Mick Ward and John Fingleton have brought real Irish pub atmosphere to Durango. The menu is long on traditional Emerald Isle cooking (shepherd's pie, Irish stew, two kinds of fish 'n' chips) and the 11-tap bar is heavy on European brews. Ska and Durango Brewing products are available in bottles. The Irish Embassy serves its full menu until 10 p.m. Mondays through Thursdays and midnight Fridays through Sundays (and finger foods through closing). They're even hoping to book Celtic bands on occasion.
Fingleton explained to me that in Ireland, people pick one pub for life. They have their Confirmation parties, wedding receptions and wakes in the same pub. Sometimes they stop by for a bite to eat, sometimes for a pint of ale, sometimes to play checkers and tell lies. They're hoping to establish something here that we'll enjoy for generations.
Speaking of enjoying things for generations … the same can be said for music festivals. My trip to RockyGrass last week was a regular gathering of the tribes, featuring the same campmates from year to year. My chef friends from San Francisco were there. Families from Tennessee to Kansas made the drive. Durango was represented, too, with Campsterdam and Camp Get Enough. Bluegrass music's "Next Generation" — many of whom call Colorado home — livened up everything from Oskar Blues to the Sunday morning gospel set.
We were also treated to a new generation of drunks. One family dumped a half-dozen or so 14-year-olds in a campsite on Thursday and didn't check back in until Monday morning. We twice busted these kids trying to steal vodka from our cooler. Their labors were more fruitful at other camps, though, as they kept it going until Monday's sunrise. How many times do you need to hear a junior high girl squeal "I'm so wayyyyyy-sted" at 4 a.m.? She ensured a record slow drive back to Durango with nearly a dozen coffee breaks, bathroom stops and leg-stretching episodes.
Aug. 5 seems a long way off, but circle the date as it's this week's "can't miss" concert. The Hot Club of Cowtown has reunited and returns to the Henry Strater Theatre at 7 p.m. Tuesday. Why Hot Club has bombed here in the past, I can't explain. But it's true that their 1999 DSCPA-produced dance lesson and concert at the Smiley Auditorium was scarcely attended, as was their 2002 KDUR fund-raiser at the Community Concert Hall. Since the mid-'90s, Elana James (fiddle), Whit Smith (guitar) and Jake Erwin (doghouse bass) have toured the globe playing Western swing and hot jazz. They held down the opening slot on the famous Willie & Dylan tour a few years back, causing his Bobness to steal Elana into his band and send Hot Club into hiatus. But now they're back, with a new album on the way and a brief run through Colorado that includes the Hank.
This week's Ska-B-Q features Pinhead plus tasty BBQ cooked by Ska's brewmaster and crew. It all starts at 5-ish in Bodo Park tonight.
DJs NoEgo and Mateo spin '70s and '80s tunes on Thursday at the Summit, followed by a hip hop blowout on Friday with 2 Mex, the Smob, Artikle, Verbal and Definition Rare.
The International Farmers, a Southern California band that combines reggae, dub, soul and hip hop, performs at the Summit on Saturday. The six-piece ensemble features guitar, keyboards, saxophone, bass, drums and vocal harmonies.
Carver Brewing Co. welcomes Strange New Shoes to its back patio from 3-6 p.m. Sunday. SNS brings a wide variety of original music to the brewery, with influences that include alternative, reggae, rock, funk, ska, punk, hip hop, blues, jazz and just about everything in between.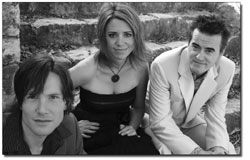 Hot Club of Cowtown
Despite any rumors to the contrary, local country outfit the Miserabillies have not made much money and just play easy gigs. Or so reports their e-newsletter. It also mentions a free show from 5-7 p.m. Thursday at an open-air park in Mancos. The event is sponsored by the Mancos Farmers Market.
The Sideshow Gallery in Dolores presents a triple dose of poetry at 7 p.m. Thursday. Titled "Mouthful," the evening features local writers Renee Podunovich, Danielle Desruisseaux and Laura Hawes reading from their works. Copies of Podunovich's new book will be available, as will cool adult refreshments. Check out the gallery's metal show while you're there.
Formula 151 plays a couple of regional dates this weekend. Check 'em out at 8 p.m. Friday at the Billy Goat Tavern in Gem Village and at 8 p.m. Saturday at the Hollywood Bar in Dolores. Formula 151 frontman Dave Mensch also has solo gigs at the Office at 7 p.m. Thursday, at El Patio at 5:30 p.m. Sunday and at the DoubleTree Hotel's River Rat Café at 4 p.m. Tuesday.
Still a week away is the crazy Thursday that finds two of Yep Roc Records' finest alt-country acts playing a baseball's throw away at competing bars. On Aug. 7, DAM welcomes Chuck Prophet to the Abbey (his first-ever Durango date), while the Summit has The Gourds (Durango pops up on their itinerary nearly every year).
Tickets went on sale this week for an Aug. 22 Summit date by Slim Cessna's Auto Club. For those of you with short memories, Slim Cessna is Denver's gothic cowpunk kings who blew the doors off last year's Tour de Fat on Main Ave. Drop by the Summit or Animas Trading to avoid getting shut out of this one.
This week's list is a short one, highlighting the best and worst of RockyGrass 2008:
• Best band: Carolina Chocolate Drops. This trio of African-American old-time musicians brought string band music back to its Piedmont roots. Spoons, kazoos and jugs were as much a part of their routine as fiddles, banjos and guitars.
• Best moment: Chatham County Line playing an acoustic set at the festival's entrance. No mikes, no amps, just good tunes.
• Worst cocktail: Sake, guava juice, pineapple juice and pomegranate liqueur … at 9 a.m.
• Worst hangover: See above.
You been drinking whiskey before breakfast? E-mail me at chrisa@gobrainstorm.net. •