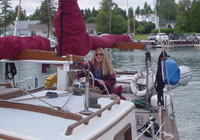 Diver: Sue from MyDurango.net
Interesting facts: Sue is the first and only diver to use the word "bowsprit," and use it correctly.
Got a dirty little secret?
Looking for guidance to remedy a sticky situation?
Seek help from the master of the kitchen! The Dish Diver has solutions to life's little messes. Send your problems to "Ask the Diver." - By mail to Durango Telegraph - Attn Diver -534 Main Ave., Durango, CO 81301; by email at telegraph@durangotelegraph.com, or by fax at 259-0448.
Dear Diver,
The wife and I just returned from a nice weekend out at Navajo Lake. We noticed that people on passing boats are really friendly and wave to one another. It's almost like an unspoken agreement or brotherhood. My question is, why don't operators of other vehicles (i.e. cars and trucks in downtown Durango) behave in the same manner?
–B.L.T.
Dear B.L.T,
The major difference between boats and cars is that with boats, size is evident and therefore boaters don't have as much to prove. Cars and trucks, on the other hand, have shapes you can see but you're left wondering "What's under the hood?" So, the cars and those pickups that sound like elephants with emphysema that emit huge black clouds of noxious fumes are really wishing they were boats with really, really big bowsprits instead of a puny gas pedal and wishful-thinking sized exhaust pipe they are unfortunate enough to be stuck with. They have my sympathy.
– Sincerely, Just ride the wave
Dear Diver,
The wildlife news has been more than a little frightening for those of us living on the west side of town. I've even started hallucinating large, predatory animals around every corner. What are your tips for keeping mountain lions at bay?
– Locked down in Durango
Dear Locked,
Stop with the hallucinogenics and become a vegan. If you end up with no animal products of any kind around you or in your trash, why would any self-respecting carnivore have anything to do with you? (Including me…)
– Signed, Just Talkin' Trash
Dear Diver
I just scored a cheap plane ticket and was stoked until I read a little of the fine print. It turns out that after my 7-plus hour flight, I'll have to take a 2-hour cab ride from Newark, N.J. to New York! Any thoughtful suggestions for ways I can pass the time.
– Never Leaving Durango Again
Dearest Never Again,
My first suggestion would be to spend the time actually READING ALL THE FINE PRINT … but that may come under the heading of cruel and unusual punishment, since you'll be trapped in a cab in N.Y., N.Y. I personally wouldn't be able to take my eyes off the road because I would be terrified. Have you ever ridden in a New York taxi? No? Tell the driver that there's an extra $20 in it for him if he gets you there in an hour and a half. Plus, take a long a map so you know where to fly next time. AND take the Telegraph… read all the fine print in there too. Reply to all the letters to the editor, no matter how whacked out they seem. Good luck and look at it this way – it's an E-ticket ride that lasts two hours long.
– Sincerely, Get in, sit down, shut up and hang on