Southwestern Shakespeare
Utah Shakespearean Festival tackles perennial question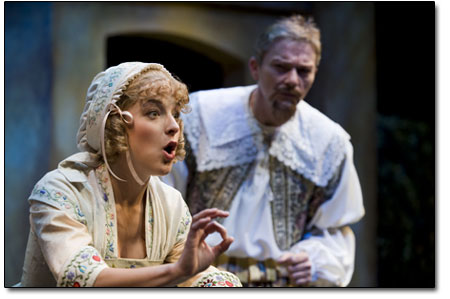 Agnès (Betsy Mugavero), left, explains to Arnolphe (Timothy Casto) what she adores about her secret lover in Moliere's "The School for Wives," which will be preformed during the Utah Shakespearean Festival, running through Aug. 30 in Cedar City./Photo by Karl Hugh, Utah Shakespearean Festival
by Judith Reynolds
What do women really want? That old conundrum seems to be the unofficial theme in this summer's Utah Shakespearean Festival, running now through the end of August in Cedar City, Utah. While not overtly stated, male bewilderment could easily be the ghost behind the curtain.
Here are six reasons to make a day's drive west to Cedar City to see the region's premiere Shakespearean festival.
The Taming of the Shrew:
A multi-layered comedy that lends itself to time travel, so why not set it post World War II? Director Jane Page drops us into an Italian village and transforms the traveling braggart Petruchio (Grant Goodman) into a swaggering American GI. Through all the relationships, the conceit works, right down to Vincentio (Morgan Brown), an American mafioso and his impersonator (Ben Cherry). Kate (the athletic Melinda Parrett) contrasts comically with the ditzy little sister Bianca (Lisa Ferris) and colorful suitors. The whole production is a delightful Italian desert. If you think you've seen too many productions of "Shrew," this one will surprise you.
The Two Gentlemen of Verona:
Shakespeare's early play about two boyish friends begins with an invented high school graduation. Director Jesse Berger crafted the scene with Proteus (Matt Burke) and Valentine (Justin Matthew Gordon) mugging for their parents in the audience and shouting "Verona" as in "High School." It's a tiny moment, but it sets the tone for callow youth to test both friendship and love. The two boys leave Verona for Milan, where they encounter the adult world of work, commitment, love and betrayal, with solid performances throughout. An unexpected pleasure is Brian Vaughn's simple/wise fool, Lance, accompanied by the only dog Shakespeare specifically wrote into a play. Crab (played by a serene, elderly Jake) is the only actor on stage without any artifice. A triumph.
Othello:
The darkest of the Shakespearean offerings, "Othello" centers on how doubt poisons the best of marriages. Othello (forcefully acted by Jonathan Earl Peck) slowly succumbs to his greedy ensign's lies about an unfaithful Desdemona (Lindsey Wochley). As played by James Newcomb, Iago bristles as a wiry, pit bull of a villain. Iago understands male pride better than female devotion. He spins a web of destruction that has to be constantly recalibrated. Newcomb gives Iago brief moments of recognition that are fresh in the canon of interpretation. Director J.R. Sullivan helms a swift, downward spiral in a sumptuous setting full of Turkish motifs befitting the play's locale – Cypress.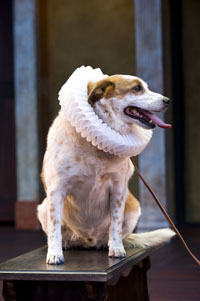 Crab, Lance's loyal dog (played by Utah canine Jake) appears in "Two Gentlemen of Verona," one of Shakeseare's earlier plays abut two boyhood friends who strike out to Milan./ Photo by Karl Hugh, Utah Shakespearean Festival
The School for Wives:
It's high time Molière, the French Shakespeare, reappeared at the Festival. It's been 20 years. And "Wives" is a gutsy choice for its satirical take on male chauvinism. Molière understood women from bitter experience, and he let that sharpen his edge for satire.
Arnolphe (the rubber-faced Timothy Casto) wants what he thinks is the perfect wife – more dutiful servant than partner. To ensure obedience, he has raised the orphan Agnès (played coolly by Betsy Mugavero as innocence awakened) only to learn she's smarter than she appears.
Director Robert Cohen signals frothy fare by creating the atmosphere of a small French village. A robust opening scene sets a jaunty tone as actors race through the aisles as if they were on cobbled streets. Sitting on small steps at the edge of the apron, the actors chat up the audience as if old friends. Cohen and company also spin out three mimed scenes that condense and advance the action. Chandeliers twinkle above as harpsichord sprinkles Jacques Duphy's music in the air. It's all filigree.
Fiddler on the Roof:
Tevye, the great father, husband and small businessman of Anatevka, is a man full of simple wisdom. Yet women confound him. He must constantly adjust to what his wife and five daughters need and want. Matthew Henerson delivers a warm and engaging Tevye, arguing with God, with an outsized Lazar Wolf (Eric Stein) and with an outsized need to marry his daughters well. With its wrinkled sky, poor hut, and perilous roof on which Aaron Haines plays the fiddler's haunting melodies, the Utah production is engaging. Like "Shrew," this is a beloved, oft performed work yet not to be missed. Besides, the orchestra, though small, has a cello, mandolin, clarinet and accordion for those who love the sound of Klezmer music.
Cyrano de Bergerac:
I leave this paragraph for last because the character Cyrano understands women. He loves Roxanne. He pays attention. He listens and learns. He honors her life and her wishes. He's a man of deep nobility.
Edmond Rostand's tale of a chivalric knight in an unchivalric time is rare, and Brian Vaughn's portrayal of this brave and devoted man stirs the heart. The enduring popularity of "Cyrano" is no mystery – we all yearn for the noble gesture, the valiant effort, brilliance and mature sacrifice.
Directed by David Ivers, the festival production has a cinematic feel, one scene flows into another, characters stream on stage as others exit. Fight scenes are thrilling; love scenes have a hidden fire. Most startling of all is the final battle scene that ends the Siege of Arras. As the soldiers advance to the thunder of conflict, they freeze in place, swords drawn. Then two musical themes intertwine as white-robed nuns slowly wend their way through the soldiers. As they pass, the soldiers fall away, creating a strong sense of ambiguity. In one stunning visual moment, Director Ivers transitions from the end of Act IV into the beginning of Act V. In a visually poignant manner, we are effectively brought to the final scene 15 years later in a convent garden.
A theatrical moment like this is worth driving a long distance to see. •