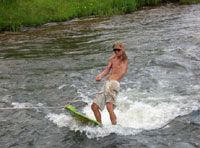 Diver: Logan from Steamworks
Interesting facts: In between "Charlie's Angels" reruns, Logan has been known to dabble in a little amateur meteorology
Got a dirty little secret?
Looking for guidance to remedy a sticky situation?
Seek help from the master of the kitchen! The Dish Diver has solutions to life's little messes. Send your problems to "Ask the Diver." - By mail to Durango Telegraph - Attn Diver -534 Main Ave., Durango, CO 81301; by email at telegraph@durangotelegraph.com, or by fax at 259-0448.
Dear Diver,
Our neighbors don't mind sharing. By that, I mean that their children spend at least two hours a day in my house and eat three to four meals at my table every week. The relationship would be fine if there was a little reciprocity, and my son scored occasional mac 'n' cheese from their larder. But we hardly ever even see the parents, and something is definitely amiss. Any ideas?
– Pops in Hermosa
Hey Pops,
Did you ever see the movie, "Don't Tell Mom the Babysitter's Dead?" It is clear to me you have been selected to portray the role of "totally clueless retard neighbor guy" in the upcoming sequel "Don't Tell Mom We Shot the Babysitter Into Space II." Don't feel so bad though, at least you didn't get cast for "Alien and Chucky vs. Terminator vs. Mr. T and the Power Rangers" or "Stargate: Wal-Mart."
– Diver
Dear Diver
Is it going to snow in July? I am SO scared because of the snow that canceled the Iron Horse I still haven't taken my snow tires off. Is there a risk of sliding off the road or has my anxiety gone on too long?
– Kracklin' Tires Kevin
Kevin,
Any moron knows the weather is exclusively controlled by a very vengeful Santa Claus-lookin' dude who rides around on clouds all day. He distributes "extreme" weather occurrences according to the sin activity level of any particular area. Judging by the winter we just had, it is obvious we live in an immoral, blasphemous hot spot. So keep your snow tires on, buddy, 'cause we are literally one "god dammit" or gay marriage away from a crushing 10-foot July hate storm.
– Diver
Dear Diver,
What are the diver's picks for favorite summer reads? I've read the mainstream choices and came away unimpressed (Nora Roberts?! Give me a break.) What's on the diver's bookshelf this summer?
– Val
Val,
Logan no read book. Logan like watch picture box. Logan like watch funny video with man get hit in crotch. Logan like watch man play game with ball. Yea! Man hit ball with stick. Yea! Man run fast. Logan like Fox News. Logan try eat book, book not taste good.
– Diver