A global diagnosis
Durango company pioneers cyber-medicine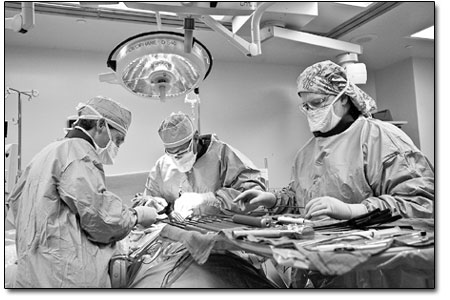 Dr. Jim Youssef, center, and his assistants perform spinal surgery at Spine Colorado, in Mercy Regional Medical Center on Tuesday morning. Youseff is among more than 1,000 doctors using the services of Syndicom, a Durango-based company that allows doctors from throughout the world to collaborate on medical procedures./Photo by David Halterman
by Beth Lueck
In a region peppered with athletes of all shapes and sizes, Durango spinal surgeon Jim Youssef has seen his fair share of unique and challenging injuries. In the spring of 2007, Dr. Youssef was faced with just such a case. After multiple failed surgeries and a long history of spinal problems, a middle-aged man was once again facing surgery. Due to the complexity of his patient's case, Dr. Youssef decided to consult his peers before operating.
Thanks to an innovative Durango company, Syndicom, Dr. Youssef was able to tap into dozens of professional opinions. He posted his patient's case and x-rays on Syndicom's SpineConnect website and was able to receive immediate responses from doctors all over the world. Based on the great deal of advice he received, Dr. Youssef changed his original surgical plan, which resulted in a successful final surgery and positive outcome for his patient.
SpineConnect is a free web-based service that allows spinal surgeons to communicate with one another on cases. The local creation was also the focus of a recent study, the results of which are garnering international acclaim, proving that SpineConnect is dramatically changing communication and collaboration in the medical field, and increasing patient outcomes as a result.
Founded in 2002 by Scott Capdevielle and Dr. Youssef, Syndicom is built upon the idea that collaboration is the key to success. "I wanted to bring together experts and share intellectual knowledge," Capdevielle said. With this in mind, Capdevielle transferred the organization and tools needed for this sort of collaboration to an innovative industry – the medical industry.
SpineConnect, Syndicom's first collaborative community, was launched in October of 2005 and has since grown to include more than 1,000 surgical members from more than 40 countries. Once a member of SpineConnect, doctors then join "groups" usually based on where the group members trained or performed fellowships. Members can then post information, including images and x-rays, on cases they are working on and instantly receive feedback from their peers.
"It's not getting a second opinion, but 10 or 20," Capdevielle said. "A doctor wants to see if there are any opinions he hasn't thought of or really considered."
More often than not, doctors do discover different opinions or new techniques through the site, the recent study shows. Conducted by a third party and presented at various international academic spine meetings, the findings show that 68 percent of members considered alternative methods or approaches to cases after using SpineConnect, and 34 percent actually changed their original plan after reviewing comments and feedback on SpineConnect. The study also shows that 90 percent of active users feel that using SpineConnect has improved their surgery planning and execution as well as their overall ability to practice spinal surgery.
This positive feedback from surgeons is the result of the easier and less expensive means of collaborating with one another that SpineConnect provides. Instead of only being able to receive feedback from limited amounts of local peers, waiting until conferences, or using time-consuming methods to communicate, surgeons are able to instantly receive a large amount of feedback, from all over the world. The global level of interaction also allows surgeons, especially those in potentially underdeveloped areas, to discover new techniques and surgical approaches as well.
For patients, this leads to an increased level of confidence and trust in their doctor, as well as improved outcomes. "There are more eyes helping a doctor get skills and confidence," Capdevielle said. These skills and confidence, and the knowledge that there are multiple doctors backing a surgical decision, can also save time and money in the long run, avoiding a potential need to perform another surgery after an unsuccessful first one.
Patients can also have confidence in the security of the website and the opinions their doctor is receiving. Every member is approved and is board or fellowship trained. Patient information, aside from what is necessary in the description of the case (such as age and gender) is never revealed, and the doctors providing case feedback only remain anonymous if they are not a member of the specific group to which the case has been posted.
"Everyone has to trust everyone," said Walker Thompson, Syndicom's vice-president of sales and marketing. "It's a different way of getting and sharing knowledge. It's a learning process." As part of this learning process, members must also post follow-ups to cases they have previously posted, and let their peers know what worked or did not work.
Spreading this collaborative learning process is the main goal of Syndicom, within the medical field but also within their own company and community.
"Collaboration is a skill you learn. If you learn how to apply it well it's something that makes your company better and more competitive," Capdevielle said.
Thompson added that this mindset has made Durango an ideal place for a collaborative community, and which will keep the core of Syndicom in Durango, despite any other future expansion plans.
In addition to connecting surgeons with other surgeons, Syndicom also works with medical device manufacturers and medical professionals in the development of new technology. A second collaborative community, TraumaConnect, has also been established to connect orthopedic surgeons. In the future, the company hopes to continue to branch out to other medical as well.
"Those who adopt collaboration are racing ahead and whoever is able to embrace these skills will survive," Capdevielle said. "Collaborative groups are helping save time, money, and resources. That's what collaboration can do." •