Nordic goes 'gnarly'
Inaugural Tour de Ski takes off Saturday at Purgatory

SideStory: Three tastes of winter: DMR to host inaugural Winter Triathlon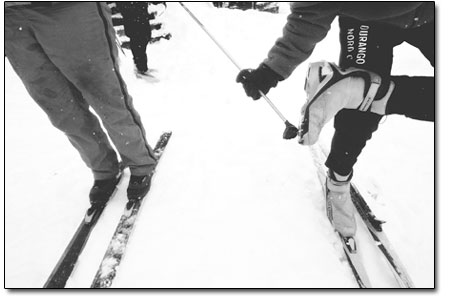 A skier scrapes his binding before clicking in for a few laps at the Durango Nordic Center. The center and Durango Mountain Resort will be the site of two big upcoming Nordic events: this Saturday's inaugural Tour de Ski cross-country marathon and the Durango Winter Triathlon, set for Jan. 26./Photo by David Halterman
by Missy Votel
The words "Nordic skiing" and "extreme" usually aren't found in the same sentence. But that could all change this Saturday when local racers and aerobic junkies alike take to the mountains outside Purgatory for the inaugural Tour de Ski.
Featuring a 20-kilometer and 40-kilometer "marathon" course, the tour will take skate skiers through groomed terrain typically unheard of in such races. The 40-K course boasts an impressive if not insane elevation gain of 2,300 vertical feet, topping out around treeline.
"If not extreme, it's definitely going to be pretty epic," said local racer Miles Venzara. "To be able to skate above 11,000 feet is going to be incredible. Usually, you're only able to ski tour on that kind of stuff."
According to Helen Low, director of the Durango Nordic Center, which is sponsoring the race, the Tour de Ski (which coincidentally shares the same name with an epic leg of the European World Cup cross-country circuit that wrapped up earlier this week) is the highest of its kind in the country. "It's absolutely the highest elevation Nordic race in the state, which would make it the highest in the country," she said.
However, the Durango Tour de Ski may have its European counterpart beat as far as terrain goes. "With the amount of climbing and steepness, it will be one of the gnarliest Nordic races in America," said local veteran racer Rick Callies. "The Tour de Ski in Europe has climbs, but nothing like this."
The local Tour de Ski was the brainchild of husband-wife team Travis Brown and Mary Monroe, who both come from Nordic racing backgrounds Monroe, who is also the executive director of local trails advocacy group Trails 2000, said the idea for a local, high-alpine Nordic marathon is one that's been kicked around for a while.
"It's funny, but a lot of times while we're up there in the summer doing trail work, people ask, 'Why isn't there a ski marathon up here?'" she said. "So finally, a group of us got together and sat down and asked, 'Can we pull this off?'"
According to Monroe, putting the race together was a concerted effort among several participants, including Hank Theiss, Durango Mountain Resort general manager; former Olympian and Nordic ski coach Mike Elliott; Low, from the Nordic Center; and Bob Rule, owner of San Juan Ski Co. DMR has donated the use of its Lift 4 to transport racers to the start/finish line at the intersection of the Pinkerton Toll Road and the Hermosa Park Road and Low and Elliott lent expertise in race and course logistics. However, Monroe said nothing would have been possible without the heavy lifting being done by Rule's snowcats.
"Props really go out to Bob for setting and grooming the course," she said.
Indeed, local Nordic racers who got a sneak peak at the course are already singing its scenic and lung-busting praises.
"Bob knows every nook and cranny, every tree in that forest," said local Nordic racer Brett Sublett. Although Sublett won't be racing Saturday due to a lingering foot injury, he was asked by Rule to test out the course last week. "I skied the entire course, and it was difficult just taking my time," he said. "For those racing it, it's going to be trying. Forty-K is a long way to ski, this is going to be pretty challenging."
Bearing that as well as recent heavy snowfall in mind, Monroe said the tour, which she hopes to see become an annual event, will start off small.
"Since we had such a short amount of time to pull it off, and we've never done this before, we decided to make this a trial year," she said. "That way we can figure out first if it's even doable and then work the kinks out."
Monroe said there are 20 spots open for each of the races, with about a dozen racers signed up as of Monday. Interested racers can register by 1 p.m. on Friday at Backcountry Experience, and there will be no race-day sign up. The race begins at 10 a.m. Saturday, and racers not making the half-way point in an alloted amount of time will be turned back. Although it is a self-supported event, there will be one aid station along the course.
The 20-K course, which will take racers along the Hermosa Park Road paralleling the ski resort and then twice around a loop before returning along the road, is expected to take skiers about 1½ hours. The 40-K marathon course will follow the same course as the 20-K then head out for a loop on the Cascade Divide Road and Relay Creek before returning on the Hermosa Park Road. It is expected to take racers between 2½ and 3 hours to complete. Prizes will be awarded to the top three male and female finishers in each division, courtesy Backcountry Experience and Trek Bicycles.
However, as those familiar with the course pointed out, the real prize will be in competing in and finishing the race itself.
"The course is phenomenal and the views are stunning," said Low. "And with the high moisture content in the latest snowfall, the conditions will be about as perfect as you can get them.
"All the racers are really excited, almost giggly about it," she continued. "They can't wait to burn their lungs out and get a kick out of it."