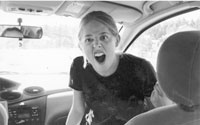 Diver: Elli from the Deli at Natures Oasis
Interesting facts: Elli didn't believe her mom when she said "Your face is gonna get stuck like that!"
Got a dirty little secret?
Looking for guidance to remedy a sticky situation?
Seek help from the master of the kitchen! The Dish Diver has solutions to life's little messes. Send your problems to "Ask the Diver." - By mail to Durango Telegraph - Attn Diver -534 Main Ave., Durango, CO 81301; by email at telegraph@durangotelegraph.com, or by fax at 259-0448.
Dear Diver,
Dude, I just heard George Thorogood and the Destroyers are playing the Concert Hall, and I'm stoked. Obviously a show of this kind and magnitude will require a serious pre-game show (and I'm not talking about "One Bourbon, One Scotch, One Beer"). What are your pre-party recommendations? I'd like to see Mr. Thorogood driving off into the sunset with some good memories of this place.
– Ready to Rock
Dear R&R,
I like where your head's at. The "pre-game" is definitely a sure-fire way to start the night off right. Just make sure not to get too excited and start pounding drinks like it's your birthday. Falling all over the place and pissing people off is not the reputation you want to leave with Mr. Thorogood. May I recommend my personal favorite of sneaking in a flask of whiskey. You won't have to buy a drink all night because the party will be in your pants. No matter what, show the performer that you're diggin' their groove, and they'll give back what you're puttin' out. The surfer is only as good as the wave.
– Diver
Dear Diver
What's up with Durango completely shutting down for the holidays? Stores have shorter hours. Everyone splits town. Even the staff of the Telegraph took seven days off during what seemed to me a busy time of year. Tell me, Sage One. Is anyone interested in doing business around here?
– Thanks, Val via e-mail
Dear Val,
Of course people are interested in doing business, but one can only take so much ass-kissing before they snap. These are real people with real lives despite their robotic actions and responses. The curse of the holiday season can also be a blessing in disguise. It gives shop owners the gift of inventing random hours and polite ways of getting customers to drop what they are doing and get the hell out. I'm sure if business were to suffer from taking time off, no one would do it. Let's just enjoy the halt of the consumer flow while we can because it doesn't happen very often. Besides, you wouldn't want to be working, right?
– Diver
Dear Diver,
My 4-year-old daughter refuses to eat. I've tried everything – dessert and soda pop rewards, trips to the Golden Arches and BK, I've even taken a trip to Lunchables Land. But nothing works. The meal shows up and immediately she starts claiming "tummy ache." Please help. This is getting a little scary.
– Mancos Mom
Dear Mancos Mom,
I'm just going to throw this out there, but maybe the tummy ache is due to all the nasty food you're trying to feed her. You should be teaching her healthy eating habits at this impressionable young age. If she refuses to eat anything, I say don't feed her at all. This may border on child abuse, but let her feel the hunger! The girl has to eat eventually, and when you have her in the grips of starvation, I'm sure she will gladly accept whatever you put in front of her. Just make sure it's something healthy.
– Diver