Valentines, pledges and oxymorons



by Chris Aaland
Cupid's arrow struck me two days before Valentine's Day 2007, when my wife went into labor at Beau Jo's Pizza. Well, sort of. We had checked into Mercy Hospital after Shelly's contractions became violent earlier in the day. Our midwife and the nurses determined that she wasn't quite ready to be confined to her bed, so they sent us off to lunch, walk around a bit and basically relax. Beau Jo's was the closest salad bar to the hospital, so off we went. Five hours after lunch, Otto entered our lives.
The next day, I bought a Valentine's card that Baby Otto signed with his footprint and a cuddly critter for him to give to his mom. The pink "Love You Mommy" teddy bear still rests in his crib every day and night, along with assorted stuffed bunnies, elephants, hippos and zebras.
Gift-giving, be it on birthdays, anniversaries, Christmas, Valentine's Day or any other holiday isn't my strong suit. Put simply, I suck at it. I was once the undisputed world champion of giving ugly sweaters, electric griddles, burnt cookies and other tokens of my affection. Now, I'm just cheap and lazy and forgetful.
But I'm not alone. More than 1 billion Valentine's cards are purchased by Americans each year. The Greeting Card Association estimates 85 percent of them are bought by women. And for the gents? We can always rely on chocolateers, florists and restaurateurs to save the day. Fortunately, Durango isn't short on any of these.
But it'll take more than chocolates, flowers and fancy dinners to top last year's rare romantic feat. Then again, a look at 1-year-old Otto's three-tooth smiling face, freshly scratched from a nasty fall as he stubbornly tries to master walking, is all it will take to remind me about romance.
An organization that always deserves our love is KSUT, which holds its annual on-air spring membership drive from Feb. 25 - March 1. Pledge through Tuesday, Feb. 19, during the earlybird mail-in portion of the fund drive and get entered into a contest to win a 16-gig iPod Touch and 30 select CDs that will be awarded as premiums during the on-air drive. Our thriving local music scene owes a big debt to the musical potpourri that KSUT and other community radio stations broadcast to us.
Just as KSUT's music blend is diverse, this week's entertainment offerings are a bit all over the map – both musically and geographically.
No doubt the week's biggest event is Willie Nelson and Family at 7:30 p.m. Sunday at McGee Park in Farmington. He'll no doubt perform his usual career-spanning greatest hits, plus material from his brand-new "Moment of Forever" album – which contains new Willie compositions and the Red Headed Stranger's interpretations of songs by Bob Dylan, Kris Kristofferson, Guy Clark and Dave Matthews.
Another old-timer making a rare regional appearance is Johnny Rivers, best known for tunes like "Secret Agent Man" and "Rockin' Pneumonia and the Boogie Woogie Flu." Rivers performs at 8 p.m. on Saturday night at the Telluride Conference Center. Most might relegate Rivers to cheesy casino gig status these days, but a listen to his series of classic live recordings from the Whisky a Go-Go in the 1960s reveals an underrated rock guitarist and an energetic entertainer.
Jah's Army can unite for a Monday night reggaefest by Prezident Brown and the Solid Foundation Band with special guest Andrew Diamond at the Summit. The Prez's 1998 album, "To Jah Only," is considered essential ragamuffin listening. His 30-year recording career is chock full of positive vibes.
Saturday night brings comedian/actor/writer Robert Dubac to town for his award-winning "The Male Intellect: An Oxymoron?" at 7 p.m. at the Community Concert Hall. Playing all of the characters, Dubac tries to simply answer the question, "What do women want?" From what I've read, it's hilarious.
While a seasoned Hollywood veteran tries to provide the answers to what women want, I've found someone who can clearly tell us what women don't want. This week's list is provided by the vice president of Durango Acoustic Music, Kim Pappin, in honor of yet another dateless Valentine's Day. Kim hosts "Jezebel's Joint" on KSJD Dryland Community Radio. You can hear her from 1-3 p.m. on Valentine's Day and every Thursday by tuning in to www.ksjd.org, at 91.5, 91.1 and 104.1 FM in Montezuma County, and at 88.9 in Rico.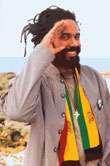 Prezident Brown
"I must start by saying, I love men. As a matter of fact, many of my best friends are men, including the author of 'Top Shelf,'" said Kim. "I'll go ahead and say that, for the most part, you guys ROCK. However, you can be unbelievably dense at times. So, in the hopes of smoothing intergender relations, I offer these tidbits of insight. And, believe it or not boys, these are all things that actually happened to me on first dates."
Here are Kim Pappin's "Top 10 ways to ensure you'll never get a second date."
-Talk incessantly about yourself
-Let her pay the check
-Order well gin
-Call your parents, in front of her, to tell them you're done with your date and they can come pick you up (He was 44 years old)
-Tell her last Halloween you dressed up like a girl
-Tell her how badly you've been hurt in the past (Who hasn't?)
-Tell her you don't like music
-Tell her you don't believe in God
-Tell her all the reasons she shouldn't vote for Hillary
-Put a big ol' wad of chew in your mouth and pull out your spit cup while you're driving her home
-And the No. 1 way to ensure you WILL get a second date … Bring her flowers. Duh.
Having said all this, Kim realizes that she'll probably never be asked out for a second date (or maybe even a first) in this town again. But she admits that's OK. "I raise my solitary martini glass high in honor of all ya'll that give it a try," she said. "True love is where it's at, folks." •
Ever take a great big swallow and then throw your popcorn up? E-mail me at chrisa@gobrainstorm.net.