Conversation with strangers
Fort Lewis College Theatre stages three one-acts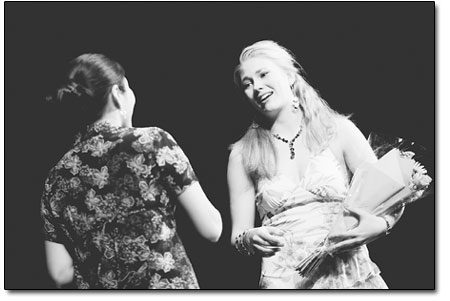 Tia Brown and Victoria McKinley put the final touches on "Win/Lose/Draw: A Night of One Acts" during a dress rehearsal on Monday night. The two play mothers waiting for the results of their children's beauty pageant in "Little Miss Fresno." "Win/Lose/Draw" includes three one-act plays, all portraying the struggles faced by women./Photo by David Halterman
by Judith Reynolds
"I kept thinking something would happen," Annmarie tells Delia "something would change things."
Funny what strangers will tell each other. Dark secrets, hidden agendas, highest expectations. And disappointments. That's the deep-sea kind of conversational mining two contemporary playwrights conduct in a trilogy of one-act plays.
"Win/Lose/Draw: A Night of One Acts," by Mary Gallagher and Ara Watson opens this week at Fort Lewis College and runs through Feb. 23.
"Win/Lose/Draw" includes "Little Miss Fresno," a collaboration; Watson's "Final Placement;" and Gallagher's "Chocolate Cake."
"Chocolate Cake," the longer and more complex component of the three, made its debut in the early '80s at the Humana Festival of New American Plays in Louisville, Ky. Founded in 1976 by Jon Jory, the festival has not only launched a number of now-famous American playwrights (Beth Henley, Donald Margulies), it also has championed the one-act drama as a quintessential American form. "Win/Lose/Draw" started at Humana and went on from there as a full trilogy to Off Broadway. Today, the piece is staged by college and community theaters across the country – most recently in Portland, Ore. Though written decades ago, the work's humanistic themes are timeless.
"There are six women in these three plays," said Director Ginny Davis in an interview earlier this week. "All have had disappointments and have had to find ways to deal with them."
Professor of Theater at Fort Lewis College, Davis and a selection committee chose the trilogy to continue a practice of featuring works by contemporary women authors. But, Davis said, it is chiefly the content of this trilogy that brings this work to the FLC stage. "Here are slices of life that reflect back to us about the struggles we all have as women," she said.
The opening piece, "Little Miss Fresno," was inspired by the American beauty pageant phenomena and the stage mothers who haunt it. Davis admitted to some weariness with the genre.
"There are so many plays and movies about moms and kids in beauty pageants," she said. "The JonBenet Ramsey case happened in our back yard, and it shed light on a national obsession. But this play is light, funny and in a way, quite nice. The moms are young, one is inexperienced at this kind of thing and the other is quite experienced."
Reading the script, it's clear the play is about two strangers who fall into conversation at the pageant's semi-finals. Doris Nettles (Tia Brown) and Ginger Khabacki (Victoria McKinley) create a telling contrast. And it's not long before a competitive spirit sticks its ugly toe out from under the sequins. But even fierce, judgmental competition is leavened by doubt, and there's a welcome whiff of reason: Should a mother encourage a little girl to compete in these tinseled pageants?
"Final Placement" takes place in the office of a social worker. "Luellen James (Teresa Salazar) is a mother whose child has been removed from home and adopted out," Davis said. "She wants her kid back, so she confronts Mary Hanson (Heather Rasmussen), the social worker."
It sounds straightforward, Davis added, but there's a balancing act where both sides have a say, and we learn more about the case and the people. Davis admitted that this was the most personal play for her since she's an adoptive mother herself.
"Chocolate Cake," the longest piece in the trilogy, will have a complete, realistic set. "Lots and lots of props," Davis said. "There are two women who meet in a fairly seedy motel at a self-help conference. The play begins in silence. Eventually the upstairs neighbor, whom we hear but at first don't see, comes down and meets the other woman."
Annmarie (Teresa Salazar) is a naïve, rural housewife, attached to every need and request her husband, Robbie, makes. Delia (Victoria McKinley) is a woman of the world who has been around, a former show girl until she married big money. The two women pass the night in conversation before the conference officially begins. What appears to be casual talk is really a skillful rendering of life's more troubling questions. The characters clarify differences and commonalities between a world of innocence and experience. Delia, full of energy and curiosity, delights in the oddities of life. Still, she has some uncomfortable traits and a desperate way of coping. Annmarie is terrified of life and has a punishing secret. Their dialogue illuminates some answers to the question: "How do we find our way in a harsh world?"
"There's a lot of silence in the whole work," Davis said. All three plays start out with a wordless introduction but are filled with appropriate stage business: two moms waiting, a social worker doing office work, a woman alone in a strange motel. "And each piece ends in silence. It's a challenge for the actors," said Davis.
Four actors will play six parts: senior engineering major Victoria McKinley, senior psychology major Heather Rasmussen, junior psychology major Teresa Salazar and freshman environmental biology major Tia Brown.
"This is a work about women with issues – talking to each other," Davis said. "There certainly are some acting challenges for our students. There are some good laughs and some very nice moments. We've done a little updating, but the piece stands on its own. It's kind of a modern – and realistic – take on 'Waiting for Godot.'" •