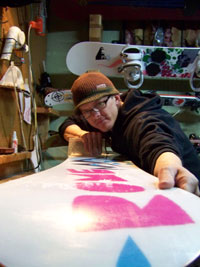 Diver: Brandon from Farquahrts and Inferno Snowboards
Interesting facts: Brandon is almost positive he got a degree in something from Fort Lewis and tries to live by the wisdom of Journey's power ballads.
Got a dirty little secret?
Looking for guidance to remedy a sticky situation?
Seek help from the master of the kitchen! The Dish Diver has solutions to life's little messes. Send your problems to "Ask the Diver." - By mail to Durango Telegraph - Attn Diver -534 Main Ave., Durango, CO 81301; by email at telegraph@durangotelegraph.com, or by fax at 259-0448.
Dear Diver,
I think I'm still hungover from Snowdown. True, I broke all the rules and mixed beer, wine, Jager and tequila. But I'm starting to think that I may have done a little damage. How about a couple tips for getting on the mend? What does the almighty Divers' Guild recommend for morning-after medicine? I wouldn't mind partying a little bit on Valentine's Day.
– Thirsty in Durango
Dear Thirsty in Durango,
Yes, yes, we all have done it before. Mixing Snowdown with a double dose of post holiday flu on the rocks and a few shots of a killer winter will always leave your head pounding and your wallet gasping. Why don't you just get it over with and soak in a barrel of gin? Next try a long, hot, road trip with your high school nemesis, a loan officer, a parent and your new boss. A promised good time if ever. OK, OK, the issue at hand is this: how to get rid of that hangover. The answer is simple. Go get yourself on a pair of skis or one of them there snowboard doo-hickies and fly as fast as you can down a big mountain. I remember a time in which I was forced to reckon with awful hangovers at incredible speeds. That decade I like to think of as my "twenties." Drink heavily, wake up, feel bad and then go really fast.
– Diver
Dear Diver
So the other day I had a friend come up, give me a hug and then say, "Sorry." When I asked why, she coughed, told me that she had the super-virus and offered up a "Oh I probably should have told you I'm sick." So, you guessed it, now I've got it. How should I take my revenge?
– Sickly Shawn
Dear Sickly Shawn,
Magnesium is the ninth most common element found in the earth's crust. It is number 11 in the human body in terms of overall mass. While it is essential to all living cells, it is a highly flammable metal that does not occur in nature as a free element. But, you sure can buy it down the street at the local dready mart next to the Pegasus root and the Vitamin B tofu burgers. Valued for its calcium balancing qualities and its magical powers, you could lend an understanding and a helping hand to your friend by sharing this wonderful stuff with them. Anyone that had that bug would admit that they would take just about anything to help get rid of it, and I bet your sick friend would do just the same. Load 'em up on magnesiumn and as you begin to succumb to that awful illness that your so-called friend laid on you, you can bask in the delight that all that magnesium you just gave them has by now opened the flood gates. You see, they will be excited to hear that it is a natural muscle relaxant, relaxing all those muscles. Oh yeah. Better tell them to stay close to el baño. The only thing they will be hugging is their knees.
– Diver
Dear Diver,
The snow is still about 4 feet deep on top of my relatively flat roof. What's more dangerous, waiting for the ceiling to crash in or going up there with a shovel and risking a fall? Is there any way to send the drift away with out putting myself in peril? Please help, I think I hear the trusses creaking.
– Still snowed in
Dear Still Snowed In,
I feel your pain. At night, I lie awake in bed and listen to the weight of the snow pushing down on my old apartment roof. I hear the beams of wood splitting as more and more snow falls. In some Poe-esque like nightmare, I am mocked by snow shovels that bend and single flakes of snow as they fall and land and laugh. Each crystal of ice adding to the inescapable idea that this roof will never hold, or worse, that I'll have to shovel my girlfriend's car out again. Then, silently, in the middle of the night, the weight is lifted. A voice as soft as the whisper of the wind outside my frosted window calls to me and says, "it will melt." Now, being a diver affords a few things, and being able to converse with Mother Nature from time to time is one of them. My feeling is this: leave it, 'cuz you got some heat on the way, and I'm talkin' the kind that warms houses, blocks, cities, countries ... the whole world. It's Valentines Day, so grab your sweetie and start melting that snow!
– Diver