Form and function
Durango artist puts a unique spin on the everyday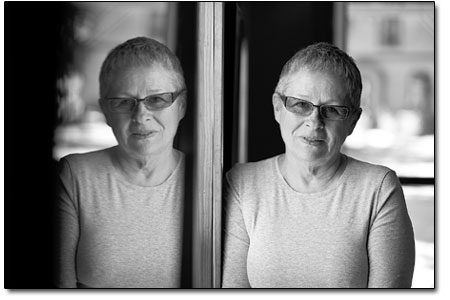 Elizabeth Somers stands reflected in the glass of a photograph at her home on Monday morning. Somers art endeavors to alter how the viewer sees the world around them./Photo by David Halterman
Give her your old, your tired, your huddled masses of steel wool, aluminum screening, drapery rings, and metal fitting. And she will give you, in return, art that reflects a non-mainstream aesthetic and an ethical perspective that finds value in all things. This is the stuff-both material and thematic-that makes up the art of Elizabeth Somers.
"I like objects that, in general, we wouldn't think of as art objects," Somers explains, which includes old architectural moldings and other vintage items. And chairs, she is intrigued by chairs, specifically the view that is rarely seen of the chair's bottom.
Hanging upside down from the ceiling in her 5th Avenue home, is a bright turquoise painted wooden chair that looks as if it has spent many summers in Mexico. Suspended, it takes on a whimsical appeal. Mounted on the wall behind the chair is a minimalist sculpture made from a half-circle window molding with lead foil applied to part of it. The dense surface of the lead devours the light, giving it a sensuously silky texture. The 'D' shaped sculpture looks terribly comfortable next to the inverted chair. In her studio on the alley, another wooden chair and window molding await her eye and hand.
It is risky to distill Somers' artistic intentions to a singular concern: her interests are broad and her mind easily stimulated. Yet what seems fundamental to her endeavors is a desire to present common objects in unique combinations, to facilitate a shift in how we see the world around us. In doing this she adopts a childlike view that infuses her sculptural works with a strange simplicity. She confirms this assumed perspective by offering, "Every child that has come in here immediately notices the hanging chair. They seem to enjoy the fact that I have broken the rules about how a chair is supposed to be in the world." For Somers, the chair as a metaphor for human presence is as important as the history of each chair. "With every chair, there is a story behind it. I am in wonderment about how many people may have sat in it."
Somers credits her childhood with forming her way of seeing. Her father attended art school so there were nurtured tendencies for her interest in the appearance of the world.
"My work is all about how things look. Even as a kid, I was intrigued by how things looked and how they felt. Growing up in Berkeley on the waterfront, I know that's where I got my interest in texture and surfaces-the water, the creosote-covered piers. It has all stuck with me."
Sitting on a table in her studio are thick strands of fuzzy grey matter that look a bit like a gargantuan dread lock. Looking more closely, you see a very fine grade of steel wool wrapped around cording and attached to a rectangular box, also covered in the steel wool. The sculpture, "Steel Wool Radio," is the result of Somers investigation into the nature of electricity. Sound emanates from the wooly bundle when connected to a power source: a potentially dangerous combination as steel wool is easily prone to ignition. "As a child I remember loving how Brillo pads looked like hair. I have carried that love in my heart. Did you know that steel wool comes in all sorts of grades and there are all kinds…from aluminum to steel? I've always thought it was a gorgeous material, smooth, elegant, and stately." This contradiction of is of interest to Somers.
She is currently working on a piece in honor of Matthew Shepard, the young Wyoming man who was beaten to death in 1998 because he was gay. The preparatory study that Somers' has made presents leaded crystals hanging from a background of steel wool. The final sculpture, however, will be made of two lengths of silver-plated barbed wire with leaded crystals and glass beads suspended from them. The glass represents Shepard's teardrops.
"I was so moved when I found out that his face was totally covered in blood except where his tears had flowed down it, making two lines of white."
A tough subject handled with respect and elegance through her understanding of the suggestive power of materials.
Somers' fascination with the inherent qualities of materials is most obvious in "History," a small, quiet, and ordered wall piece constructed of lead and found objects. The background of the piece is covered in lead foil. If it weren't for the markings on the lead's surface, the background would almost appear to disappear, leaving the found objects to float over a blackish square hole. Four delicate, beaded leaf forms and small budding twigs line up as intricacies that invite a long look. A partial, vintage chair arm stands at attention and anchors the composition.
A straightforward, literal reading is rarely possible of Somers' sculptures for there is no intended storyline to understand, only the offering of materials and the meanings they may suggest. Consideration and contemplation are required to fully appreciate her sculptures. Lead, for instance, is one of the artist's favorite materials. "Lead, in this culture, tends to equal fear, yet it's so beautiful…a dangerous material but so beautiful and alive." Layered on this toxic base is the notion of femininity, as suggested by the delicacy of the embellishments and twigs. The title, "History," is a hint towards what Somers may be implying with this piece.
"I don't think of myself as a political artist, yet I am currently making a piece that expresses my anger about what women will do to be attractive," Somers admits. The sculpture, "Delegate," is a pair of high-heeled shoes wrapped with steel wool and placed on top of a lead-surfaced tray. Both a noun and a verb, could she be asking us to consider what the fashion world is really serving up to women?
You won't find Somers' work in Durango galleries. It isn't colorful or western-themed or landscape-based. It is edgy and appeals to the most contemporary of tastes. You won't see her work on a website either. She isn't interested in promoting herself. She is one of those odd artists who creates because she is driven by her indebtedness to art's history. "I owe it to my education to show how art can push someone to confront themselves." She is part of the continuum of the artist/intellectual movement that values-by acceptance, rejection or in her case, both-the forward movement of ideas and forms.
Somers' artist statement is a direct quote from Gertrude Stein, the expatriate American writer and champion of the avant-garde in art, literature, and social norms. "If every one were not so indolent they would realize that beauty is beauty even when it is irritating and stimulating, not only when it is accepted and classic." •