Balancing extraction and recreation
Gravel mining and trails strive to coexist on Grandview Ridge

SideStory: Of power lines and trail reroutes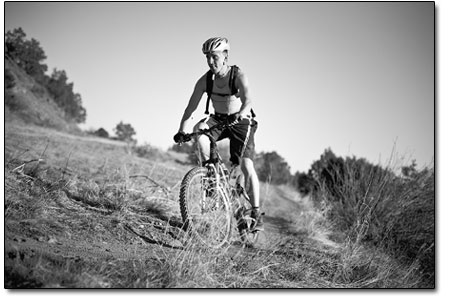 Dan Hosler rounds one of the last switchbacks coming down the Sale Barn Trail this week. Riders of the trail will notice a change this summer as an existing gravel pit expands to meet increased demand for accessible construction materials. The pit, as well as much of the trials in the Grandview Ridge area, are on public land managed by the BLM./Photo by David Halterman
by Missy Votel
As area public land managers walk an increasingly fine line between recreation and extraction, one thing has become apparent. "This is not your daddy's BLM anymore," said Helen Mary Johnson, mineral rights supervisor for San Juan Public Lands.
In her role with the Bureau of Land Management, Johnson is responsible for overseeing the mineral leasing and permitting process, as per the agency's multi-use tenet. However, as city limits continue to encroach on once-outlying BLM parcels, such as that in the Grandview Ridge area, the focus of multi-use has shifted. "These fragmented parcels along the urban interface are becoming very popular," she said.
As such, an agency historically known for managing grazing, logging and mining has found itself in the unfamiliar territory of biking, hiking and wildlife protection. And in the meantime, it also is attempting to blaze a trail in consensus building. "Somehow, we need to get the message across that we're multi-use," said Johnson. "Our job is to balance needs of all users."
Perhaps in no other place is this more apparent than the 1,600-acre parcel of BLM land directly west of town in the Grandview Ridge area. In addition to providing increasingly critical wildlife habitat, it also is home to the highly popular Telegraph Trail System as well as a large, easily accessible gravel deposits courtesy of the last ice age. With several of the county's previous gravel pits drying up in recent years, the Grandview deposit has become even more crucial.
"All that valuable gravel up there is like gold," said BLM Recreation Supervisor Richard Speegle. "It's close to the surface and in close proximity to town and development in Three Springs."
Consequently, the gravel has been prized by local builders, who say its location and ease of removal have helped keep construction and transportation costs down. In fact, the demand has proven so great that C&J Gravel, which holds the current BLM gravel mining lease in Grandview, has burned through its permit area quicker than expected and is seeking an expansion of 15 acres. The expansion would bring the total mining lease area to 65 acres.
"They went through that gravel three times faster than we thought they would," said Speegle. "We had given them 30 acres, and they went through it in five or six years."
And the lion's share of responsibility can be placed on the shoulders of growth and a seemingly insatiable appetite for construction materials. "It's demand driven, and lately, it's been nothing but demand, demand, demand," said Speegle.
The proposed expansion area, directly south of the active C&J pit, would be sandwiched between La Plata County's existing pit and Sale Barn Canyon, to the east. The proposal was put out for public comment last winter, and Johnson said she expects a draft environmental assessment on her desk in coming days. Despite the fact that the pit will be adjacent to a large part of the Sale Barn Canyon Trail, Johnson said there was little objection during the public scoping. "We had about 20 or 30 comments and they were pretty much what we expected, no huge objections," she said. "We're trying really hard to make everyone happy."
Mary Monroe, executive director of Trails 2000, said thus far, the organization has had no objections to the pit expansion. "We were happy to see that the proposed gravel pit expansion takes into consideration the highly popular Sale Barn Trail in the Grandview area," she said. Thus far, Monroe said Trails 2000, the lease owner and the BLM have had agreeable negotiations. "We've worked well with the lease owner and BLM on this project and plan to work together to continue to mitigate any damage to the trail."
To that end, Johnson added that a buffer zone will be placed between the expansion and the trail. This is in addition to an existing buffer zone surrounding the Big Canyon Trail, which cuts through the heart of the predesignated "mineral emphasis area" reserved for future gravel expansion. In all, 160 acres have been set aside for mineral development. Johnson noted this is less than half of the 400 acres originally designated for gravel mining on the 1,600-acre parcel. She added that for every ton of gravel mined, 10 cents is paid directly to the local BLM for trail mitigation, wildlife habitat and archaeological research. Furthermore, once the gravel is mined, the disturbed land will be reclaimed, planted with native grasses and stabilized.
As with all extractive activities, Johnson noted that the mining boom won't last forever. "If its full-speed ahead, it could probably be done in 15 or 20 years," she said.
And while that may seem a long way off, Speegle and Johnson noted it's already on the BLM's radar screen. One possibility is the handing over of the land to the City of Durango for use as a public park or recreation facility. Under the Recreation and Public Purposes Act, federal land agencies can bequeath land to municipalities for the public's best interest. "It just doesn't make sense for the BLM to manage that land long term if it's eventually within city limits," said Speegle. "It's just one tool that we could use."
He added that with eventual build out of Three Springs to the west and Ewing Mesa, which was recently platted for 35-acre homesites, to the east, the parcel will become even more valuable. "We're fortunate that there's this big, open space between those two developments," he said.
In the meantime, Johnson noted that a tweaking of the BLM's 2000 plan for the area will probably be in order. "We realize that we're going to have to make some adjustments or do a whole new plan," she said. "Originally, we planned with an emphasis on wildlife, but maybe recreation will become more of the emphasis here," she said. "The bottom line is, if we were to mine out everything, we will reclaim it and conceivably, it could be a great recreation area. As a community, we could do some really cool stuff out there." •