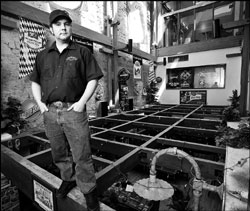 Diver: Andy and Seth from Lady Falconburgh's
Interesting facts: Andy and Seth are official "brothers of the dusting"
Got a dirty little secret?
Looking for guidance to remedy a sticky situation?
Seek help from the master of the kitchen! The Dish Diver has solutions to life's little messes. Send your problems to "Ask the Diver." - By mail to Durango Telegraph - Attn Diver -534 Main Ave., Durango, CO 81301; by email at telegraph@durangotelegraph.com, or by fax at 259-0448.
Dear Diver,
My husband has the worst possible habit – breaking wind in public. The amazing thing is he actually thinks he's getting away with it. He's farted in restaurants, on the golf course and even in the grocery store. People are just too polite to say anything. What should I do to save what little face we have left?
– Smoked Out in Durango
Dear Crop Duster,
It turns out you have already been identified, Mr. and Mrs. Fart, if those are your real names. Here's the deal, you know, we know, it happens to the best, some more than others, Mr. F (don't mean to point fingers just pull fingers). So here's the remedy, sit outside at all times, or also fall back on the Bean-o and drop it in his coffee in the morning. Let me know how this works, because we are also "Brothers of the Dusting."
– Divers
Dear Diver,
My wife is pale-skinned with black hair. She takes pretty good care of herself except for one thing. She refuses to shave her legs above the knees. I don't care personally, but when she wears shorts and bends over to pet a dog, it's like a hair shirt on the backs of her legs. It's pretty disgusting. I can't say anything or I get into big trouble. How can I drop a hint without getting my head chopped off?
– Signed, Harry
Dear Mr. Hairy Shorts,
We have two suggestions for you, the first one is to start shaving your own legs and see how she feels in bed after two weeks of growth, that may work. Secondly, you can always bring yourself and, "Hairy Shorts" into our fine establishment and go shot for shot with her. This will ensure an early night to bed which will allow you to complete operation "Goodbye Hairy Shorts." Now if this girl has hairy and hollow legs, you may be in trouble. Hint: when you go to sip your beer, spit your shot into it and ask for another, we saw it on "Coyote Ugly." If neither of these plans work in your favor, go to your local pants dealership and buy a year-round wardrobe, best of luck, and by the way, this is why you have pre-marital sex, homie.
– Divers
Dear Diver,
What is up with the trolley? It stops going up to Durango Brewing on a Friday or Saturday night at 7:40 p.m.? You can get there but you gotta walk home? I know the new tap room is open longer than it used to be, but didn't anyone let Durango Transit know? Are they trying to encourage drunken driving? And the Buzz Bus doesn't start 'til 11 p.m. What am I supposed to do between closing time at the tap room and opening time of the Buzz Bus? Sleep it off on the sidewalk?
– Signed, In for a Long Walk
Dear Experienced Durangotang,
We know as well as you, DUIs are given out like parking tickets, therefore we understand your problem. Our recommendation is to start your early afternoon beer buzz at DBC, then catch the last trolley (7:40-ish), into town. At this point of your evening, we suggest making pit stops on both east and west sides of Main Avenue. This will allow you to reach total consciousness by the time you reach Main and College. This is when you will be intoxicated enough to forget your ride home on our lovely Buzz Bus. Let us fill you in the rest of your night ... it involves yelling at the driver repeatedly to hurry up and get you home. When reaching the final destination you will swear at the driver and tell him $3 is too much and try to skip on the tab. So if this seems like phony advice, drink till you drop at DBC and enjoy a cab ride home, "so you got that going for you, which is nice."
– Divers Love you all, mean it, The Divers