From strip club to health club
Eden Pole Dance Fitness Studio sets up in Durango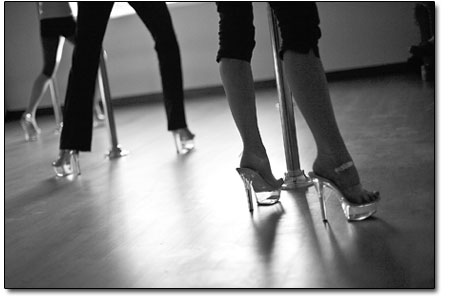 It's all about the shoes. Students at the Eden Pole Dancing Studio don the requisite 6-inch platforms to learn the basics of pole-dancing technique. The once x-rated form of dance has now gone mainstream, with pole dancing fitness studios opening up across the country. Owner Eve Presler says her classes have already filled up and she will be adding more to keep up with the demand./Photo by David Halterman
by Jeff Mannix
urango now has a pole-dancing studio, but local men can forget about it. The Eden Pole Dance Fitness Studio is by, for and about women.
Once the sole domain of strip clubs in urban neighborhoods, pole dancing is arguably the fastest growing fitness exercise around the world, and Durango visionary Eve Presler has outfitted Eden Pole Dance Fitness Studio with six poles, mirrored walls, a slick floor and dozens of 6-inch platform heels. She is also filling classes as fast as she can
answer the phone.
"This is not stripper training," Presler says strongly. "Pole dancing is aerobic as well as anaerobic exercise for women of every size and shape, women who want to get in shape or stay in shape and feel feminine and sexy in the process."
The studio makes perfect sense­ in the evolution of the modern woman,­ as evidenced by a volunteer class of Snowdown Follies dancers assembled for this article. As the women learned a few beginning foundation moves, hips began to swing, shoulders curved suggestively, and there was a palpable air of sensual enjoyment in the room.
Presler is a certified pole dance instructor working through requirements for advanced qualifications that will follow as her students progress. Right now, she's offering basic pole orientation, enough to take the beginner to levels of body movement only previously dreamed of.
"I'm teaching three foundation moves right now, some with nine to 14 layers," Presler says enthusiastically. "The more proficient they get in foundation moves, the more successful they will be in learning variations, which we call 'tricks.' We have some fun, have some giggles, and everyone walks out of class sweaty, tired and happy about 4
their bodies."
Pole dancing is currently the talk of the fitness industry. One of the movement's leaders is actress Sheila Kelley who said she "discovered" her sensual power and a fit body while researching and preparing for a role in the film, "Dancing at the Blue Iguana."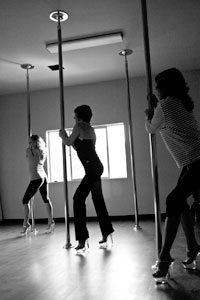 Participants in Eve Presler's basic pole dancing class learn moves, or "tricks." Using the resistance of the body, pole dancing is said to work the core, upper body and legs while improving flexibility, balance and posture./Photo by David Halterman
Pole dancing is currently the talk of the fitness industry. One of the movement's leaders is actress Sheila Kelley who said she "discovered" her sensual power and a fit body while researching and preparing for a role in the film, "Dancing at the Blue Iguana."
Kelley says her life was changed forever through teaching the "S Factor" – her patented pole dance program named for the natural curve of the female body. "I watched other women experience similar dramatic changes in their lives simply by learning to move in this way," she said. "Women don't have to be afraid of their bodies or the way their bodies naturally want to move."
Kelley has appeared and demonstrated pole dance exercise six times on Oprah as well as 48 Hours, The View, Dancing with the Stars, Primetime Live, The Tonight Show With Jay Leno, Late Night With Conan O'Brien and The O'Reilly Factor. Pole dancing devotees can be found in the ranks of Lindsay Lohan, Paris Hilton, Carmen Electra, Angelina Jolie, Kate Moss, Pamela Anderson and Demi Moore, and­ all of the actresses attribute their celebrity bodies to pole dancing.
"Pole dancing works the muscles of the arm, shoulder and torso, and strengthens the thighs, the buttocks and enhances stability, balance, flexibility and posture," reports Presler. "Take away all the judgments about being pretty or sexy; this is for the average Jane, the mom, the office worker, and all the way up to the competitive athlete."
Presler continues, "What I hope is for women to add a pole dancing workout one day a week to their regular exercise schedule. It will improve all other activities and develop a woman's unique sense of body awareness and natural movement."
Pole dancing uses the body itself as natural resistance, and the exercise can easily cause injury if the foundation moves aren't firmly established before other tricks are added. Some of the advanced tricks on the pole have seductive names such as The Fireman's Spin, The Flamingo, The Butterfly Trick, The Crouch Spin Move, The Inverted Snake Trick and the Headstand Trick. And pole dancing has been described as "a beautifully progressive form of exercise, with many moves that absolute beginners can master quickly, right up to demanding poses that challenge even experienced dancers."
Like other exercise, pole dancing also decreases blood pressure and cholesterol, increases bone density, reduces risk of cardiovascular disease, releases the body's endorphins to produce a natural high and can burn 250 calories in each 45-minute session.
As pole dancing is moving from the strip club to the health club, its appeal is epidemic. Studios can be found in every major city in the U.S., Great Britain, Ireland, Germany, Japan, South America, and it's being practiced by an avant garde group even on the subways, signposts and lamp poles of New York City. In addition to Presler's classes, she hosts bachelorette parties (while the bachelors are off getting drunk in a strip club), and sells portable poles and spike-heels for home use.
And if the craze continues at its wildfire speed, we may soon see pole dancing as one of Durango's major paths to physical health. •