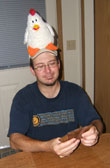 Diver:Hop Phelps of Coors Distribution
Interesting facts: As a liquor distributor, Hop is the first diver who actually makes work for other divers
Got a dirty little secret?
Looking for guidance to remedy a sticky situation?
Seek help from the master of the kitchen! The Dish Diver has solutions to life's little messes. Send your problems to "Ask the Diver." - By mail to Durango Telegraph - Attn Diver -534 Main Ave., Durango, CO 81301; by email at telegraph@durangotelegraph.com, or by fax at 259-0448.
Dear Diver,
What's up with capri pants for men? A couple of years ago I thought it would just be a passing (and ridiculous) trend. But now they're everywhere. I've seen cargo capris, male yoga Capris and (gasp) capri bike pants. What's going on? Have we been invaded by Soho?
-Blue Jean
Blue Jean,
Soho? Southern Ohio Ophthalmologists? I don't really think eye doctors have a thing for pants that show men's calves. Most eye doctors that I've met seem to favor Dockers or some other form of khaki dress pant. Is this fad restricted to Durango and Southern Ohio or has it infected the rest of the country, too? I thought the point of bike pants was to show off one's hind side, not the calves. You are right, Blue Jean, this is distressing. I recommend carrying around a pair of cut off surplus Army cargo pants just in case you see some confused Midwestern eye doctor wandering around Durango.
– Diver
Dear Diver,
What's the best Mexican restaurant in town? There sure seem to be a bunch of joints doing basically the same thing. So who's got the best marg? Which lard-filled beans do you recommend? Who does the best mixed-veggie rice?
-Juan (aka John) in Durango
Juan,
MMMmmm, lard-filled beans. Yum. Really, I can't finish this answer because I'm off to Tequila's for their awesome refrieds, covered with yummy lard-loaded cheese. Cheeesee Gromit Cheeeese! Not to mention the always amazing and over priced blackberry margaritas. I don't care how much of a fu-fu drink it is. "Dude, it's good!" (Note toTelegraph editors: My wife loves to quote me saying that about Tequila's margs.) However, that said, I really love Gazpacho's rice, and you can't beat the sopapillas. For fast Mexican, you are correct that Nini's and Zia seem to be clones of each other, with the edge going to Zia because their posole soup rocks.
– Diver
Dear Diver,
Crowds and costs are finally pushing me out of La Plata County. I hate to leave, but it's time to go. My question is, where's the next great place? I'm looking for small-town vibe with a few amenities and a political atmosphere that would make Dick Cheney squirm. Please cough it up. Where is the next Durango?
– On the move
On the move,
I hear you. Things have gotten quite crowded around here, and don't tell me about expensive. My shack makes the ones advertised in the Snowdown Sneer
look good. Three jobs and I'm still mortgage poor. You want my advice as to where to go? Beats me. I'm too busy paying Chase Manhattan to leave town. I suggest heading somewhere nobody has wanted to go so far, and that will be the next great place. Try the Mojave, southern New Mexico, Kansas or back to one of the coasts because it seems all of those folks have ended up here.
-Diver
PS. When you get there, write back and let me know at thediver@durangotelegraph.com. I promise not to tell anybody.