Cold water and molten glass
Ignacio man melds a life of whitewater and art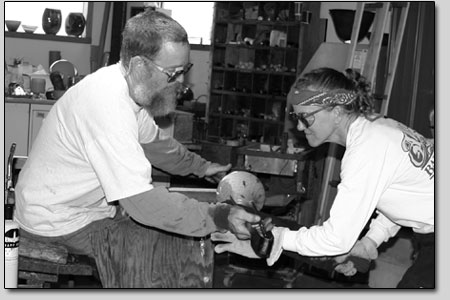 Glassblower Roger Dale adn his wife, Cindell,work a piece of hot glass in their Ignacio studio. In between excursions guiding dories on the Grand Canyon, Dale performs delicate works of art. The two pastimes, he says, are not that different, both requiring grace, skill and dexterity./Courtesy photo
by Stew Mosberg
Piloting a dory through churning, bolder-strewn, class IV or V whitewater, and skillfully manipulating magma-hot fluid glass into a work of art, may seem like two disparate activities.
For the most part they are, yet Roger Dale has managed to do both with expertise and finesse. The Ignacio-based artisan has been creating art glass for more than 20 years, and has been a river guide for longer than that.
Combining his two passions, Dale draws inspiration from the great outdoors and applies it to the exquisite glass objects he produces in his 1,800-square-foot studio/workshop. His "hot shop" and home are just a poker chip throw from the new Sky Ute Casino, down a country road, bordered by cattle and horse ranches.
Pulling into his driveway, one notices a pair of overalls drying in the sun; a casualty, he says, from the newborn calf he and his wife, Cindell, pulled the night before.
Work and play are one and the same to Roger. Outdoor activities like rock climbing, kayaking and backcountry skiing help him to germinate creative energy, which he then channels into his artwork. Raised in Riverside, Calif., one of 10 siblings, Roger started in the graphic arts field working at the family printing business. The exposure to art and design led him to study graphics at Riverside Community College and segued into ceramics, where a professor suggested Roger look into glass blowing as a way to "loosen up." It proved to be a significant detour in his artistic journey. Admitting how difficult it was to blow glass at first, Dale stuck with it and eventually finished classes at Cal State, San Bernadino.
One summer, between semesters, he attended a workshop at the renowned Pilchuck Glass School in Stanwood, Wash. Co-founded by Dale Chihuly, Pilchuck is one of the most revered learning centers for that historic art form and gave Roger access to a host of other artisans like himself and exposure to new techniques.
Today, glass objects abound throughout the Dale home, where his own, as well as and other artists' works, are tastefully displayed. Above the cabinets in the contemporary kitchen are dozens of multi-colored wine goblets created by his visitors; many of whom he met when teaching at the Corning Glass Works in upstate New York.
At Corning, Roger had the opportunity to work alongside a world famous craftsman, Fritz Dreisbach. For Roger, it was a defining moment; Dreisbach is one of his idols. Other acclaimed glass artists he has been fortunate enough to assist include Lino Tagliapietra and Dale Chihuly.
As to life on the water, the Dale family has been involved with river rafting for decades. The printing establishment founded by Roger's grandfather was the first to print the highly-prized Belknap River Guides, and with 13 relatives guiding on the river, Outside Magazine referred to the family as the Dale Dynasty!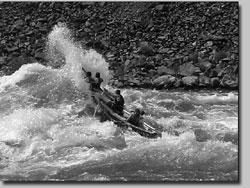 Roger Dale guides a dory through the infamous haystacks on Hermit Rapid. Dale has been guiding boats on the Grand for more than two decades./Courtesy photo
Roger was introduced to rafting by one of his brothers and was so taken by the experience, he went back and paddled a baggage dory for two years without pay before being given the privilege of guiding boats. Now his trips are three-week excursions with total responsibility for his boat and the exhilarated passengers.
With so much time spent together, he and his traveling companions get to know one another quite well. When they learn of Dale's talent as a glass blower, they often become avid collectors and commission pieces that reflect memories of their trip, "inspired," Roger says, "by the desert colors and canyon stratum."
Roger's talent is exemplified in several design themes he has developed. His "Saturn" bowls, for instance, are 20 inches in diameter, possessing the glorious colors and appearance of the heavenly body for which they are named. Another of a series he has created, some as large as 10 feet, is displayed in an atrium between the house and studio. It features a set of four, wall-mounted vertical pieces, incorporating copper and cross-sectioned multi-colored rods of glass embedded in cast glass. The piece is entitled "Angel's Window."
When Roger was 13, he and his family visited Colorado, and he never forgot the landscape and excitement of his solo journey from Silverton to Durango by railroad. "It just blew me away! It was the most incredible thing I'd done," he recollects, and he soon came to realize this was where he wanted to live.
Roger and Cindell have been married for almost 20 years, and while she holds multiple degrees in adaptive physical education and teaches in Ignacio, she also collaborates with Dale on works of exquisite delicacy. After being married for a while, the couple considered where they might settle down. Durango was Roger's preference, and they saved for seven years to buy a parcel of ranch land, keeping 23 acres for their homestead.
Generosity and collaboration figure greatly in their lives, and they often donate art to charity auctions, particularly those that are youth- and Grand Canyon-related. Dale truly enjoys working on a creation with other artists. One such aspiring artist, Sam Perry, tried convincing Roger to accept him as an assistant and only after boldly moving here and attending Fort Lewis College, was he successful. Now, Roger speaks glowingly of the alliance.
Collaborative effort is equally evident in the home and studio Roger and Cindell built. The two adjoining buildings took 2½ years to complete, during which time they lived in a yurt next to the site. The detail, the openness, the extraordinary light and artistic sensibility exhibited throughout the domicile reflect their taste, care and appreciation of the surrounding landscape. The windows are large and plentiful and provide an unobstructed view of the La Plata Mountains, making them as much a part of the interior as the furnishings.
The outdoors continue to play a major part in Roger's life, and kayaking, telemarking, rafting, rock climbing and mountain biking remain major reasons for living here.
Working in the wilderness originally subsidized his glass blowing dreams; today it is the other way around. Summer is now reserved for guiding on the river, but neither discipline is at the expense of the other. In fact, when asked how two such different lifestyles can work in consort, he notes the synergy between them. "I think it is the immediacy," he muses. "When you're in the water, it is in your face, it's right there. Well ... glass is immediate. It's dynamic; it's hot ... not easy."
He remarks that when he is in roiling water, keeping the boat from capsizing, negotiating the rocks and rapids, the intensity is similar to making a piece of glass. "You can't set it down, glass is happening now, the excitement of it," he says. "River riding is very exciting, glass blowing is very exciting. The dynamic, the process, is what attracted me to glass. It's the same reason I took up telemarking. Y'know, free your heels, freeing your mind will follow." •
Roger Dale is represented at galleries in Arizona, Washington and Oregon. His latest work will be shown in Boulder from May through July at the "Salt, Soda and a Twist of Lime," exhibition. He can be reached by e-mail at dalestudios@animas.net. His website is www.a.com.