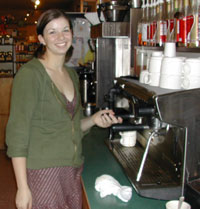 Diver:Tara from the Durango Coffee Co.
Interesting facts:Tara has been known to provide caffeinated advice in a pinch
Got a dirty little secret?
Looking for guidance to remedy a sticky situation?
Seek help from the master of the kitchen! The Dish Diver has solutions to life's little messes. Send your problems to "Ask the Diver." - By mail to Durango Telegraph - Attn Diver -534 Main Ave., Durango, CO 81301; by email at telegraph@durangotelegraph.com, or by fax at 259-0448.
Dear Diver,
On my daily bike commute through the streets of Durango, I am occasionally cut off, yelled at or otherwise shown disrespect by Durango drivers. The middle finger does not seem to accurately convey my sentiments toward the offending driver, I need more punch. Any advice?
– Disappointed with Durango Drivers
Dear Disappointed,
I feel your pain, and you're right, flippin' the bird never really seems to cut it. Unfortunately, there aren't many ways to express your anger without the risk of putting yourself in a legal pickle. Besides, anger isn't good for the heart, so the next time one of those drivers passes you by, just pretend they were honking at your nice (insert body part here), smile and wave.
– Diver
Dear Diver,
I know Durango likes to fancy itself as "extreme" and all, but sometimes I think people take the whole extreme thing a little too far with their kids. Does it really matter that a 4-year-old can ski double blacks, ride a mountain bike or climb a 5.11? Whatever happened to bigwheels, roller skates or coloring crayons? Or are those too boring for Durango's youth? Do you think we're just grooming them to be tomorrow's extreme burnouts or worse, extreme a-holes?
-Extremely average in Durango
Dear Average,
I'm sensing that maybe you aren't truly worried about populating the world with burnouts and a-holes, but instead envious of the little youngsters? Seriously, you can't tell me that when you watch one of those 4-year-olds do a backflip on the slopes you aren't saying, "Man, I wish I could do that!"" Just because the kids are into extreme sports doesn't mean they're going to grow up to be jerks, and "it's not bragging if you can back it up."
– Diver
Dear Diver,
I recently read about the emerging link between cell phones and brain cancer and am terrified. Essentially, the story said that mobile phones can double the risk of brain cancer and the tumors appear after 10 years. What should I do? I'm what you might call a chronic user.
-Off the hook in Hermosa
Dear Off the hook,
I hate to tell you this, but there are a million and one things in this world that can give you cancer. So, if you are just set on staying away from all off these things, don't go anywhere near the construction on Main and 7th, don't touch the grass, don't eat, don't even go outside, but don't stay inside either. So it's up to you, risk getting cancer in 10 years, or "live" in a bubble. The choice is yours.
– Diver