High & lonesome and tipsy gypsies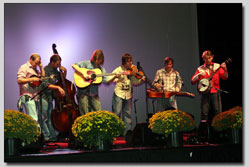 The Infamous Stringdusters
by Chris Aaland
he second weekend of April usually means bluegrass in our little neck of the woods. This year is no different, as the 14th annual Durango Bluegrass Meltdown takes center stage with high and lonesome sounds scheduled from Friday through Sunday at a variety of local venues, including the Henry Strater Theatre, Durango Arts Center, Abbey Theatre and Elks Lodge. Durango Brewing is one of the festival's primary sponsors, so enjoy pints of DBC throughout the weekend.
A lineup as diverse as any the festival has ever booked – with progressive, traditional, gospel, old-time, Celtic and Western styles all represented – ensures Top Shelf picking throughout the weekend. But a pall hangs over the Meltdown this year, with the noticeable absence of longtime board member Linda Paulmeno, who lost her battle with depression last month. Few did as much to promote live music in Durango during the past two decades as she did, serving as a board member for both the Meltdown and Durango Society of Cultural and Performing Arts. If you've seen live folk, bluegrass, blues, alt-country, Celtic, Cajun, honky tonk, jam-band or rock in Durango during the past decade, then you owe Linda a toast for pioneering the local music scene. She's dearly missed, but won't soon be forgotten.
There's a lot to pick from in the festival's four national headliners. Jim Lauderdale is a two-time Grammy winner who swings from bluegrass to country to folk. Bluegrass fans know him for a pair of albums he recorded with Ralph Stanley & the Clinch Mountain Boys. The Infamous Stringdusters are no strangers to Durango, particularly bassist Travis Book who sang lead vocals for the Broke Mountain Bluegrass Band a few years back. This spring marks the Stringdusters' first Durango appearance since winning three IBMA awards last fall. Chris Stuart & Backcountry play a smooth, polished brand of bluegrass and gospel. They feature the award-winning songs of Stuart, who has penned hits for the likes of Claire Lynch, Dale Ann Bradley and Larry Cordle. Hurricane Creek, which had to cancel its 2007 Meltdown appearance due to severe thunderstorms in their home state of Alabama, plucks hard-driving, Southern bluegrass.
My advice to you if you're a Meltdown rookie: Don't just bounce back and forth from one venue to the next chasing the national acts. Show up early to grab your seat and stay planted there all day long. There are many can't-miss regional bands on the bill, including the Bluegrass Patriots, Spring Creek Bluegrass Band (winners of the 2007 Telluride and RockyGrass band competitions), the Blue Canyon Boys (featuring banjo maestro Jeff Scroggins) and Paonia-based old-time quartet Sweet Sunny South. Local outfits like the Bar-D Wranglers, The Badly Bent, Rock 'n' Rye, Deep Blue Creek, Down the Road, Blue Moon Ramblers and the Howard Cattle Co. round out the lineup.
Meltdown aside, the week's biggest musical event is surely the acoustic show by David Hidalgo & Louie Perez at 7:30 p.m. Wednesday at the Community Concert Hall. As the
main songwriters for Los Lobos, Hidalgo and Perez wrote the book on roots music in the '80s by blending rock, blues, country, punk and Mexican influences. The duo will play one set of music and then return to the stage to answer questions about songwriting.
Dryland community radio station KSJD hosts its Tipsy Gypsy Ball at 7 p.m. Saturday at Picaya Home, 25 N. Beech St., in Cortez (one block north of Main Street). It features fine wine, cocktails, live music by Zoltan Orkestar, the Troupe Verde Belly Dancers and DJ Needlz. More formal than normal attire is requested, with prizes for the best dressed. Tickets are available at the door.
Steamworks hosts ultra dance tunes by Optimus Prime at 10:30 p.m. Thursday, bluegrass by the Badly Bent at 9 p.m. Friday, and music by Bigfoot Bridges and the Horde at 10:30 p.m. Saturday.
Following Meltdown on Saturday night, check out Boxcar featuring original member Rob Lawrence. Boxcar is planning an all-acoustic first set with various local bluegrass guests, then one or two electric sets with their normal line-up plus Lawrence. If you haven't seen Boxcar, then you're missing their eclectic rock/blues/jazz/alt-country blend that conjures up images of Widespread Panic, the Allman Brothers and Drive-By Truckers.
David Smith, longtime member of the Durango Bluegrass Meltdown board of directors and host of KDUR's "Sweet By and By" bluegrass show, offered up his Top 10 Meltdown highlights:
1) 1999: Staying up 'til dawn with legendary bluegrass singer James King talking about Virginia bluegrass history.
2) 1996: Hearing the now legendary bluegrass group Blue Highway sing a capella at Farquahrts, back when that was one of the festival's main stages. They silenced the place.
3) 2002: The fiddling duel at the Superjam between Casey Driessen and Michael Cleveland. Today they're two of the most respected fiddlers in the business, but six years ago they were two friends firing down on the fiddles.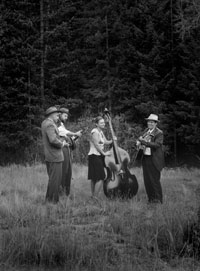 Sweet Sunny South
3) 2002: The fiddling duel at the Superjam between Casey Driessen and Michael Cleveland. Today they're two of the most respected fiddlers in the business, but six years ago they were two friends firing down on the fiddles.
4) 2006: Open Road with dobro master Sally Van Meter. Bradford Lee Folk proved that cowboys do indeed shed tears.
5) 2005: Dan Paisley & Southern Grass, 'nough said. Period.
6) 2000: Jeff White Band featuring Mike Bub (bassist for the Del McCoury Band) and Pete Wernick (banjo legend from Hot Rize).
7) 2006: My band, Rock & Rye, was playing on the main stage and I was standing between two great friends, Greg Oldson and Rob Lawrence. Rob had cut his finger badly that morning and was still playing lead guitar with blood dripping onto the stage. We were singing a song that Greg wrote about his father passing away and he broke down in tears mid-song. Rob bleeding, Greg crying, me in the middle – now this is bluegrass!
8) 2003: Steep Canyon Rangers played the Meltdown fresh off winning the RockyGrass band contest. They'll be on Telluride's main stage this summer.
9) 1998: Seeing the Nashville Bluegrass Band and later speaking to their legendary mandolin player, Roland White, about his place in bluegrass history at the Sunday Farquahrts pizza party.
10) 2005: The one and only Broke Mountain Band played the Meltdown. The musicians in this group all lived in Durango for a summer and created great music and very good times. They're some of the best young musicians out there today and will no doubt continue to create great music and good times for years to come. •
Aunt Lucy gonna show Uncle John how to do the boogie woogie? E-mail me at chrisa@gobrainstorm.net.
—
No virus found in this incoming message.
Checked by AVG.
Version: 7.5.519 / Virus Database: 269.22.9/1365 - Release Date: 4/8/2008 7:30 AM