A musician among us
Young cellist solos with Durango Youth Symphony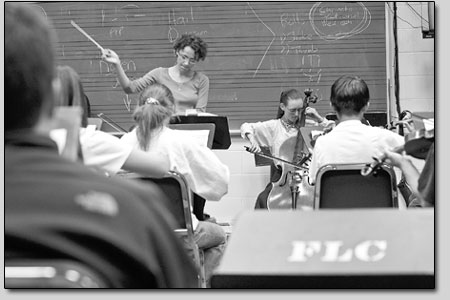 Kasia Sokol, left, conducts the Durango Youth Symphony in an early April rehearsal at Fort Lewis College as cellist Melanie Ellison plays the solo for Bruch's "Kol Nidrei."/Photo by David Halterman
by Judith Reynolds
When I first heard Melanie play, I knew right away she would be a soloist with us one day," recalled Kasia Sokol, artistic director and conductor of the Durango Youth Symphony, commenting on the talents of cellist Melanie Ellison, 17. When Sokol arrived in Durango to teach at Fort Lewis College last fall, she took over the reigns of the youth orchestra. And it was imperative for her to get to know every musician. Ellison, then 16, played "The Swan," by Camille Saint-Saëns, for Sokol. "I instantly recognized her talent and musicianship," the professor said. "For her age, Melanie is a very advanced player. She's confident and insightful. It's good for all the kids to have someone of her caliber as a soloist."
In an interview last week, Ellison, who will be a featured soloist at next week's Symphony recital, said she hadn't even heard the piece she is performing until a few months ago. "Last November, Kasia asked me to play Bruch's 'Kol Nidrei,'" said Ellison. "I'd never heard of it before, and I fell in love with it instantly. It has a beautiful, mournful quality with a middle section that breaks through with glorious music."
Even though the work is technically challenging, Ellison said she knew at first reading she wanted to learn it and play it with the orchestra.Composed by Max Bruch in 1881, "Kol Nidrei" is based on two melodies, one known to every celebrant of Yom Kippur, the holiest Jewish holiday of the year.
"'Kol Nidrei,'" Ellison said, "means 'all vows,' and it is sung, or chanted by a cantor the evening before Yom Kippur, the Day of Atonement, and it's very somber. The chant pleads for forgiveness."
Many music lovers think Bruch must have been Jewish to compose the work, but he was a German Protestant who composed and conducted orchestras at the height of the Romantic era, the latter half of the 19th century. His "Kol Nidrei" has come to have meaning for Jews and non-Jews alike. Its quiet beginning, its long, sorrowful solo lines, and the spirited inner section give the 10-minute work emotional depth and musical brilliance.
Bruch had many Jewish friends and knew the community in Berlin well. "Even though I am a Protestant," Bruch wrote in a letter about "Kol Nidrei" to a friend, a cantor and musicologist, in December 1889, "as an artist I felt the outstanding beautify of these melodies, and therefore I gladly spread them through my arrangement."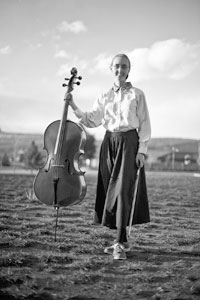 Melanie Ellison, 17, and her cello at sundown just before rehearsal of the Durango Youth Symphony. /Photo by David Halterman
Like other composers of the era, Bruch found music of other cultures – particularly folk music – fascinating. "A good folk tune is more valuable than 200 created works of art," he said in 1884. When a few years earlier, Bruch encountered the Yom Kippur chant through an acquaintance, he decided to create a secular concerto. Bruch borrowed a second tune for the brighter, D major inner section from an Isaac Nathan song with a text by Lord Byron – of all people – the arch Romantic poet from England. "I got to know both melodies in Berlin," Bruch wrote, "where I had much to do with the children of Israel in the Choral Society."
So "Kol Nidrei" is a hybrid of sorts. Bruch's concerto came into some popularity in its time, but it has never been as famous as the composer's Violin Concerto in G Minor, 1886. Over the last decade if you've attended Music in the Mountains concerts, you've undoubtedly heard Bruch's Violin Concerto more than once. But the cello concerto is another matter, and now's your chance to hear it played by a gifted local musician.
Ellison said she has loved music since she was a baby. At age 3, she began playing the piano and added the cello at age 9, studying with San Juan Symphony cellist J. J. Bader from the beginning.
"J. J. comes to our house for my lessons," Ellison said. "That has always been very special, partly because I've been homeschooled by my mother from day one. When I was an infant, my mom started out by creating flash cards of colors, numbers and plants." And beyond piano and cello, Ellison said, her parents started taking her to rehearsals and concerts from the time she was very little.
Ellison's distinctive headcovering makes her stand out among her fellow musicians on stage. "My mother began wearing it when I was about 8, and I started some time after that," Ellison said. "We are practicing Christians and try to obey what is in the Bible. We read that in First Corinthians 11."
Now that she's completing her junior year in high school, Ellison said she'd like to "major in music and administrative office management. I like to help a teacher organize a classroom. I love to tackle any mess and organize it." Sounds like a perfect double major: music and business. But, she added, she doesn't have an idea of where she will go.
Both of Ellison's parents love classical music and play instruments themselves – piano for mother and trombone for father. "But they are not professional musicians," Ellison added. Her father, Todd, recently retired from his position as chief archivist at the Center of Southwest Studies but will continue working as a specialist and consultant in his field. Mother, Renee, creates and sells educational products while concentrating, of course, on homeschooling Melanie.
In addition to the Bruch concerto, Ellison will perform in a trio with flutist Tabatha Platero and pianist Kathy Olinger. The major orchestral piece on the program will be Handel's "Water Music." And the concert will open with a group of folk songs played by the orchestra and sung by the Durango Children's Chorus. •