Music for Main
Music blossoms on Main, the mesa and in the neighborhood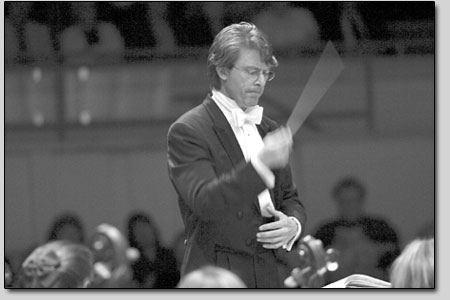 Arthur Post, above, will conduct the San Juan Symphony in a benefit concert, Music For Main, on Sat., April 5, at the Henry Strater Theater./Photo by Dean Conger
by Judith Reynolds
Somehow the San Juan Symphony will sardine itself onto the Henry Strater Theatre stage this coming weekend. How it will be done? For a benefit, chairs can be pinched together even if a few musicians may be lost in the wings.
"We're going to pack as many musicians as we can onto the intimate Strater stage," Arthur Post said in an interview earlier this week. "And we're going to do a popular program that will include Baroque hits and contemporary favorites. It won't quite be the Follies, but I think playing the Strater will give us a fun, unbuttoned vibe."
With this impromptu concert to benefit the Disaster Relief Fund following the Main Avenue fire, our regional orchestra has broken ground once again. "The whole thing is Kathy Myrick's idea," Post said of his executive director's brainstorm. "She's worked very hard to make this happen."
Tickets are $40 and all proceeds go to the Relief Fund, Post said. And for your ticket, you'll get a full concert, the whole canoodle. It starts with Bach, the big, high-energy Brandenburg Concerto No. 3. Then the orchestra will offer a full house of Baroque cards before intermission and a more modern second half to follow. After the Bach starter, two Vivaldi concertos will feature different soloists: flutist Shelly Mann will join the orchestra for the "Goldfinch" and trumpeters Tim Farrell and Mick Hesse will liven up the stage with Vivaldi's Concerto for Two Trumpets.
"Spring," from Vivaldi's "Four Seasons" will be performed by the ensemble, with violinist and concertmaster Kasia Sokol as soloist. And for those who can never get enough of Johann Pachelbel's famous "Canon in D," here's your chance to hear it again in Durango's famous garage-cum-Victorian cabaret theater.
After intermission, the orchestra will play Brahms' fifth Hungarian Dance and a spellbinding arrangement of the American folk song "Shenandoah." Two soloists will surprise the audience with very different works: percussionist John Pennington will perform the first movement of contemporary French composer Emmanuel Séjourné's Concerto for Vibraphone and Strings, a work performed in entirety earlier this year in Telluride and Durango. Singer-songwriter Dave Mensch, from the popular local band Formula 151, will sing two new works. The orchestra will close the formal part of the program with Leroy Anderson's "The Belle of the Ball." It's an ambitious program and well worth the ticket price.
Bracketing the San Juan Symphony on this high-powered musical weekend are two unusual recitals in two very different venues. At 7 p.m. Friday night, April 4, the Mangold Duo will give the third concert in a new chamber music program this year. Pianist Marilyn Mangold Garst has organized the series and will play in the April edition along with her sister, cellist Bonnie Mangold. Mangold recently retired from the Utah Symphony Orchestra and periodically comes to Durango to make music for the joy of it and to perform in a sibling recital.
The sisters Mangold have played together for decades, and those who have heard them have witnessed a particular bond that can only come from siblings who are musicians. "For this program, we've selected some of our favorite works: two sonatas for cello and piano by Beethoven (Op. 5, No.2) and Paul Hindemith (Op. 11, No.3)," Garst said. "Beethoven's sonata is a delightful example of his characteristically brilliant writing for the piano along with the cello line of much less importance."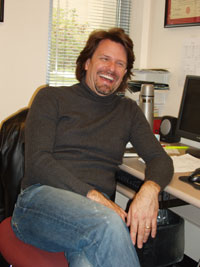 Tenor Chris Hendley will present his first faculty recital at Fort Lewis College on Sunday, April 6./ Photo by Judith Reynolds
The early Hindemith sonata is definitely a contemporary work, Garst said, but it has elements of the Romantic genre, "It's quite rhapsodic at times." Out of all the musical literature for cello and piano, the Hindemith, Garst said, may be "the most intense, passionate, wild and exciting to perform."
The third, big work on the program is the Grand Tango for cello and piano by the Argentinean composer Astor Piazzolla. In addition, original music for solo cello by Mangold will be included as well as the always welcome and popular "Elegy," by French composer Gabriel Fauré. Tickets may be purchased at the door.
Sunday afternoon at 3 p.m., tenor Chris Hendley will perform his first formal recital as a new faculty member of the stellar Fort Lewis College Music Department. Hendley's been here a year and was recently offered a formal, tenure-track position in the department. In a short time, Hendley has made his presence known, reviving the FLC Men's Ensemble, performing with and soloing for the Durango Choral Society, singing in the recent Bach Festival, and even appearing around town in a barbershop quartet. The guy's energy is legendary. He's unstoppable.
Hendley's recital will show off his considerable range as a singer. His program notes are heavy on scholarship, too, a little something for his students to digest.
"My inspiration for the program stems from two sources," Hendley writes in his pre-publication notes. The first: "to perform a repertoire that was relatively new to me," which says something about a performer who likes to set a high bar for himself. "The second was more enticing: Music composed around the turn of the twentieth century."
Expect darkness and light along the way. Hendley will open with a sorrowful group of art songs by Gustav Mahler, "Kinder-Totenlieder." Based on texts by the poet Friedrich Rückert about the death of children, the songs "use a palate of sounds that includes tolling bells and conscious dissonances that express a colossal outpouring of grief."
From this auspicious beginning, Hendley will bring his listeners progressively into light with three songs by Debussy, "Fêtes Galantes II," and brilliant fare by the American composer, Charles Ives: "Omens and Oracles." Hendley will also take an Italian detour with the music of Ottorino Respighi and Francesco Tosti – all composed around 1900.
The second half will include not only Ives' experiments with sonority but his signature habit of musical quotation, taking snips from well known works and slipping them into his own. On the way, Hendley said he's going to explore the role of popular song and how it extends the older art song tradition. To that end he'll also sing works by Erik Satie and Kurt Weill.
One might expect the surprising Hendley to have an encore tucked up his sleeve. So clap profusely in order to get it. I don't think that will be difficult. •