'Out' on the Colorado Plateau
New conference hopes to spark dialogue on LGBT issues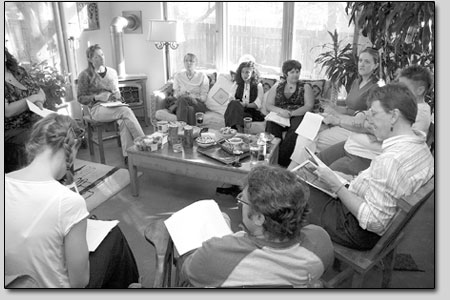 Organizers of this weekend's "Out on the Colorado Plateau" meet to go over some last minute details for the event. The first of its kind event is being sponsored by the Sexual Assault Service Organization and 4cGLAD, among others./Photo by Benjamin Martinez
by Amy Donahue
Starting a community dialogue is the goal of this weekend's "Out on the Colorado Plateau" conference. Organized by community members and leaders of nonprofit organizations in Durango, the conference is about increasing the visibility of the lesbian, gay, bisexual, transgender and queer community in the Four Corners region.
"The conference is really for anyone and everyone including members of the LGBTQ community, business owners, students, educators and everyone in between," said Jen Shupe, associate director of the Sexual Assault Services Organization.
Shupe said that the conference has broad workshop categories in order to broaden the audience and scope of application. They include violence prevention, an introduction to the LGBTQ community and issues, and a look at youth, schools and safety.
The idea for the conference grew out of recognition that the LGBT community in Durango is not visible and does not have a loud voice.
Organizer Nico Baker said that after teaching a few classes for SASO last fall, he realized that the community was open to talking about LGBT issues.
"People were really engaged, there was a good turnout, and we began talking about having a few presentations to allow for dialogue," he said. "With the involvement of SASO, the idea grew and became a community effort to put together a big event with lots of support and sponsors."
Dawn Haney, executive director of SASO, said that she was excited to see a group of people come together with the goal of bringing visibility to LGBT issues in Durango and the surrounding areas.
"Having lived in Atlanta prior to moving to Durango, I was used to being surrounded by a gay and lesbian community. There is a visible presence there. I felt a void in Durango not being connected to that community," Haney said.
In its role as financial sponsor for the event, Haney said that SASO can provide the organizational support that allows the conference to be bigger and better. SASO's involvement follows in the organization's commitment to ending sexual violence as a tool for multiple forms of oppression by raising awareness and discussion.
"We are already creating connections that show that LGBT people are supported in this community by straight allies, businesses and nonprofits," Haney said. "One of the goals of the conference is to build camaraderie and safe spaces."
FLC senior Erik Nelson, who has been involved with the planning process, expressed similar hopes for the conference.
"I would like to see more of a dialogue and more communal discourse concerning LGBT issues in the community," he said. "It happens at large informally, but this is a continuation of the social acceptance that needs to happen on a larger scale as far as our culture is concerned."
Nelson said he is excited to see this conference come to rural Colorado, because it is an indicator that things are changing.
"Durango is far removed from any metropolitan progressive center, so this means the discourse is moving into the farther reaches and corners of our culture," he said.
Baker said that he has seen the community express interest in LGBT issues, but that there is no forum for that dialogue to take place. He said that "Out on the Colorado Plateau" will hopefully fill that void.
Since its beginning, "Out on the Colorado Plateau" has grown to a day and a half conference starting Fri., April 4, with a reception at the Fort Lewis College Student Memorial Lounge.
Sat., April 5, will hold a full day of workshops and presentations, including a keynote address from Mara Boyd. The conference also features a number of other presenters, among whom are Tom Schilling, chair of the Board of Trustees for Fort Lewis College, and Greg Weiss, chairman of The Four Corners Gay and Lesbian Alliance for Diversity Board. Both Schilling and Weiss will present Friday night at the reception.
Schilling said that he feels it is important for Fort Lewis College to be involved in the conference because it is a vital part of the service role of the college.
"I'm very proud of the faculty members and students that are engaged in the dialogue that's beginning on campus and in Durango," he said. "Dialogue's not easy to start. If this conference encourages people to keep talking and keep engaged, that would be tremendous."
Weiss said that 4cGLAD has been trying to put together a summit similar to "Out on the Colorado Plateau," but that this weekend's event is exciting because it has been developed within a wider community than just 4cGLAD.
"The audience base is much more diverse because it involves people from outside 4cGLAD, including other nonprofits and individuals," he said. "It brings a positive message to our members that there are other organizations and individuals in the area that are thinking about these things."
Part of what Weiss would like to see come out of the weekend is a wider understanding in the general community of some of the issues that the LGBT community faces in the region. In addition to this understanding, he said that it will be good to establish a forum for the LGBT community to not only connect with others within that community, but also with the larger society of Durango and the surrounding rural areas.
"There're queers in this town, so we'll talk about them all day and the night before!" Baker said. •