The art of Oktoberfest
Fall festival ready to roll out its Arts Market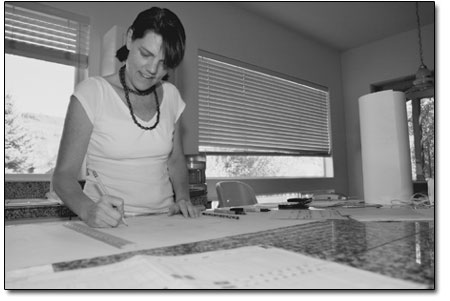 San Juan Citizens Alliance's Carol Clark puts the finishing touches on this
weekend's Oktoberfest celebration. Like last year, the two day event
includes an Arts Market./Photo by David Halterman

by Jules Masterjohn
Carol Clark is no stranger to creativity and the power of potential. Back when we first met, some six years ago, she was the executive director at the Durango Children's Museum. I was working at the Durango Arts Center, the building in which the Children's Museum is located. We often bumped into each other – figuratively and literally – in the small room that was home to the copy machine. We shared stories about cut-and-paste flyers, made solely from photocopied and magazine images, before the day of computer–aided design. We joked that we were latent photocopy artists.
I learned then that Carol was a creative soul, and that she was crafty with more tools and materials than photo copier and colored paper. She boasted that her garage/studio was home to many labeled and organized jars holding such wonderful found objects as nails, buttons, shells, rose buds – anything that could be used as textural or colorful addition to a piece of craft work. Her friends nicknamed her "Martha Stewart," an association she jokingly played to the hilt.
More than half a decade later, Clark is applying creativity to her work as the development director for the San Juan Citizens' Alliance, the local nonprofit organization that spearheads environmental, social and economic justice campaigns in the San Juan Basin. She is responsible for creating the Alliance's fall fund-raising event, Oktoberfest, which will take over two blocks of Main Avenue this weekend. No longer limited to small, found objects and a glue gun, Clark now uses a combination of street closure permits, press releases, contracts, volunteers, Porta-Potties and attractions like the "Pub Crawl" to create large, audience-participatory fund-raising events.
Oktoberfest began four years ago as a small music event hosting a few local bands and has grown to attract more than 4,000 people during a two-day run. The last, hearty outdoor festival before the season's chill permeates, the event now features music, authentic German brats and beer, and for those with an artistic bent, an Arts Market.
Clark has not forgotten her creative proclivity in the formation of the fall festival. Her original idea behind the Arts Market was to focus on authentic German artwork and crafts made locally. Unfortunately there don't seem to be many Bavarian cuckoo clock makers in the area, and the crafters of lederhosen simply couldn't be found. So three years ago, Clark put out the call to artists in the region, inviting them to be present at Oktoberfest.
For this year's Arts Market, Clark enlisted the assistance of volunteer Marsha Franklin to help get the word out to new artists about the Oktoberfest opportunity. Franklin was a perfect choice: she has participated in the Arts Market since its beginning and finds it a fun and successful event. "I am an advocate for things that I feel passionate about, and I enjoy displaying my work at this event. It gives us artists an opportunity to talk with the people who are buying our work, which is really wonderful," she offered.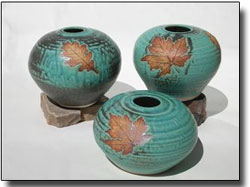 Stoneware vases by Marsha Franklin will be
on display at the market./Courtesy photo

Returning to the Arts Market for a second year is Bayfield artist Laurie Schell, who paints on eggs of all sizes. Truly unique, her hand-painted eggs are the canvas for many miniature subjects from wildlife to dragons and fairies. So the question must be asked, "Which came first her name or the eggs?"
Durango glass artist Cuatro Kruse will fly solo this Oktoberfest with his handcrafted wine and martini glasses, and decanters. Last year, he and sister Grace Kruse shared a booth. Grace Kruse has stepped out on her own with a line of hand-made clothing, purses and canvas grocery bags.
Bayfield artist Corinne van der Ploeg Nichols will be showing her intricately made fabric landscapes. Her choices of fabric are so subtle that it is hard to tell they are made from woven cloth.
Pam Williamson made her way to this area through her participation as an artist at the Main Avenue Arts Festival some years ago. While here, she fell in love with the place and decided to relocate her stained glass studio and business to Dolores. Her glass boxes, picture frames and mirrors are prismatic.
Other artists and artisans at the Arts Market are Peter Kewitt showing his elegantly carved, hand painted and embellished gourd vessels and birdhouses. Kevin and Kyla Beavers refuse to let the '60s die with their brightly colored, tie-dyed clothing and hangings that can't be missed. The fine art of sauce making will be presented by Bill Manning, proprietor of High Desert Foods from Dolores. He will have his handcrafted organic chutneys, jams and jellies available for tasting. The Wild Wooly Women of the West will be demonstrating hand spinning and selling their hand spun yarns, hand-woven shawls, and felted hats, hangings and purses. Encantos Soap and Skin Care from Cortez is rolling out their new products, which include hand-made soaps and skin care items made with essential oils.
Soulstone jewelers Christin and Eugene Salaz, wood carver extraordinaire Dave Sipe, glass worker Jason Kimmel, cottonwood carvers Ross and Joyce Cox, and potter Sean Stewart will also present their works.
Now that her organizing efforts have ended, Marsha Franklin will wear only one hat at this year's Oktoberfest, the potter's hat. All her ceramic work is functional and she will have her salsa bowls, platters, wine coolers, fluted bowls, ikebana platters and vases on display. •
Durango's Oktoberfest festivities will be 11 a.m. to 6 p.m. Sat., Sept. 29 and 11 a.m. to 3 p.m. Sun., Sept. 30.