The agony, angst and ecstacy
San Juan Symphony opens season with all-opera concert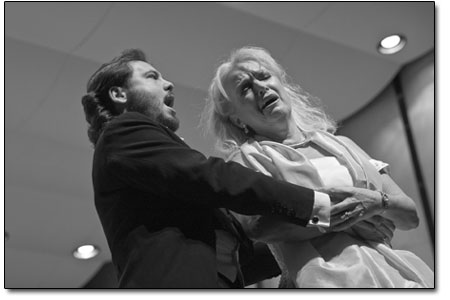 Spanish tenor Israel Lozano and Soprano Gemma Kavanagh perform "La Bohème" with the San Juan Symphony last November at the Community Concert Hall at Fort Lewis College/Photo by Dean Conger
by Judith Reynolds
They're back. Mimi and Rodolfo, that is. And they're bringing Carmen, Don Giovanni, Cio-Cio-San, Pinkerton, and a Handmaiden of the Night, among other opera characters.
Soprano Gemma Kavanagh and Spanish tenor Israel Lozano wowed us last November in the Community Concert Hall at Fort Lewis College. They sang Mimi and Rodolfo's love-at-first-sight duet from "La Bohème" with the San Juan Symphony and mesmerized the audience. With a little bit of staging, their performance recreated one of the most tantalizing moments in opera. Well, Kavanagh and Lozano are back with additional singers and more music for this season's Operafest.
"I try to respond to audience enthusiasm," symphony musical director Arthur Post said in about the twin concerts coming up in Farmington and Durango. Following last fall's success, he said he immediately started planning for this year.
"To really communicate the essence of opera, you need more voices," Post said. He quickly assessed whether Kavanagh and Lozano would be available. Unless you've been on Planet Venus for the last decade, you know Kavanagh is our diamond in Durango. An experienced opera signer and recitalist, she brings glamour and warmth to every local musical event she's in.
Madrid born, Lozano has a thriving European and American career. Since he last sang here, he's traveled the globe. This week he's flying in from Bangkok where he just sang the role of Lieutenant Pinkerton in a production of "Madama Butterfly."
"We could have done our whole opera concert of just arias, solos," Post said. "But the drama of opera is in the interaction of characters. In the first half, we'll have a sequence of duets, then in the second half we'll have more elaborate staging for other scenes."
To round out opera's human drama, Post said he knew he needed at least a baritone and a mezzo. So he invited baritone Daniel Cilli, mezzo-soprano Gemma Coma-Alabert, and added soprano Ruth Wilson Francisco to make up a quintet.
"Baritones are usually the 'good' brother or the villain, and Daniel Cilli is a guy with a lot of character. He's a young, talented American singer with very strong acting skills."
Spanish-born mezzo-soprano Gemma Coma-Alabert is better known in Europe and happens to be Post's wife. Two summers ago, she made her American debut at the Aspen Music Festival and will make her New York debut later this season. In Europe, Coma-Alabert has performed widely in recitals, oratorios and opera. Last year she sang the role of Carmen in a full production at the Lyon Opera House. Days after her appearance with the San Juan Symphony, Coma-Alabert will fly to France, where she will be a soloist in Mozart's Requiem.
One more singer, local soprano Ruth Wilson-Francisco, enabled Post to program the brilliant quintet from Mozart's "The Magic Flute." In it, three handmaids to the Queen of the Night lead Tamino and Papageno, a tenor and baritone, on a rescue mission. Wilson-Francisco resides in Cortez and has performed with Music in the Mountains.
If that weren't enough, the finale of "Carmen" will feature Cilli in the famous "Toreador Song," Lozano as Don José, and Coma-Alabert as Carmen in the climactic death scene.
"The wild card for me," Post said, "is how to dramatize all this on stage. I'll have the luxury of three days with the singers; we'll be inventing the staging together. The whole purpose is to heighten the drama of opera."
Post will open each half of the concert with an overture: Verdi's Overture to "La Forza del Destino" will open the concert, the biggest wake-up call in music history: three brass strikes followed by strings scurrying for safety. No one sleeps through Verdi. After intermission, Post and his musicians will welcome a select group of high school players for the annual "side-by-side" performance. Jacques Offenbach's "Overture to Orpheus in the Underworld" is a rouser with echoes of many dances including the familiar Can-Can.
For Puccini fans, Post will take the audience on a mini-operatic tour beginning with a duet from "La Bohème." It won't be last year's Mimi-Rodolfo love-in, but another pairing that occurs later in the opera. Lozano will still be Rodolfo, and Cilli will portray his buddy Marcello as two lovesick guys parry and long for their girlfriends.
The beautiful "The Flower Duet" from Delibes' "Lakmé" will be sung by the two Gemmas: Kavanagh and Coma-Alabert. The scene is from Act I where Lakmé, the daughter of a high-born Brahmin priest, and her servant Mallika delight in the calm beauty of a fragrant garden.You'll know it when you hear it; it's one of those classics that transport you to a perfumed world where jasmine blooms at night.
Another duet, the great seduction scene from Mozart's "Don Giovanni" follows where the arch lover tries to persuade a maid to run off with him and almost succeeds. Every woman in the audience may succumb to baritone Cilli's charms as the great Don. Another famous Mozart duet follows between Figaro and the love of his life, Susanna. It wraps up the plot in "Figaro" and brings about a happy ending. Pure joy.
Another familiar pairing, less comic but far more poignant, features the first night for Cio-Cio-San and Lieutenant Pinkerton in "Madama Butterfly." It's one of those duets that makes grown men cry. And that's just the first half of Operafest.
The remainder of the concert will include selections from Mozart, Donizetti and a significant part of Bizet's "Carmen" – the emotionally charged "Seguidilla," the familiar "Toreador Song," and the tragic ending of that remarkable work.
Post will wrap up his operatic bouillabaisse with a big, heaping Wagnerian desert: the Prelude to the third act of Wagner's "Lohengrin." What a way to go. •