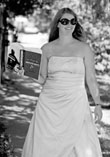 Diver:Stephanie dives in diapers at a local preschool
Interesting facts:Stephanie is the first diver whose muse communicates in poetry
Got a dirty little secret?
Looking for guidance to remedy a sticky situation?
Seek help from the master of the kitchen! The Dish Diver has solutions to life's little messes. Send your problems to "Ask the Diver." - By mail to Durango Telegraph - Attn Diver -534 Main Ave., Durango, CO 81301; by email at telegraph@durangotelegraph.com, or by fax at 259-0448.
Dear Diver,
I thought it was supposed to be off-season, but it's still impossible to find a parking spot, restaurants are slammed on weekends and the train is pulling what looks like a dozen packed cattle cars up to Silverton. What's going on here? Is there some secret attraction/ event I don't know about?
-Ready for rest,
Durango
Dear Ready,
In Durango secrets come and secrets go,
But here we find something you don't now.
You think they would wait for falling snow,
But no, oh no.
They come now in search of fall,
Colored leaves both big and small.
Packing the train, one and all,
Blocking parking like a wall.
One or two more weeks shall pass,
When you think it's pretty fast.
They will all have had a blast,
Then we'll have quiet sure to last.
– Diver
Dear Diver,
People owe me money and just keep shining me on. They say it's coming but the cash just never seems to show. How do I get
them to pay? Are there any heavies for hire in town? Please help, baby needs shoes, and I'm starting to get hungry.
-Sammy
Sammy,
Local heavies are not what you need
To take care of people who don't pay up.
Why would you want to make them bleed?
When all you really have to get is a cup.
Cups are good for all sorts of stuff
Like coffee, water, beer and tea.
But the are also great when you've had enough
Of shoeless babies and being hungry.
So put out a cup to calm your woes
The cash will be in it quicker than snot.
Then you can warm your little ones toes
Without having to have anyone shot.
– Diver
Dear Diver,
My friends are trying to talk me into getting a season ski pass in Telluride this winter. I love skiing with my pals and dig the mountain at Telluride, but that town is a little too uptown, and it sure seems like a long drive to
go skiing. What do you say? Should I dive in or pray that we get enough snow to make a Hesperus pass worthwhile.
-Jonesing in Durango
Haiku for Jonesing,
Telluride is great
You needn't go into town
Hesperus cheaper.
– Diver