Be happy, be healthy, long life
Durango High School stages 'Fiddler on the Roof'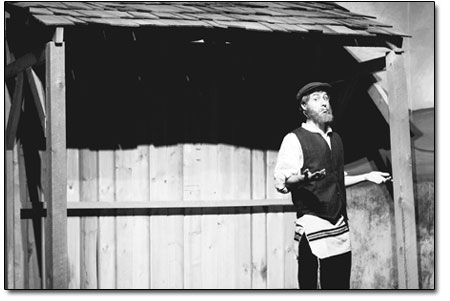 Adam Fontana stars as Tevye, a Jewish milkman who has an ongoing dialogue with God, in the Durango High School production of "Fiddler on the Roof." The musical performance takes the stage for the next three weekends in the school's auditorium./Photo by David Halterman
by Judith Reynolds
It took six tries to get it right. Cast, crew and director rehearsed until one particular scene possessed both energy and clarity.
Act I, Scene 4 of "Fiddler on the Roof" is critical to understanding the plot of one of America's favorite musicals. Beginning in confusion and ending in agreement, the scene centers on a business deal. And in true Rotary Club fashion, the deal takes place in a village pub. Tevye, a dairyman, goes to the local tavern expecting to negotiate the sale of a cow. Lazar Wolfe, the village butcher, anticipates a very different business deal: a contract for Tevye's eldest daughter in marriage. It's a classic set up for confusion, comedy and the lead-in to a final toast, a song celebrating life: "L'Chaim."
Last week at a rehearsal in Durango High School, Mona Wood-Patterson, director of drama, asked her cast and crew to rework the scene until the conflict was as sharp as a violin string. W-P, as she is known to her students, knows how to shape theatrical moments so they are clear to the audience.
The school's Thespian Troupe 1096 will open "Fiddler" Fri., Nov. 2. The production runs weekends through Nov. 17. Act I, 4 is only one of 18 fast-moving scenes in the musical. Based on the stories of Sholem Aleichem, the great Yiddish writer of the Russian Steppe, "Fiddler" focuses on Tevye (Adam Fontana) and life in the fictional village of Anatevka. Husband, father of five daughters, businessman, and stalwart member of his community and religious congregation, Tevye has a personal, ongoing dialogue with his creator. As life's problems unfold, Tevye wrestles with ethical, moral and cultural questions in a marvelous question-and-answer stream. And he's a survivor. By the end of the musical, all his beliefs have been tested.
What makes "Fiddler" somewhat unique in the history of American musicals is its dark frame. The everyman Tevye faces ordinary family dilemmas, but he and his villagers also live in a time of virulent anti-Semitism. Throughout the work, a full-blown Russian pogrom threatens, a political cleansing ordered by a tyrannical Czar.
"The Holocaust has received a lot of attention in theatrical works," W-P said in an interview before rehearsal, "as it should. But the Russian Pogroms are important, too. It's a more hidden part of a larger story."
Among the challenges W-P has faced staging "Fiddler," the fact that almost everyone knows the musical.
"People know every song," she said. "It was hugely popular when it was first staged in 1964, and when the movie came out in 1971, that reinforced its popularity. You never want to be up against the definitive production, so the students will make it their own. Adam, for example, has come up with a Tevye that's absolutely his own."
Charles Ford applies DHS actor Hayden Stanes' beard before last Monday's dress rehearsal. With a huge cast and elaborate sets, "Fiddler" is one of the school's more ambitious efforts./Photo by David Halterman
The dark framework is another challenge, W-P said. "At the core you have a man in a world that's changing," W-P said. "Tradition is important to Tevye, but events make him constantly question what he believes. That's certainly relevant to the 21st century."
Technically, this complex musical has a large cast of villagers and a contingent of Russian interlopers. As usual, W-P and her creative team have assembled a huge cast, costumed everyone in turn-of-the century peasant or military attire and spread key scenes across the wide stage.
"The biggest technical challenge," W-P said, "is to keep it moving. There are 10 scenes in Act I and eight in Act II. We're also using mikes for the fifth year, and we're still learning how to use them."
Putting beards on all the men turned out to be another challenge. That task belongs to Charles Ford, technical director and set designer.
"I'm perfecting my beard techniques," Ford said in an interview last week. "We'll be using some human hair beards and synthetic. The technology has improved considerably. We don't have to rely on the old pasted-on beards. The biggest challenge for the boys is to sing with beards on."
It was tradition for all adult men in Russian villages to have full beards. And the theme of "tradition" weaves throughout the musical. It's set up in the prologue where Tevye meditates on the importance of maintaining balance in one's personal and communal life. He talks about tradition and introduces the people of his village. That includes the mysterious fiddler of the title (Logan VanDenBerg), who appears and reappears throughout the musical.
Made famous by the painter Marc Chagall, the character ultimately comes from Jewish folklore. In the 1960s, the character inspired the creative team of Joseph Stein (book), Sheldon Harnick (lyrics) and Jerry Bock (music) to conceive "Fiddler." The character has always been a metaphor for survival in a world of uncertainty. From Tevye's mouth to your ear: "Life is as shaky as a fiddler on the roof."
And that shaky deal in the Act I tavern scene? After six repetitions in rehearsal, it came into focus. Tevye's entrance and opening line about selling his milk cow had to be heard. W-P asked the guys in the pub to shift from animated dialogue to mimed conversation. When Tevye and Lazar Wolfe began their exchange, the comic business arrangement unfolded like a Marx Brothers sketch. Once the real deal was made, however, boisterous celebration erupted in that great song "to life." •
In this week's issue...
July 21, 2022

Land swap approved in Southwest Colorado, but not without detractors
July 21, 2022

The latest strategy to save the San Luis Valley's shrinking aquifer: paying farmers not to farm
July 14, 2022

Despite SCOTUS ruling, San Juan Generating Station plans to shut down