The other half and tasting Durango



by Lindsay Nelson
If you really want to understand the Durango experience, you have to see it as an outsider might. Playing host to out-of-town guests offers a unique opportunity to see familiar places with new eyes. Not until you wake up in a North Main motel with a hangover on a Monday morning, and realize that the most strenuous thing you must do is get up in time for the continental breakfast and decide whether to go to the mountains or the river first, can you begin to get it. You might accidentally drive by your office which now looks like any other nondescript building that seems as if it would be boring to enter, let alone spend eight hours a day in. And you drive on; it's time to buy a T-shirt.
Showing people around town can relieve you briefly of your workaday concerns and confirm some of your suspicions about your little town. As visitors who recently toured the supposedly inferior cities of Fort Collins and Denver noted, the customer service really sucks here. Who'd ever have thought that the people working the counter at Quizno's in Cañon City would be 10 times friendlier than the nicest of the counter help in Durango? Strange but true. And what else do our outside observers tell us that we already knew but sometimes wish we didn't? "Durango seems like a really nice place, but it's all yuppified. Is there anywhere nice that hasn't been yuppified?" Where are you going to go – Fruita? Walsenburg? No yuppies, but somewhat lacking in amenities. If you do happen to find such a place, please do not tell anyone, ever.
But seeing as how we're all stuck here for the time being, we might as well enjoy ourselves. The Ska-B-Q is back every Thursday out at Ska Brewing, which sort of makes Thursday the new Friday. Too bad your boss didn't get the memo on that one. On second Friday, the real one, the semi-formal swing dance event of the season takes place at the Diamond Circle Theatre. The Jeff Solon Swing'n Big Band will play big band jazz and swing from 7:30 until your feet really start to ache. Free dance lessons accompany the first set for you neophytes, and jeans (presumably also Carhartt's and shorts) are out; full skirts and tappy shoes are in. You don't even need a partner.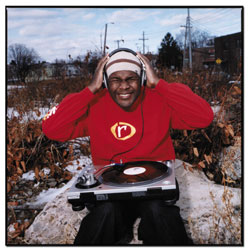 DJ Logic

Also on Friday night, you will have the opportunity to see a Durango bluegrass band with a sense of humor. If, like me, you're interested in hearing a bluegrass band play covers of songs by Weezer, Guns • Roses and Sir Mix-a-Lot, Cronin Valley Crooks is the band for you. They performed at the Bluegrass Meltdown this spring and tomorrow night they're at the Summit. Most of their songs are originals, some traditional and others what they call "emo-bluegrass." Now this I have to hear.
Another up-and-coming Durango band, Boxcar, returns to the Summit on Saturday night. Word is their debut performance there was killer, and they're getting ready to do it again. Some of the former members of The Brown Brothers and Broke Mountain comprise this Americana/old-time/back-porch band. See them now before they all move away and form new bands.
Save some room for the Taste of Durango on Sunday. It's a rare opportunity to sample the most appealing food items available from Durango's myriad restaurants and cafes. You also get to drink beer on the street and wander around without fear of being plowed by a H3. Aside from all the food, there's also live music all day, from the Hounds of Purg, Badly Bent, the Excel Steel Band and Formula 151. Just remember to leave your dogs, cats and reptiles at home, and wear your sunscreen but bring an umbrella – it is May, after all.
And if you believe the papers, innovative jazz turntablist DJ Logic performs Tuesday at the Summit. The man who was once just a regular kid from the Bronx, Jason "DJ Logic" Kibler started out on the turntables at parties and somehow figured out how to make it into a tool of jazz improvisation. He joined jazz trio Medeski, Martin and Wood in the 1990s and has released several solo CDs, the latest of which is "The Zen of Logic." Don't miss the chance to see this skilled and innovative musician, if he's really coming to town, that is.
In this week's Top 10, the leader of the pack is a hip-hop artist I'd never heard of (shocking, I know), followed by Rush, still going strong after nearly 40 years of hard-rockin' drum solos. It's always nice to see that the music-purchasing public in Durango has such diverse tastes, so that both Joan Armatrading and Bone Thugs N' Harmony can share the top 10 roster. New this week is the Wilco disc, "Sky Blue Sky," new ones from Megadeath and Linkin Park, and a solo release by Dolores O'Riordan of the Cranberries. Hooray for new music! •
In this week's issue...
July 21, 2022

Land swap approved in Southwest Colorado, but not without detractors
July 21, 2022

The latest strategy to save the San Luis Valley's shrinking aquifer: paying farmers not to farm
July 14, 2022

Despite SCOTUS ruling, San Juan Generating Station plans to shut down