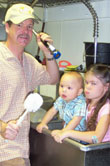 Diver:Rick from Moe's Starlight Lounge
Interesting facts: Despite a widely held belief, Rick from Moe's does not have an identical twin
Got a dirty little secret?
Looking for guidance to remedy a sticky situation?
Seek help from the master of the kitchen! The Dish Diver has solutions to life's little messes. Send your problems to "Ask the Diver." - By mail to Durango Telegraph - Attn Diver -534 Main Ave., Durango, CO 81301; by email at telegraph@durangotelegraph.com, or by fax at 259-0448.
Dear Diver,
I just read an article today about how Kellogg's isn't going to be marketing sugary cereals to kids anymore – this includes the practice of using licensed characters to promote these cereals. I am in a panic! What will become of Toucan Sam? I'm serious! Are they going to get rid of Toucan Sam? Please tell me that they're not going to get rid of Toucan Sam!
– Sincerely, Dan from Portland
Dear Dan,
Marketing to kids? Why stop at cereal and cigarettes, why not booze? I'm thinking about making our mascot: a saggy pants, backward hat wearing, martini drinking, fuzzy bunny, cartoon character. (Look for our next ad!) It must work for Captain Crunch. Besides making great cereal, the Captain is one heck of a sexy sailor. Fantasies aside, here is my recipe for a special Crunch Berry breakfast. Fill a large bowl with half a box of said cereal, top with ¼ cup sugar, ¼ cup Nestle's Strawberry Quick, add milk and stir. Let sit for five minutes until it becomes pudding-like in consistency. Enjoy! If you are not nauseous by the time you finish, you did it wrong. Long live Count Chocula & Frankenberry!
– Diver
p.s. I heard that Toucan Sam died a couple of years ago after years of alcohol & drug abuse.
Dear Diver,
I can't afford to live in Durango anymore. The rents are going up, and the 10-cents-an-hour raise just isn't cutting it. My question is – which of Durango's satellite communities is most desirable. Bayfield and Mancos are kind of nice, but not that much cheaper than D-town, and Pagosa is out just on general principle. Can a guy make a go of it in Cortez or Dolores?
– Ralph the refugee
Dear Refugee,
You sound a bit ungrateful. If you wanna play, you gotta pay. My fellow property owners and I would love to see higher rents and more profits. Plus, we weed out some of the riff-raff like yourself. What's wrong with Durango being for the haves and not the have-nots. "Greed is good, greed works" – Gordon Gecko, Wall Street. (See Aspen & Telluride) Why don't you do what so many have to do in Durango and work a half a dozen jobs. Your side lost, Mr. Lebowski. I suggest you do what your parents did and get a job sir.
–Diver
Dear Diver,
Why did the City of Durango decide to throw a big summer music festival (Durango Rocks!: Summerfest), and then book bands that play at El Patio and in the Office Spiritorium nearly every week? I'm all about full-day festivals and the beer tent, but at least throw us one big name.
– Jerri, via e-mail
Dear Jerri,
Who cares who is playing as long as the booze is flowing! Besides, when have you heard good music from a "big name" in the last decade? My friend and fellow diver, Dave from Wagon Wheel, suggested that Slayer could play, and I agree. What this town needs is a little metal. I am personally planning an autoerotic festival and hoping to book the Circle Jerks. Hope you can make it!
– Diver
p.s. I bet the good people of Formula 151 appreciate your comments you insensitive cad!