Common creativity
Local artists team up for Durango Arts Center benefit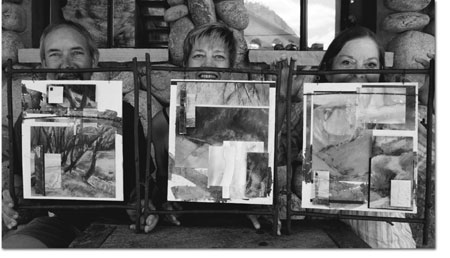 Dave Claussen, Deborah Gorton and Jan Goldman (from left) peer out from behind their joint artistic effort. Barbara Klema (not pictured) also contributed to the piece, which is one of many on display at the Durango Arts Center's Collaborative Art Exhibit. More than 60 artists partnered on the exhibit, which will conclude with a July 6 auction benefiting DAC./Photo by David Halterman
by Jules Masterjohn
If it takes a village to raise a child, the same may be true for growing a community arts center. In an effort to raise money for the Durango Arts Center (DAC), 60 artists organized into more than a dozen artistic teams to create works for the art centers' first-ever Collaborative Art Exhibit, which opens this week. The mutually created works, including a dance performance, will be auctioned to the public as a benefit for the organization's Exhibits Program.
Former gallery owner and local artist Carol Martin knows a lot about sustaining the arts in Durango. For nearly three years she has volunteered to lead the city's Public Arts Commission and once served as a member of the DAC's Exhibits Committee. She and two other artists have put their creativity where their hearts are, producing a piece of sculpture for the exhibit.
Photographer Carson Jones and Del Norte artist Mettje Swift worked together with Martin on a sculpture that highlights each of their talents. Swift designed and welded six winged, hanging mobile structure that will hold Jones' color photographs, which are silk screened onto fabric banners, and Martin's colorful glass and metal elements. The finished work responds to the elements of light and wind.
Though the three artists knew of each other, they were not very familiar with each other's work. Their group was formed randomly as was part of the collaborative exhibit's participation model. Artists who wanted to make a work and did not have partners lined up, agreed to have their names put in a hat. According to Martin, "Some of the teams were put together by chance because some of us wanted to have a challenge and meet new artists." Other artists participating in the show formed their creative teams based on acquaintance, artistic respect and common ground.
One such team is comprised of artists Deborah Gorton, Jan Goldman, Dave Claussen and Barbara Klema. Gorton, also a member of the Exhibits Committee, offered, "Jan and I were talking about how much we work in isolation as artists and how nice it would be to do things in community. So we decided to work together. It has been fun and has given each of us a chance to stretch with each other's vision, which is quite an eye-opening experience."
The three women began by taking watercolors created by Klema and pastels made by Goldman. They cut up each artist's work into small pieces and rearranged them into three double-sided collaged panels. Gorton's expertise as a collage artist was utilized by integrating the various elements into the piece, and all worked closely together to arrive at the final panels. Claussen, a metalworker, built a free standing folding frame structure that holds each collage panel. The finished piece is book-like: each panel can be "read" as an individual page or as a larger aesthetic story, which is an appropriate metaphor for the creative process that birthed it.
Klema also worked with a group of students that she instructs in advanced watercolor techniques at her Wild Sage Studio. "I assigned it as a project, six of us worked on it. Three different people made drawings and then we passed the drawings from person to person." She said that the assigned collaboration was a practice in painting, working with others and in "letting go" of the outcome. "It was fun. We all worked a bit outside of our individual realms, we resolved problems and ultimately created a different vision than we would have made on our own. The experience was rich and rewarding as well as freeing because you didn't have the whole responsibility and everyone brought their own gifts."
Another class collaboration, led by artist Margaret Pacheco, is a wall piece made by the Kindred Spirits class, a group of adults with "various abilities" who meet weekly for art instruction. Their piece includes 28 paintings and drawings by 14 students. Mostly self-portraits, the individual images were digitally scanned by class volunteer Marsha Cohen and composed into a patchwork pattern by artist Adele Kurtz. Four Corners Framed Art added their expertise, and the result is a colorful framed print that celebrates a naïve style of expression.
Like Klema, Pacheco, too, is offering her talents to the show, not only as a teacher but also as an artist. She, Judy Hayes and Sharon Abshagen have created a painting, "blind faith." According to Pacheco, the process was "an enlightening, powerful and beautiful experience." They defined and redefined the collaborative process as they progressed. "When each of us worked on it separately, we gave each other total permission to recreate the painting. We then worked together to complete the work. The artwork has its final voice."
Collaboration, as with the solitary creative process, incorporates both joy and fear. I know this through my own collaboration with Sandra Butler, Joan Levine Russell and Debra Greenblatt. When Sandra invited me to work with them, respecting each of these artists and their work, I accepted without reservation.
The four of us did not discuss our collaboration before it began. It wasn't until a few weeks later, when Sandra passed on the elegant, slightly twisting DNA-like ladder form to me, that I became unnerved. "If you want to cut it up into little pieces and put it in a cardboard box, that's fine with me," was her statement of absolute relinquishment. Though I have committed aesthetic murder on my own work, it had not entered my mind with a collaborative project. Her suggestion did, however, open me to more radical possibilities than I would have considered on my own.
In the end, our animated and whimsical sculpture expresses our aesthetic preferences for form, design and content. Our individual artistic voices have merged into a visual poem that is more potent due to the courage we brought and the permission we gave in the unfolding of the collaborative creative process. •
The Collaborative Art exhibit opens June 29 at the DAC Barbara Conrad Gallery. The artists' reception and a live auction will take place the last day of the display, Fri., July 6 from 5-8 p.m. Bids on the artworks can be placed throughout the week. The DAC is located at 802 E. Second Ave. and gallery hours are 10 a.m.-5 p.m., Tuesday –Saturday.