Putting grazing to the test
San Juan Public Lands begins to study the impacts of grazing

SideStory: Weigh in on Missionary Ridge: Forest Service opens comment period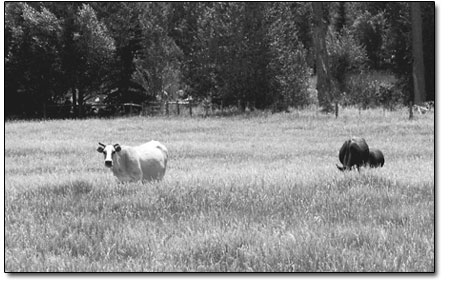 A pair of cows graze off Florida Road near Missionary Ridge. For the first time ever, the Forest Service is tudying the environmental impacts of public lands grazing on allotments throughout the San Juan National Forest. Work was recently completed on the Missionary Ridge-Lakes landscape./Photo by David Halterman
by Will Sands
Livestock may soon be leaving a lighter hoofprint on the San Juan Mountains. Tens of thousands of cattle and sheep graze on local public lands in the summer months. For the first time ever, the San Juan Public Lands Center is now studying the environmental impact of that use and making adjustments where necessary.
Following a century-old tradition, more than 200 ranchers currently graze their cattle and sheep on the public lands surrounding Durango. Upwards of 200 ranchers means tens of thousands of cattle and sheep scattered all over the San Juan National Forest and Bureau of Land Management lands with ranchers paying $1.56 per head of livestock per month for the privilege.
However, cattle and sheep have also left definite marks on public lands. Grazing has been tied to the disappearance of native species, the spread of invasive weeds, wildlife impacts and damage to water quality among other things. In an effort to get a better handle on these negative sides, and heeding a Congressional mandate, the San Juan Public Lands Center is currently studying the environmental mark left by public lands grazing.
"The purpose of this work is to manage livestock grazing in a way that will lead to desired resource conditions," explained Cam Hooley, environmental coordinator with the Columbine Ranger District.
Environmental analysis has never been undertaken on any of the grazing permits in the San Juans. However, the Rescission Act of 1995 ordered each national forest system to identify all of its grazing allotments and then monitor each to see if grazing and public lands are in harmony.
"We divided areas up into geographical areas called grazing allotments," said Rowdy Wood, Rangeland Management Specialist. "Then we're going into these allotments, and we're looking for a desired plant community, and were looking at certain desirable plant species."
The long-term goal is to establish a document that will guide the future of rangeland management. From there, acreage that has been overgrazed and damaged and other trouble spots will be weeded out and improved.
"In a lot of ways, we are re-evaluating our baseline and establishing trends," Wood said. "This document will allow us to make changes more readily to achieve that desired plant community."
The San Juan National Forest has been divided up into six sections for the study.
Work has already been completed on the HD Mountains-Beaver Meadows allotment and analysis on the Missionary Ridge-Lakes allotment was recently finished. Studies on the Hermosa Creek and Silverton allotments are set for next summer, and the agency will wrap up work with the La Plata Canyon-Deep Creek-Dry Fork allotment.
"We've monitored several areas to see if we're meeting desired conditions," Hooley said. "In general, we are meeting those conditions in the areas studied so far. But there are some specific spots that definitely need work."
Wood elaborated by saying that several leases in the HD Mountains-Beaver Lake allotment were not up to par. However, grazing was not the only culprit.
"There are some places where there are concerns," he said. "There are also places where the plant community changed quite some time ago, and it will be a permanent change. These are changes that came about because of climate and because of land use. There may not be any going back to something that we consider more desirable."
With monitoring recently completed on Missionary Ridge, a hopeful picture emerged. Hooley noted that the Forest Service had significant concerns about the allotment because of the duel impact of grazing and the 2002 wildfire. "For Missionary Ridge and the Lakes, things are working out really well," she said. "We were surprised how well the land had recovered since the fire, and on the ground, the native plants species looked pretty good."
Conservationists tend to take a different view of what looks good on the ground, however. The Durango-based Great Old Broads for Wilderness has watchdogged public lands grazing since the group's 1989 inception. The group cites long-standing negative impacts to land and watersheds as a result of more than 100 years of public lands grazing.
"Properly managed, the forest can tolerate some forage consumption by livestock," said Rose Chilcoat, Great Old Broads program director. "But in general, what we see are cases on public lands where the land has been hit hard, and there's no more grass for the cattle to consume."
Chilcoat went on to argue that public lands management seems to be unfairly tilted toward livestock grazing. This fact is especially distressing when you consider that only 3 percent of the nation's beef is part of public lands grazing, she added. "You hear from the agencies that they have a multiple-use mandate and grazing is one of those uses," Chilcoat said. "But we don't log the entire forest. We don't mine the entire forest. It's kind of baffling that this has become a primary use of our public lands."
With a mind toward the ongoing study on the San Juan National Forest, Chilcoat concluded, "They're looking at an impacted landscape as the standard, and we're seeing a slow death over time of areas that aren't being properly managed."
Wood acknowledged that public lands grazing has created a new standard for the local landscape. However, another trend is also emerging as agriculture continues to decline in Southwest Colorado.
"Without a doubt, we are grazing fewer livestock than we ever were in the past," he said. "And to be honest, our landscape is in better shape than it ever was in the past." •