'Altaring' the past
DAC exhibits the memorial art of Laurie Zuckerman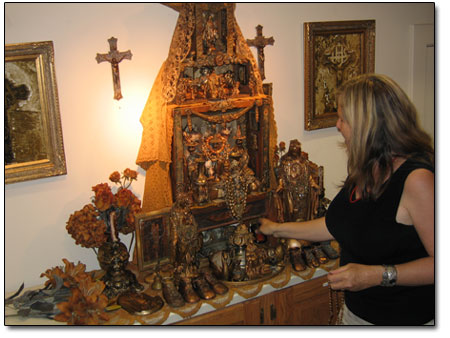 Laurie Zuckerman, a Fort Collins artist , adds the finishing touches to her altar entitled "BellaDonna." Zuckerman's work offers examples of her "reclaimed passion" for collecting and arranging found objects – from lockets, beads and rosaries to candlesticks – into various forms of provocative memorial art./Photo by Jules Masterjohn
by Jules Masterjohn
What happens when a girlhood passion for collecting miniature animals turns into an adult obsession for frequenting flea markets? One possibility, the direction that Fort Collins artist Laurie Zuckerman has taken, is to fuse her fixation with her art. Currently on display at the Durango Art Center's Art Library, Zuckerman's work offers examples of her "reclaimed passion" for collecting and arranging found objects – from lockets, beads and rosaries to candlesticks, coins and insignia plates – into various forms of provocative memorial art.
Though the exhibit, "Hispanic Legacy," is titled for Zuckerman's 20 color photographs taken of altars from Hispanic cemeteries along the Colorado-New Mexico border, it is the sculptural work included in the exhibit that is most alive and compelling, and for which she is best known. Zuckerman's altars and memory jugs draw from the rich Hispanic tradition of the Day of the Dead, celebrated each November throughout Mexico and other parts of Latin America. The holiday celebrates and honors the lives of the dead through the creation of altars and reminds us that life continues.
Last year, Zuckerman was invited to participate in the exhibit, "Grave Matters: The Art of Memory and Mourning" at the Loveland Art Museum. She spent eight days setting up a Day of the Dead altar, arranging the hundreds of small objects and photographs she had prepared in memory of her mother. The altar spanned a 30-foot wall of the museum and is her largest work to date.
The altar she has installed within the intimate space of the DAC Art Library is much smaller in scale. "Bella4 Donna" is a 6-foot tabletop altar created in memory of her cousin, Donna Zuckerman, who was killed along with her husband, on their honeymoon in 1973. A golden hue unites the dozens of diverse objects that Zuckerman has placed in, on and around three wooden boxes stacked like a tiered wedding cake. The gold finish is not shiny and bright, but instead tarnished with nearly 35 years of tragic memory and discolored by nostalgia.
Bronze baby shoes are part of "Bella Donna," in remembrance of Zuckerman's cousin, who died tragically along with her husband on their honeymoon./Photo by David Halterman
An anxious curiosity is pervasive while viewing statues of the Virgin Mary, Jesus and angels on each tier, eight bronzed baby shoes, miniature teapots and candle sticks, draped with many lockets, rosaries, strands of beads and lace. The arrangement is flanked by two crucifixes. There is no focal point within the assemblage, no dominant image on which to rest the eyes. Perhaps in creating this afocal composition, the artist is suggesting that, like a mind and heart engaged in the grieving process, there is no respite from the memories.
The objects that Zuckerman uses are not items from her own past or objects once possessed by those to whom the altars are dedicated. There were no Catholic icons in her Jewish household. Part of her creative process is to acquire and sometimes alter previously owned objects. "All the things I have collected are old, they have been used by other people. I like collecting things that were once vital for other people's families." She is interested in the history behind each item she places within her altars.
The smallest altars in the exhibit are her memory jugs, each made in honor of deceased members of her family. The format for these memory jugs draws from the Victorian folk art tradition of embellishing jugs with someone's personal items as a remembrance. In the early American South, memory jugs were also used as grave markers in African-American cemeteries.
Calling these her altars-in-the-round, the memory jugs, unlike the larger altars, are self-contained memorials. Each jug is encrusted with so many objects that the form seems to be constructed of them. Covered with manufactured items such as keys, buttons, coins and jewelry and some naturally occurring objects like shells, pebbles, and bones, the memory jugs are heavy, full and potent.
Difficult issues are raised in her memory jugs. "Behind the Eight Ball" remembers the lives of nearly 30 relatives who were killed by the Nazis in Poland during World War II.
"Up in Smoke" is a large jug resting on a wooden turntable, allowing the jug to revolve and be viewed from all sides. Made in honor of her father, a Hollywood screenwriter and novelist who died in 1996, the fact that it moves like the moving pictures, is appropriate. Themed on cowboys and Indians, miniature souvenirs of guns and arrows, horses, and antique locks and keys, all colored in a leathery brown, cover the jug. The Old West theme is Zuckerman's way of honoring her father's move from the East Coast to Hollywood when he was a young man.
Another memory jug, "A Shell of Her Former Self," is dedicated to her mother, who died in 2001. Exploring her feelings of emptiness at being "orphaned," with both parents now deceased, she chose items for this piece that triggered her childhood memories.
Images of shells in various forms, from gun shells to seashells, appear on the surface of the jug. Two small doll-like forms look at each other with hollow-eyed skeleton heads. A small, carved face of a horned devil with an eternal grin looks out at us from atop a Studebaker car emblem. Lockets, brooches, buttons, and small, metal and wood figurines are the kinds of small things that would appeal to a young girl's sensibilities.
Death is a powerful topic for many. Having lost both her parents within the last 10 years, Zuckerman has been in a state of mourning. Her involvement in making altars is one way that she allows her grieving process to unfold. She considers herself "a transformer of memory and loss." Through her creative process, she has found a "way of turning interminable grief into enduring beauty." •
Laurie Zuckerman's work is on display through August in the Art Library, upstairs at the Durango Arts Center, 802 E. Second Ave. Generally, the Art Library is open from 10 a.m. to 5 p.m. Monday through Saturday but hours may vary; call 259-2606 for current hours. More information about the artist can be found at http://lauriezuckerman. blogspot.com/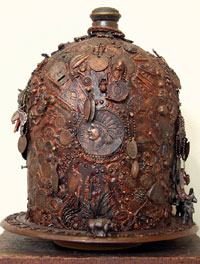 "Up in Smoke," is a memory jug commemorating Zuckerman's father, a Hollywood screen writer, who died in 1996./Photo by Jules Masterjohn