Franchised, guitar slingers and stand up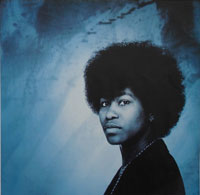 Vintage Joan Armatrading
by Lindsay Nelson
Ensconced within the oft-mentioned bubble of Durango society, it's easy to lose sight of what makes our little white-bread mountain town so special. It's the lack of shopping. A dearth of department stores, not a single Spencer's Gifts, nor even Orange Julius! Where are we supposed to buy our Official Irish Drinking Glove, stoner's alarm clock or black-light lava lamps? The answer, my friends, is blowing on the New Mexico breeze.
While the hoi polloi of this vast nation are wasting their time and money buying pants for less than $50 at places like Macy's and Mervyn's, we elite Durangoans can instead stroll through several upscale boutiques, stop by a gourmet bistro for lunch, and perhaps have just enough time left to fire off a letter to the editor about how horrified we are that so many of our brethren shop at Wal-Mart. And to think that some people actually hope for a Target store someday! Truly shocking.
Sure, it sucks to drive across America and see the same chain stores and restaurants in town after town. But the time to bemoan that trend was 1977, not 2007. Now we can choose whether to get off the beaten path and find some unique local establishments, or we can pull right on into McDonalds. It's all a matter of taste. And that's what's so damned annoying about the self-righteous, so-called progressive elite. Not to sound like my nemesis, Bill O'Reilly, but why is it any of your business where your neighbor buys toilet paper? Don't like Wal-Mart? Don't shop there. Hate chain stores? Buy everything at the co-op. But please don't stand on your pedestal made of principles and tell other people that they are morally inferior because they can't afford $8 shampoo. The motto of the week, as summer closes in and frustrations run high, is, thusly: Leave me alone.
On the off chance you don't want to hide away from any and all social contact, this weekend is filled with live music and entertainment opportunities. The Community Concert Hall at Fort Lewis College is holding a four-day marathon of live shows starting tonight. As part of its ongoing attempt to include local performers on the concert stage, the Hall offers the Jeff Strahan Band, playing the Free Summer Concert Series starting at 6:30 p.m. If you've never heard Jeff Strahan's band, now would be a good time. They play Texas blues, rock 'n' roll, outlaw country and a bit of Tex-Mex thrown in like so much fresh cilantro. Strahan himself hails from the Texas panhandle and brings with him the "red dirt" music that defines the band's sound. Come on out and support your local guitar-slingers.
Day Two of the CCH blitz aims to bring back FAC, with former FAC favorite Big Pete Pearson and his Blue Band. FAC was Friday Afternoon Club, a traditional Durango observance featuring live music, dancing and community camaraderie. This particular part of Durango's social history has been defunct for 10 years, but for one night, Friday, the Community Concert Hall is bringing it back as an open-air concert and party adjacent to the hall at Fort Lewis. It does cost $10, but there will be food and beer available, too, so it's not a total loss. Some things will just never be the same, but it's sometimes fun to take a stab at reliving the past. Best leave your chartreuse polyester cabana shirt in the closet this time, though.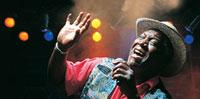 Big Pete Pearson
Saturday night the Hall offers Joan Armatrading, a blues-soul singer-songwriter and guitarist with a successful 30-year career under her belt. She is touring this summer in support of her new record, "Into the Blue." It's not often you have the chance to see artists of such accomplishment and power in our small town, so check it out.
For the fourth night, Sunday, a duo called Willie & Lobo perform at the Concert Hall. Despite the name, it's not a ventriloquist act; in fact, the two play world music, from tango and flamenco to zydeco, jazz and Arabic influences to create an exotic experience through the music of Gypsy violin and guitar.
A little closer to sea level, but still higher than my couch, El Patio has Jack Ellis & Larry Carver on Friday for a happy-hour show starting at 5:30. Later that night, Durango Acoustic Music and the Abbey Theatre present the Wayword Sons, a Durango-based quartet that tours the nation in support of artists like Yonder Mountain String Band, Vince Herman and others in the bluegrass and jam-band worlds. Bluegrass scenesters will rejoice at the words penned by Benny "Burle" Galloway combined with the unique instrumentation of keyboards, dobro, acoustic guitar and electric bass. Catch this (cheap) show, with $6 tickets for DAM members in advance, and also the Sons' only summer appearance in Durango. The show starts at 9 p.m.
For the real night owls, it's just a short stumble across College from the Abbey to the Summit, where you can catch Latin-dance band Nosotros.
There is one more thing happening tonight that's a bit different from the norm. The Abbey Theatre offers an all-ages stand-up comedy performance by Rocky Whatule. He's established himself as a hot, young comedian, coming here fresh from a show at the Laugh Factory in Hollywood. He's appeared on "Friends," MTV, "Blind Date" and other major pop-cultural benchmarks. Observe the experiment of live stand-up in Durango, tonight at 9.
While the rest of the world was listening to Live Earth, you people were busy buying the "Transformers" soundtrack. • lindsay_damico@yahoo.com.