Expanding the local spread
Locally grown food begins to take hold

SideStory: 10 steps to going local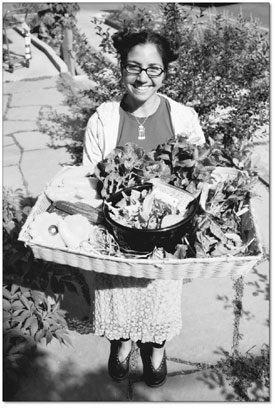 Minna Jain, community outreach coordinator for Durango Natural Foods, stands outside the store Tuesday with a bushel of local produce available at the store. The store is participating in the recently launched "Healthy Foods, Local Foods" initiative, which is aiming to increase availability of local foods in stores and restaurants while educating the public on the benefits of buying local./Photo by David Halterman
by Missy Votel
Locally produced food is starting to take root in stores and restaurants across La Plata County.
Healthy Lifestyle La Plata project has launched its "Healthy Foods, Local Foods" campaign with the twofold goal of educating the public on the benefits of buying local and making healthy food choices.
"The program's message is to buy fresh and buy local," said one of the project's organizers, Shari Fitzgerald. "It combines buying healthy with local food consumption."
Eating locally addresses a multitude of social and environmental issues, she said. For example, locally grown food travels a shorter distance, thus requiring less energy and emitting fewer pollutants. In addition, buying from local growers helps create a self-sustaining economy and keeps money flowing through local hands. And finally, a locally produced food supply is safer than a centralized, national or overseas one, which is more susceptible to mass contamination or dangerous additives.
Fitzgerald said the Healthy Foods, Local Foods campaign was born of the 2007 La Plata County Food Assessment, which surveyed local restaurants, farmers, consumers, schools and others on various food and health issues. That survey found a strong consumer desire for more locally produced food. Likewise, Fitzgerald said a 2006 survey of the health of La Plata County also uncovered a need for healthier food choices as well.
The Healthy Foods initiative was made possible through a $100,000 LiveWell Colorado grant. LiveWell is a statewide initiative aimed at reducing overweight and obesity rates and related diseases. A partnership among health-care organizations, nonprofits and state and local health agencies, LiveWell works with communities to promote healthy eating and active living.
Although the campaign officially began in February, Fitzgerald said the pilot program is just starting to get off the ground. In addition to contacting the two local independent food stores, Nature's Oasis and Durango Natural Foods, the group also has been in talks with City Market and local restaurants about participating.
According to fellow organizer Katy Pepinksky, the campaign is starting small in order to get a better handle on how to define what exactly "local" means. "It's still in the pilot stages because we're still working on definition of 'local' and how it applies to agriculture," she said. "We wanted to define, as a community, what local food means to La Plata County."
For example, some stores or restaurants may consider anything from Colorado local, whereas others may only consider things from within 100 miles to be local. Pepinsky said the group envisions using some sort of logo and easy identifiable graphic to tell shoppers and diners what products are local. One such idea is to use a bull's eye, with Durango as the epicenter and circles going out from it in 100-mile increments. Dots on the diagram will illustrate where the product being identified came from. She said the graphic also will include pertinent information such as how much energy the product consumed on its way to market and how big of a carbon footprint it makes in its production.
Durango Natural Foods and Nature's Oasis have already jumped on the local foods bandwagon, with each making local products easily identifiable. "More recently, we've been trying to make items easier to locate to make it easier on the shoppers," said Minna Jain, of DNF, which uses a small logo on store shelves to denote local products. Jain said the store considers anything made in Colorado to be local although the focus is on products created closer to home. Right now, she said about 20 percent of the produce section is grown locally, with about 10 percent of the store's inventory comprised of local products year round.
The decision of the store, which is a member-owned co-op, to offer more local goods was first forwarded by the store's members. However, she said the concept has been well received throughout the community. "One thing that really excites me is that so many people from different walks of life are interested, from foodies to people interested in political activism to people interested in just eating healthy," she said. "The easier you make it for people, the easier it is for them to do what makes them feel good."
Lou Steele, general manger for Nature's Oasis, said his store tries to buy as many local goods as possible. "It's best to get your food as close to home as you can get it," he said.
Shoppers there also have been paying more attention to specially highlighted local products. "When people see something local, they like to buy it," he said. Local products are attractive not just for sustainability reasons, but also because of quality, he said. "It's a philosophy. I think people understand that if you can vine ripen it, it tastes so much better."
Despite the strides being made at these smaller stores, Pepinksky said the Healthy Foods, Local Foods campaign is seeking to also break into the chain grocery stores. Right now, she said there are plans to introduce the campaign in at least one City Market store. However, due to the store's size, she said the tactics will be a little different. "We'll probably do taste-testings to familiarize people with the local products," she said. "Just to identify local products in such a large store will be a challenge."
In addition to the store, Pepinksky said six restaurants will also participate in the campaign. She said these restaurants were identified through the 2007 Food Assessment, where 36 of 50 restaurants surveyed participated. However, she noted that all local stores and restaurants are invited to participate in the campaign. "This is open to everyone," she said. "We're just starting small so we can create educational materials that work and that any restaurant or grocery store in the community can use."
The group will also apply for more funding this year, in order to keep the effort going. Already, she said there are signs that local agriculture is rising to the demand, pointing to five new farmers at this year's Farmer's Market. Nevertheless, getting a commitment from more local businesses to carry goods will only help guarantee this growth. "Right now, supply and demand is pretty balanced," she said. "But farmers want reassurance as well before they plant crops that there will be a market." •