The lost weekend



by Lindsay Nelson
Hear that? It's the lulling symphony of crickets chirping in the dark, the only sound to be heard at night during this long summer holiday weekend. The big day may be over, but the recreational opportunities stretch out into Sunday, maybe even Monday if you've got plenty of vacay time. What's a working stiff to do, left behind with all the sunburnt vacationers, and precious little lively goings-on with which to entertain ourselves? Now's as good a time as any to drag out some time-honored slacker strategies for passing these long, hot days and silent nights.
For starters, don't recycle all those dead beer cans, cups, bottles and caps – these materials can be put to use in the world's most fun drinking game. It's sort of a variation on Quarters, wherein one must bounce the bottle caps off a hard surface such as a table or that giant wooden spool that passes for one in your house. Empty beer cans and bottles serve as obstacles to the goal, a red pint cup of beer. You can set up an elaborate points system by turning certain bottles into auxiliary goals – like in a pinball machine, except not. If this sounds too complex, just aimlessly flick your bottle caps across the yard/living room/bathroom, aiming for any random target. Just be sure to pick the caps up later; many a tender foot has been perforated by those nasty bottle caps.
As for cheap ways to cool off in this dire heat, nothing beats tubing the river. This often requires a capital outlay of about $10 for a tire tube; or, find a friend with a job to mooch off of – they won't be using their tubes on a Monday at 2 p.m. anyway. Don't forget the essentials of free-form rivertripping: sunscreen, cold beverages, rope and a long stick with which to propel yourself away from obstacles or to punish inconsiderate rafters who nearly run you over. Keep an eye on the shore, for you never know when you might run across naked hippies or micturating drunks.
If you really get hot and bored, the trolley is thoroughly air-conditioned and tastefully appointed in blonde wood and wrought iron. For just 50 cents, you can ride all the way from College to CR 203 and back again. Enjoy the cool air, nice views and get your bones jarred all at the same time.
There are a few brave promoters doing shows and events during this lost weekend. The first such venture is Bad Manners at the Abbey Theatre tonight, July 5, brought to you by Fold Roll Inc. & Ska Brewing Co. The show starts at 10 p.m. and tickets are available at the Abbey Theatre and Southwest Sound and at the door.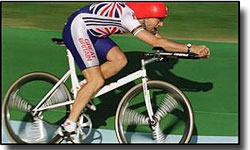 Scottish cyclist Graeme Obree
There are a few brave promoters doing shows and events during this lost weekend. The first such venture is Bad Manners at the Abbey Theatre tonight, July 5, brought to you by Fold Roll Inc. & Ska Brewing Co. The show starts at 10 p.m. and tickets are available at the Abbey Theatre and Southwest Sound and at the door.
Now, who or what is Bad Manners, you may ask? A band of naughty English ska punks, fronted by tosser-in-chief Buster Bloodvessel (his mother calls him Douglas Trendle). The band was formed in 1976 while the members were students at Woodberry Downs Comprehensive School in North London. None of the members had any formal musical training, not even the ability to play any instruments. They were popular during the late 1970s and early 1980s, a period when lots of similar ska bands filled the charts. Some of their hits include "Lip Up Fatty," "Ne Ne Na Na Na Na Nu Nu," "Special Brew," "Lorraine" and "Walking in the Sunshine." The band's notoriety is partly due to the outlandish, larger-than-life, huge-tongued & shaven-headed front man. You may be mooned, spewed with beer, and otherwise amused and abused by Buster, the only original member left of the band, which broke up its original formation in that sad era, the 1980s. They now headline their own annual music festival, "'Badfest." This festival features ska, mod-related music and punk rock bands from the 1980s to the present. The Abbey date is part of a North American summer tour for the band, which also is working on a new album. One thing's for certain: this show won't be a snoozer.
It may not be the first thing you think of when you think of fun things to do in the summer, but there must be something to this Four Corners Gem & Mineral Show thing. It's going on its 54th year now, and this weekend at the Fairgrounds, it's all gems, all minerals, all the freakin' time. Love big rocks and shiny things? Then this is the place for you! Admission is free, and this year's show is set to be our biggest and best show ever with new vendors, new kids activities, added demonstrations and more. You have much to learn of the lapidary arts, my son. Go forth and be enlightened!
In the midst of what is often called the summer blockbuster movie season (I refrain from referring to any of the current offerings as "blockbusters," because they suck. I mean – "License to Wed?" Please.) it's tough to find anything worthwhile on the silver screen. The Abbey comes to our rescue once again, opening a nice little film starring the lovely Jonny Lee Miller (a former Mr. Angelina Jolie) as the eponymous "Flying Scotsman." This feature film is based on the true story of Scottish cyclist Graeme Obree. In 1993, as an unemployed amateur, Obree broke the world one-hour record on a bike of his own revolutionary design, which he constructed out of scrap metal and parts of a washing machine. Be you Scottish or be you a cyclist, this fillum is likely to tickle your wickie.
The record industry is circling the bowl, according to insider reports, and buying recorded music on disks of plastic is so, like, 1997, that it's a wonder we can still have a top 10 chart. But charts we have, thanks be to the Luddites who only just upgraded to CDs and aren't about to abandon them for the skeezy world of mp3s. For the love of Ryan Adams, keep on buying records! Lindsay_damico@yahoo.com. •
In this week's issue...
November 1, 2018

Political conversations have been heating up for some time, but check out any cable news channel, radio show or newspaper today, and it's clear that instead of a simmer the public discourse is boiling over.
October 25, 2018

When it comes to this year's ballot, to trot out a well-worn phrase: it's complicated.
October 22, 2018

Ever wonder what the sheriff's hidden talent is? Or maybe what representatives listen to before heading into the State Capitol for a vote? Well, now's the time to find out.