Talking with the animals
Local animal communicator connects pets and owners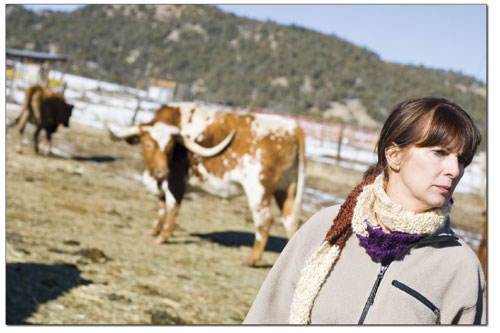 Animal communicator Eileen Andricovich stands in a pen with nearly a dozen long horn cattle at ranch south of Druango recently. Andricovich has been working with people for the past 20 years and has recently found interest in working with animals. She says they are generally much easier to read./Photo by Jared Boyd
by Jeff Mannix
Every form of life expresses itself. No argument about that, right? Mental health specialists delve into and assist people with problems that can lead to poor health, maladjustment, anti-social behavior and even death. But who is looking after the mental health of our pets?
Eileen Andricovich has a masters degree and a license to practice marriage and family therapy in the states of Washington, New Mexico, Colorado and soon in Utah. But Andricovich has known since childhood that she possesses a prescience, or more accurately, a clairvoyance, into the behavior not only of humans, but of animals as well. She rejects the word clairvoyant in favor of "clairsentient," which she defines as ultra-sensitive. This takes the hocus-pocus out of her practice, she says, grounding her observations to feelings we've all had, like making knowing eye contact with someone in a crowd or feeling danger while walking down a street. Call it intuition, instinct, perception or telegnosis, you don't have to be a believer in the occult to know that communication can take place outside the standard forms of expression.
"I'm drawn to animals and the human/animal relationship," Andricovich explains. "It's not my real work, but it's fun for me, and I have learned to trust the communication I get from animals of all kinds and have assisted pet owners in better understanding their animals to form better relationships." Andricovich has worked with animals of all kinds, giving their owners suggestions for opening a clearer channel by which to communicate. "Everybody talks to his animal. The key is to understand what the animal is saying to the human, that's the challenge."
Andricovich has practiced marriage and family counseling for 30 years. She has an unassuming and calming presence, as one would hope for in a counselor, not the ethereal type you'd expect would run an advertisement offering insight into what your pet "really" wants for Christmas or what your pet is thinking. But behind every analysis lies a telepathic essence that some finely tuned individuals can see or hear – or in Andricovich's case, communicate with.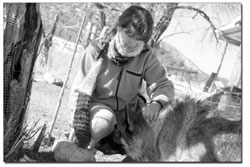 Eileen Andricovich meets up with Cholo, a German sheperd, after giving a reading of the dog based on a picture that was "spot on," according ot Cholo's owner, Jeff Mannix. Andricovich claims dogs are among the easiest animals to read./Photo by Jared Boyd
"Animals are simple, because they are clear. Their minds are not cluttered with ambiguity, self-consciousness or bombarded with numerous thoughts competing for attention," Andricovich says. "You must always invite conversation with an animal, clear your mind by focusing with the heart and tapping into the animal's chakra," which she fluidly diagrams as an hourglass with the heart in the middle, spreading downward to earth and upward to voice, thought, picture, then to the spirit. It sounds a little heady, maybe even a little kooky when Andricovich explains the energy fields, creative visualization and auras. But even to the most skeptical, perhaps even cynical, Andricovich evokes plausibility or at the very least, possibility.
"Dogs are easy to read. Cats are very fluid, multidimensional and harder to hear. Cows are easy, and horses are very powerful with an amazing connection to the earth," Andricovich says with a warm smile and a little chuckle, as though she expects disbelief and can't be worried by what she knows is truth. "All animals have to be heard and acknowledged if we are to communicate with them – not dissimilar to humans, right?"
Taking a photo of my dog, Cholo, Andricovich places her hand over it and closes her eyes. It's not a trick, that's obvious for some inexplicable reason. She becomes very still, sits erect, seems serene and focused, then jots down messages as they come to her. A dozen words come into her mind from this tenuous connection to a dog she has never actually met. "He's very proud. Serious. Committed. Dedicated to only you. He's old now, and is having trouble with his eyes, but don't worry, he'll be OK. He knows you love him … puts his head down in your lap when you drive … sleeps beside your bed to be close and to protect you."
Andricovich is spot on, right down to the Prednisolone eye drops Cholo gets both morning and evening. The photo she placed her petite hand over was 8 years old. Cholo is a 125-pound German shepherd. Who could guess that he puts his head down in my lap when he's in the truck cab? Who would venture that my truck has a bench seat, not one in 100 does.
"People come to me with their pets when they have a problem," Andricovich explains, "often problems with other animals, a lot with health issues. I work with other practitioners if pets need medical, nutritional or training help; I don't know much about animals except how to listen to them. All I can do is share the information I get from pets with their companions, then refer them to specialists if there are problems that can't be solved with clear, unambiguous communication between the two."
However, she said most problems she sees can be solved with a little more give and little less take on the part of the human. "Mostly the problems people have with their pets is faulty communication – a communication bridge with only one-way traffic, from human to pet – and I can set owners up with that understanding and open two lanes of traffic that will prove satisfying to both."
Fringe science? Certainly. But science is newborn, and often found wanting alongside homeopathy, faith, naturopathy and what the ancient American Indians, with their direct approach to the great verities of being calls "in-seeing" as pointed out by J. Allen Boone in his gem of a 1954 book titled Kinship With All Life. Andricovich quotes Boone: "There's facts about dogs, and there's opinions about them. The dogs have the facts, and the humans have the opinions. If you want facts about a dog, always get them straight from the dog. If you want opinions, get them from the human." •