Tuning up the Test Track
Durango Mountain Park readies for a facelift

SideStory: Piping into the Spirit Trail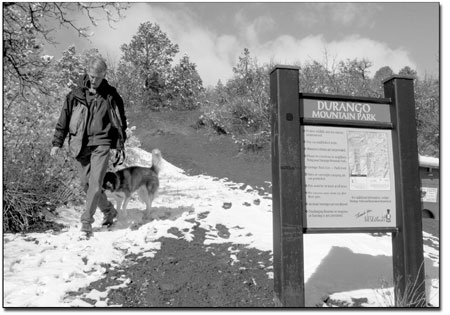 Dennis Murphy, of Durango, and his dog, Rocky, make their way down a trail in the Durango Mountain Park on Tuesday morning. The City of Durango, along with Trails 2000, is working to improve the 270-acre trail system west of town by eliminating social trails and erosion and making trails more connective./Photo by David Halterman
by Will Sands
It was the City of Durango's first major open space purchase, the singletrack network where RockShox' first suspension fork was "tested" and remains a favorite backyard getaway for local cyclists and hikers. The Durango Mountain Park – or Test Track – is also in for a little polish this summer, and the City of Durango and Trails 2000 are combining forces in a sweeping effort to improve the long-standing trail system.
Less than a mile west of downtown, the Durango Mountain Park consists of 271 undeveloped acres laced with more than a dozen miles of trails. Long a popular recreation area, the Mountain Park gained permanent protection in 1995 thanks to a cooperative effort by the City of Durango, Trails 2000 and the La Plata Open Space Conservancy. A public fund-raising program, matching grants and reduced prices on several parcels all made the large park's creation possible.
"The Durango Mountain Park is a really good example of community support and involvement coming together around an area people are passionate about," said Mary Monroe, executive director of Trails 2000.
From the beginning, the Durango Mountain Park was envisioned as a natural, undeveloped park with an emphasis on recreational, scenic and wildlife habitat values. "It's really what we call a 'passive park,'" said Kevin Hall, Durango Parks, Open Space and Trails manager. "There are no formal improvements up there, but it's still really heavily used."
The Durango Mountain Park is not without its problems, however. Lack of connection among many of the area's trails, the appearance of numerous user-created trails and sections of singletrack that experience excessive erosion are all issues at the Test Track.
"For quite some time, we've been talking about better organizing the trail system up there," Hall said. "It's a bit of a spaghetti network and a lot harder to find your way around than a lot of our other trail networks."
In an effort to create more loops and eliminate problem areas, Trails 2000 has spent the last year actively mapping the Mountain Park. The trails advocacy group has proposed replacing small sections of some trails with reroutes and adding several new trails in an effort to create connections and continuous loops.
"We need to create a sustainable trail system up there," Monroe said. "There's a real need to reroute some of the trails, and we want to do a better job of creating loops up there as well as eliminate some of the social trails that have popped up."
In addition, the city and Trails 2000 are exploring the possibility of creating a formal dirt jump area in the Mountain Park. Several jumps have popped up over the years on either side of the Mountain Park, but once again, Trails 2000 would like to see a central, well-developed and sustainable area for dirt jumping.
"There's obviously a need for a dirt jump area, and we're currently talking about ways to create a specific, technical area for that kind of riding," Monroe said.
The city is also hopeful that a more organized trail system will help with another longstanding Durango Mountain Park problem – the large number of homeless campsites that pop up in the area every summer.
"The city is always looking at different ways of addressing that problem," Hall said. "My hope is that a good organization of the trail system will make the Mountain Park more friendly for users and less likely to turn into an encampment every summer."
So far, response to the plan has been overwhelmingly positive. Last Thursday, Trails 2000 presented the plan to the Durango Parks and Forestry Board as well as neighborhood stakeholders. The Southwest Conservation Corps has also signed on to spend four weeks this summer putting the elbow grease into the ambitious project.
"With last week's meeting, we had a very receptive group of people, not only with the board but with the neighbors up there, all suggesting we need to do a better job in the Durango Mountain Park," Hall said. "We'd really like to emulate what we've done in other areas."
And while a great deal of work is in store for the Test Track, Hall and Monroe agreed that the rough and technical character that has made the trail system popular will remain. The focus of this summer's efforts will be on establishing continuity not changing the Test Track's character. "It's more an issue of organizing the trail system than modifying it," Hall concluded. •