'Show Reaction' explores the cutting edge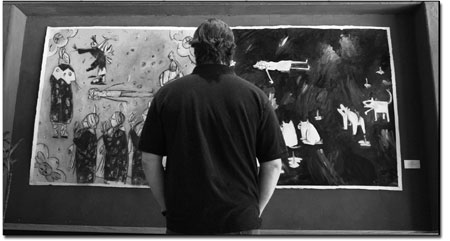 Chris Stanton takes in Sonja Horoshka's "Generous Beatitudes" (left) and "White Dogs" (right) now on display at the Lost Dog./Photo by David Halterman
by Jules Masterjohn
Have you noticed how things appear in cycles? Over the years, I have seen Spam and the Slinky come and go numerous times. The fashion world, a regular resuscitator of the old, continues to resurrect "looks" from the '70s, like gaucho pants, which were unflattering on me then and unflattering on me today.
Contemporary art, apparently, follows similar cycles. Talking to some longtime Durango artists, this "art-of-the-moment" has always been made here and has found sympathetic venues over the past 20 years. However, this edgy art seems to not fare well in the light of day or on commercial gallery walls for too long before it retreats into the fine-art shadows, awaiting fertile grounds for its reemergence.
Local artist Tirzah Camacho has been the avid gardener tending the cause for presenting cutting-edge art to the Durango art scene. She has organized a juried art exhibit, "Show Reaction," currently on display at the Lost Dog Bar and Lounge in Durango.
Camacho explains, "There is so much artistic integrity out there, but few progressive exhibition opportunities. The native and non-native artists in this exhibit are giving the buying public and the gallery owners a moment to live outside the safe zone."
In her usual forthright way, she has called on artists to prove that interesting and thought-provoking – and marketable – work is being made in our region.
Camacho is passionate about contemporary art – that is, art which says something about the current social and economic factors of the times in which we live, often commenting on the psychological and social conditions that result from race and class identity. The artist is commentator on her or his existence in relationship with the culture, not only a visual recorder of the world.
Last fall Camacho published an article in the Southwest Colorado Arts Perspective, "A Response Ability: A Call to Artists," in which she challenged local contemporary artists to "respond to Durango's artistic environment in an outgoing fashion." The "artistic environment" she is referring to caters to tourists, where the images of Native Americans are "stereotypical and romantic … boring and clichéd." Half-Native American, Camacho finds that this way of portraying indigenous people, their rituals and cultural identities is "offensive and painful" as well.
Camacho's article focused light on the lack of local venues willing to risk showing edgy, contemporary work. As an antidote, In her article, she quotes a gallery owner as telling her, "the problem is two-fold: there aren't the artists, and no gallery is willing to take the risk with this kind of work." Camacho's goal is to "prove this assumption wrong." More than 30 artists submitted two-dimensional works to "Show Reaction," and 16 artists were selected. During the opening reception, one painting sold.
"This kind of work" may be referring to Welena Fields' paper and mixed media piece, "Let's Make Her an Indian, Let's Put on Her Osage Clothes." Fields' piece hangs on the wall, a life-sized paper doll outfit with tabs coming off the dress at the shoulders and the sides, to hold the outfit to a doll. Made of marbled papers, decorative buttons and twisted strands of red glass beads, the upper left bodice area displays a paper door that is partially open, showing a drawing of an anatomical heart inside.
On the same wall, Sandy Applegate's painting, "Where's Toto?" pictures human figures, bearing signs of mythical, superhuman or mystical characteristics. Outlined drawings of small dogs are the ground on which these mysterious figures walk. It makes me think of Dorothy's famous comment, "Toto, I don't think we are in Kansas anymore." Many works in the exhibition challenge us to think and feel beyond our comfort zones and ask us to consider expanding our philosophical and emotional boundaries to include that which is unfamiliar.
Sonja Horoshko's large-scale drawings on paper are nailed directly onto the wall. We can see where each nail pierces through the paper's edge. Her drawings' meanings are less straightforward. Using a loose and naïve style of portrayal, Horoshko makes the viewer work to understand her intentions. In "White Dogs," many lit candles sit in their pools of melted wax indicating a passage of time. The candles are interspersed with six white canines surrounding a wounded-looking woman lying on the indigo
blue ground. Something uncertain/ uncomfortable is happening here.
On the wall adjacent to Horoshko's work, Ron Fundingsland offers a portrayal of our current governmental administration with his aqua-tint etching, "Reeking." A small and realistically rendered image of the presidential podium with a dead fish lying on its top, there is no question about the artist's sentiment. Hard hitting, provocative and clear.
"The show focuses on artists working beyond the redundancy of Western, stylized and safe contemporary art," Camacho says. "It is filled with life, emotion, color and a clear regional presence of a broad, human back story." •
"Show Reaction" is on display through March 16 at the Lost Dog Bar and Lounge located at 1150 Main Ave. Hours are 11:30 a.m. to 2 a.m. Closed on Tuesdays. Due to very low light levels on the artwork, go see the show during daylight hours – I suggest visiting in the late afternoon.