Belt's belts
Durango artist Tracey Belt masters wearable art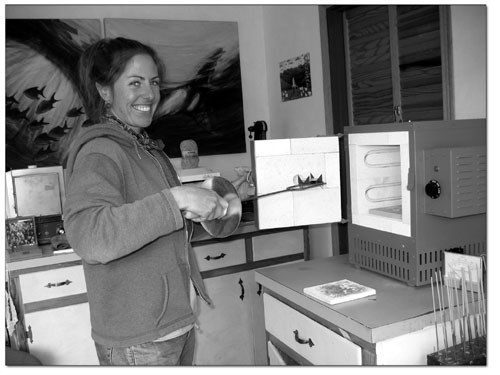 Happy with the results, artist Tracey Belt removes a glass-on-copper enameled belt buckle from her kiln. The labor-intensive process results in one-of-a-kind wearable art./Photo by Jules Masterjohn
by Jules Masterjohn
One of my favorite things about knowing artists is watching their work develop and change. When I was an "everyday" visual artist – one who headed to the studio at any free moment – I used to look forward to the unexpected places where the creative process would take me, often in awe and delight of "the ride." Now as a writer about visual artists and an "occasional" maker, I have the privilege of vicariously witnessing creativity's journeys.
One artist who has shared her travels with me and who I have watched mature over time is Durangoan and jewelry artist Tracey Belt. A psychology major who studied metal working six years ago at the University of New Mexico in Albuquerque, Belt decided to fuse her psyche work with creativity, and her life as an artist was born.
She began making oodles of lamp-worked beads by melting rods of Italian glass around a metal dowel to form swirling colored glass beads. She attached them to sterling silver chains to craft bracelets, necklaces, earrings and other baubles of colorful fun and casual grace. "There is something so intimate about wearing a piece of art. It is so close to the body, it can feel so good," she admitted. Being serious about her pursuit, she also enrolled in the Women's Resource Center's Ready-Set-Go program, a course designed to help women enter the business world, believing that commercial success would give her artistic freedom.
Since then, Belt has grown into an artist, choosing to innovate and challenge herself through expanding her technical skills and always feeding her inspiration. Her enthusiasm for wondering and energy for wandering has led her life into a world where art is her template and self-discovery is her motivation.
She feeds her creativity by spending time in nature, and often her encounters with the natural world influence her jewelry. "On my hikes up Animas Mountain, there's a bird that zips down the trail ahead of me, and all I can see is the bird's black-and-white fan-shaped tail. This became a symbol of freedom for me, and I have created pendants to honor this," she told me in her home studio last week. "My creative world always parallels my inner life, if there is something that needs to be worked on in my personal life, it will also show up in my art."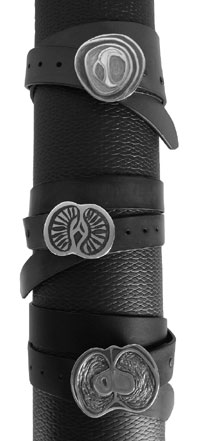 Three of Belt's belts inspired by cross sections of fruit./Photo by Jules Masterjohn
As I looked around her studio, I could see that she is freeing herself from certain conventions, turning a corner and moving away from solely4 producing the fun and colorful dangling glass bead and silver worked jewels that are her signature line. Belt has been exploring the glass-on-metal enameling process and spent two weeks last summer studying at Haystack School of Crafts in Maine. There she learned champleve', a detailed enameling technique in which the depressions in cast metal pieces are filled with ground colored glass and heated until the glass has melted and fused to the silver.
She has also been itching to work larger. "Being a jeweler has always been hard for me to say, I'm not sure why … maybe because it means creating something functional and that has seemed like a limitation. The piece has to work on the body, or not. Now I understand that the limitation can set me free, that working within certain perimeters allows me to really explore."
The impetus to reinterpret her perceived limitations started shortly after her father's recent death. Like many who experience deep loss, Belt took time to contemplate what she really wanted to do with her life. She asked herself, "What's stopping me from making what I really want to make?" Upon returning from her father's memorial service, she saw a call to artists for the Eating Disorder Awareness Week art exhibit. She thought, "Aha! A deadline, a focus … and the perfect reason to make what I've been wanting to make – food-shaped belt buckles." Since creating three enameled, cast-silver belt buckles for the art exhibit, she has made more pieces that reference cross sections of fruits and vegetables, such as the orange, cucumber and grapefruit.
The wisps of inspiration caressed Belt while she was contemplating her relationship with food and the muse's arms fully embraced her one evening while she was cutting a red onion in half. "The inside of the onion was so gorgeous and such a perfect design, I thought, I don't have to do anything but draw it in my own way. Now as I cut into any vegetable, I notice that there is so much going on there that I had never seen before."
The belt buckle format serves her interest in working larger, and she is interested in the relationship between women's body images and food, though there is another reference in her new work. "I figured my last name is 'Belt' so I ought to make some … kind of like in the olden times when you were named after your craft or trade, I'm bringing that back." There's no telling what she'll bring back, in terms of ideas and imagery, when she returns from a backpacking trek along the Na Pali Coast of Kauai, Hawaii. Most likely, her work will continue to be inspired by her experiences in her inner and outer landscapes. Perhaps a giant tropical leaf form will make its way into a body sculpture – a Princess of Power bodice piece or something equally as funky, to be sure. •
Tracey Belt's jewelry can be seen at Ellis Crane Gallery, 934 Main Ave., Durango. Gallery hours are Monday –Saturday, 10 a.m. – 6 p.m.