Durango gets down and dirty
Local roster captures numerous podiums at Cyclocross Championships

SideStory: Durango's Top 10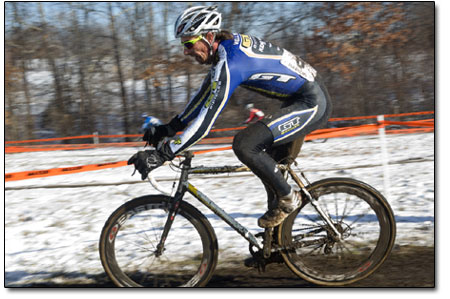 Todd Wells rides to a bronze medal in the elite men's contest at last weekend's U.S. Cyclocross Championships. Wells was among 32 local cyclists who rode in epic conditions during the Kansas City event./Photo by Casey B. Gibson, courtesy of USA Cycling
by Will Sands
Treacherous, sketchy and horrid are all words describing the conditions at last weekend's Cyclocross National Championships in Kansas City, Kans. However, sub-freezing temperatures, ice, snow and mud did little to deter a big roster of Durango cyclists at the Dec. 14-16 event. Thirty-two local riders braved ice storms and a challenging course to bring home 13 top 10 finishes and a big handful of medals.
Cyclocross races fill cycling's fall and winter shoulder seasons with often muddy and precarious courses negotiated on skinny but knobby tires. Barriers and obstacles are also thrown into the mix, forcing riders out of the saddle and adding a running component to the two-wheeled discipline. Cross courses are often sadistically difficult, and crashes, cold and injury are all offshoots of cyclocross culture.
Last weekend's track in Kansas City was no exception. As riders from throughout the U.S. lined up for the nation's biggest cyclocross race, they also faced one of the most challenging courses of the season. The nearly 2-mile-long course's signature elements were back-to-back, 40-foot stair sections, requiring dismounts and runs only a quarter-mile from the finish line.
"We wanted to make the course very hard," said Race Director Bill Marshall. "Cyclocross is tough, no matter what. Our intention was to make this course both technical and fast."
Mother Nature also lent a big hand in making the course "very hard." Just days before the beginning of the nationals, an ice storm pounded Eastern Kansas. That ice became mud for the first couple days of racing. Freezing temperatures returned last Saturday, and ice and snow were the norm. Deep mud returned for the final day of racing.
"The conditions changed every day," said Dave Hagen, Fort Lewis College Cycling Coach. "There was a track of sloppy, wet mud that was 8 feet wide and 3 inches deep on Thursday and Friday. Then it got cold and snowed on Saturday and suddenly the mud ruts were deep ice ruts. Then on Sunday, it warmed up again and turned back to mud."
Local mountain bike legend Ned Overend was on hand in Kansas City to defend his title. Ageless at 52, Overend once again rode to a first place in his division, in spite of two crashes and a mechanical. "It was treacherous," he said of the conditions. "It was really unpredictable and changed throughout the weekend. During my race, the course was frozen and never really thawed. It was the kind of thing where you'd be riding and your tire would just change directions."
Durango native, Mountain Bike Hall of Famer and former Olympian Travis Brown commented that the race directors couldn't have asked for better cyclocross weather. "It was perfect for nationals," he said. "It definitely made the racing exciting, and there were good stories at the end of each day."
Brown turned in a solid weekend of racing, taking sixth place in the Masters Men 35-39 and second place among the singlespeeders. One of the highlights of nationals for him, however, came as a spectator during the men's elite race where Durango's Todd Wells narrowly missed the stars and stripes jersey and came in third. "That was pretty much some of the best bike racing I've ever seen," he said. "It was back and forth the entire time."
Fort Lewis College sent 14 racers to Kansas City in a bid to recapture the team collegiate cyclocross title from archrival Lees-McRae College. And though the team title stayed with the small school in Banner Elk, N.C., Fort Lewis continued to justify its spot at the top of the collegiate cycling ranks.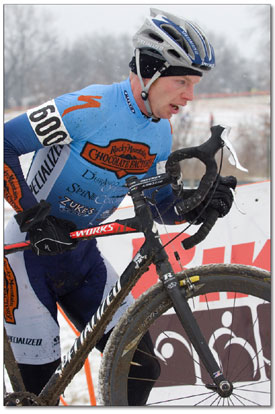 Grant Berry pushes through the windy, snowy conditions in Kansas City during his late-morning Saturday race. Berry led "one of the toughest fields" until the last 100 meters of the leg, when he was passed by another rider, who took first./Photo by Casey B. Gibson, courtesy of USA Cycling
"Things went as well as we could expect," Hagen said. "It turns out there's another school out there that's pretty solid and has had pretty good luck racing against us."
Joey Thompson, of the Rocky Mountain Chocolate Factory Team, was FLC's favorite for a win, and his second place at the nationals was not disappointing, considering he sustained two flats en route to the silver medal.
"I noticed a flat just after the run-up by the pond," said Thompson. "I tried to ride, but ended up running to get back to the pit. By that time, I was in third and had to try and catch back up."
Fellow Skyhawk Benjamin Sonntag earned eighth place, and for the Fort Lewis women, Sabina Kraushaar placed fifth and freshman Emma Millar took seventh.
In a pack Overend characterized as "one of the most difficult fields of the weekend," another Durangoan medaled. Grant Berry, of the Rocky Mountain Chocolate Factory Team, looked poised for gold, having led his field from the second corner. However, with just 100 meters to the finish, Andy Jacques-Maynes surged past Berry for the win.
"It's definitely kind of a bittersweet thing," Berry said. "It was a great race and a big finish for me, but second place was a little hard to take."
Durango also boasted the eldest national cyclocross champion with 74-year-old Walt Axthelm bringing home gold in the Masters Men 70+ division. Axthelm was also one of the few riders who had to run two races. The 70+ division originally went out on Saturday, but organizers pulled the riders after one lap.
"I must have fallen off at least eight times during that first lap," he said. "The course was just riddled with frozen grooves with a dusting of snow over them."
The next day, Axthelm held tough and rode to first place, a feat for him in his first cyclocross season, and a win he hopes will inspire others in the "silver" set.
"I hope this encourages some of the older people to not give up their competitiveness," he said. "You can still do it. It becomes harder and harder to stay fit, but as long as you don't let go, it always comes back."
Podiums and top 10s aside, Durango's strong showing at the nationals ranked as a highlight for many local riders. With 32 riders making the long haul to Kansas City, no other city in the nation boasted more athletes at the starting line.
"We had unbelievable participation, and Durango just did awesome," Hagen said. "There wasn't another town, guaranteed, that had as much representation at the nationals."
Overend added, "It was really inspiring to see all of our different riders out there, of all different abilities. Everyone from Todd Wells, the past champion, to young Fort Lewis riders were going for it, and all the races were close."
The niche sport that is cyclocross is also beginning to set down more permanent roots in Durango. Based on this past weekend and season, cyclists and spectators can expect big things in the future.
"Cyclocross is something kind of new to the bike culture in Durango, and we still don't have a lot of organized racing or events," Brown concluded. "But that's all going to change. These things get kind of hard to ignore when you have 32 people traveling 900 miles to race in the mud and ice." •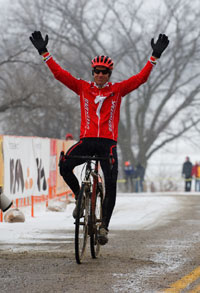 Ned Overend took home another national title in the 50-54 Men's Division./Photo by Casey B. Gibson, courtesy of USA Cycling
In this week's issue...
July 21, 2022

Land swap approved in Southwest Colorado, but not without detractors
July 21, 2022

The latest strategy to save the San Luis Valley's shrinking aquifer: paying farmers not to farm
July 14, 2022

Despite SCOTUS ruling, San Juan Generating Station plans to shut down