The housing bubble
National mortgage crisis begins to ripple through La Plata County

SideStory: The Farmington phenomenon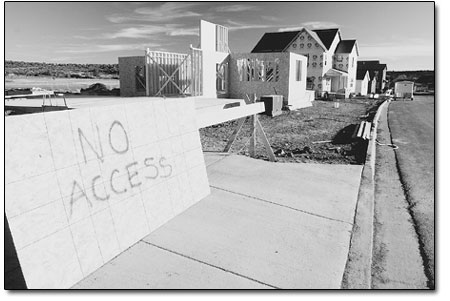 A neigborhood takes shape in the Three Springs development east of town. While construction and home sales have slowed to a trickle in much of the nation, there were actually more residential single and multifamily building permits issued in Durango in 2007 than 2006. Although in-town sales remain strong, real estate experts say prices are stagnating and homes and land sales in the rest of the county are beginning to drop off as compared to past years./Photo by David Halterman
by Missy Votel
As the subprime mortgage crisis continues to rock the real estate market in America's larger cities, the reverberations are also being felt locally, although the actual extent remains to be seen.
"We are not immune to national conditions," said Bob Allen, of Allen and Associates, a Durango real estate appraisal firm. Allen has been tracking the local market for more than 20 years. "We're certainly not seeing the same level of correction as the higher-profile markets, but we will see some correction," he said. "We just don't know how much that will be."
If recent numbers are any indication, the local market has already begun to cool from the blistering pace of recent years. According to figures compiled by Allen from the La Plata County Clerk and Recorder's Office, recent monthly real estate sales have dropped to their lowest levels since 2003. For September and October, the most recent month for which data has been compiled, real estate sales transactions were about 25 percent lower than the same period in 2006. August 2007, the month the mortgage crisis hit, also registered about 10 percent fewer sales than 2006. Likewise, recent building permit activity at the La Plata County Building Department, representing the unincorporated areas of the county, dropped from 2006. Between August and November this year, permits for single family residences fell by nearly 15 percent, 92 in 2006 compared to 78 in 2007.
Third quarter 2007 (July through September) statistics from the Durango Area Association of Realtors also tell of a downturn in certain sectors of the market. The condo/townhome sector took the biggest hit, seeing a 30 percent decrease in the number of units sold over the same time period in 2006. Bayfield also saw a drop in home sales, with 20 percent fewer homes sold versus the third quarter of 2006.
The one anomaly in it all, however, remains the City of Durango, which saw not only a small increase in homes sold in the third quarter, but a 5.5 percent increase in the median home price, according to the Association of Realtors. And the future bodes well, too, with single and multi-family residence building permits up more than 10 percent, year to date, over 2006.
"Market trends here tend to be more modest than in other markets," said John Wells, broker-owner of the Wells Group Real Estate Brokerage.
However, Wells noted that although the third quarter numbers look promising, they do not tell the whole story. "A 12-month picture is much more indicative of what is going on in the market," he said. "We just don't have enough sells in that short of time to gauge an accurate trend." For the most part, Wells said Durango in-town home prices have remained stable through the national crisis. He also said that interest in downtown real estate remains high, with the 24 or so condos planned for the Jarvis Suites 100 percent reserved and the second phase of the Crossroads building reporting strong reservations as well. "Values have leveled off, but we still have a lot of people wanting to move here," he said.
Likewise, Greg Hoch, Durango City Planner, said he has noticed no let up on his end as far as development goes, although he noted it could still be too early to tell. "We're still on track for a strong year," he said. Hoch did note that activity surrounding inquiries from prospective developers have been dropping off as of late, but that could be due to a number of reasons.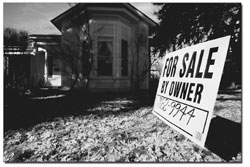 A for sale by owner sign sits in the front yard of an East Third Avenue home recently. Although in-town home sales remain steady, local real estate agents say it has become more of a buyer's market. /Photo by David Halterman
On the other hand, Wells warned against reading too much into the rising Durango median home price, noting that such numbers can be easily skewed depending on what's on the market at any given time. "For example, next quarter, we'll have the Hillcrest townhomes going on the market in a lower price range, and that could make the average price go down because a bunch are sold all at once," he said.

Samantha Gallant, president of the Durango Area Association of Realtors, said problems could creep into the local market via prospective buyers from other areas that have been hit hard, such as Arizona, California and Texas. "We're vulnerable, of course," she said. "If our feeder markets are suffering, we'll feel the effects."
However, Allen warned that such effects could go beyond real estate and into other sectors of the local economy. "A significant hiccup in home construction will result in a significant hiccup in the local economy," he said.
Indeed, according to numbers released at an economic forum at Fort Lewis College earlier this fall, 17 percent of all personal income in La Plata County comes from the construction industry. "It's more than just builders, but everyone from lumber suppliers to paint stores and architects," said Russ Turpin, president of the Southwest Colorado Homebuilders Association. "It's pretty vertically integrated."
Turpin looks upon the present situation as more of an adjustment in supply and demand than a downturn. He added that the local homebuilding business has remained strong, particularly in the $500,000 to $1 million price range. "There is 0 percent unemployment in the local construction field," he said. "Everyone I know is busy, and even though wages have gone up, it's still hard to find good help."
He said one area that has dropped off in recent months is the speculative homebuilding market. "There are some houses that were built on spec and are sitting on the market," he said. "Everyone decided it was a good idea to become a spec builder, but now they're learning it's not as easy as it looks."
Gallant said there has been a similar "reality check" among local home sellers. "It's definitely transitioning into more of a buyer's market, and it takes a while for sellers to realize that," she said.
Wells agreed, adding that subprime mortgages aside, it is actually not a bad time to buy in Durango. "Interest rates are at about 6 percent for a conventional 30-year mortgage, and local home values haven't been shooting up as much, so buyers have some time to try to catch up."
Turpin, with the homebuilders association, agreed that the current situation with stagnating prices is not all bad. "I think it's a good thing to not have prices running rampant," he said.
And while all agree that impacts from the credit crunch will be felt locally to some extent, they note that Durango is more likely to bounce back sooner, and with fewer bumps, than most.
"We're still a very desirable market, and people still want to move here, such as the baby boomers looking to retire," said Gallant.
Wells agreed. "After 29 years at this, I've learned there are always going to be adjustments," he said. "Real estate, long term, is still one of the best investments in Southwest Colorado." •